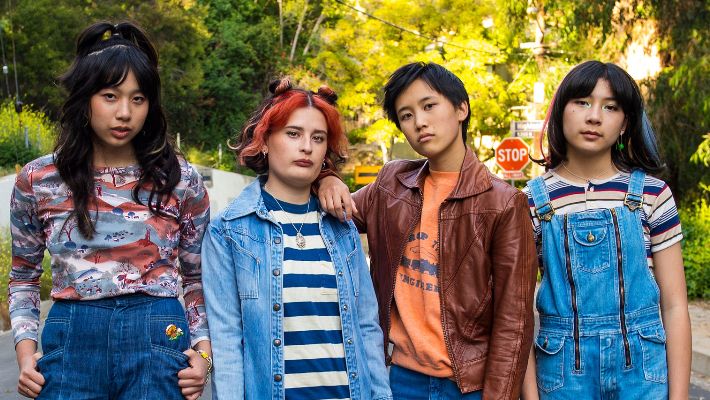 The Linda Lindas are still in the early stages of their career, but they've already managed to make the history books. For one thing, they became the first-ever act to perform live at the Scripps National Spelling Bee. Now, as one of the official opening acts for Paramore's North American tour, The Linda Lindas are using their time on the road on the lookout for their next milestone.
Their lyric video for the single "Resolution/Revolution" from their album, Growing Up, is a fast-paced look at the band's life while on the road. Unlike the one for their song "Too Many Things," their latest finds the group pulling together footage helping to emphasize how, as a collective, The Linda Lindas are still in their infancy.
In a statement, the group opened up about how the track came to be, saying, "Bela had been rocking out to a lot of Pantera and Judas Priest when we started writing 'Resolution/Revolution,'" they wrote. "She came in with a riff, and as we worked together, it morphed into a composition about making small dents in big problems to make a difference in the long run. We've been playing the song live for a few weeks now, are excited to release it as a single, and hope it gives you a boost! And check out the lyric video, too, art directed by Bela, edited by Eloise, and featuring clips that all of us shot on our phones over the last few months. We hope you have as much fun rocking out to it as we had making it!"
Watch the full lyric video for "Resolution/Revolution" above.
Growing Up is out now via Epitaph. Find more information here.
Paramore is a Warner Music artist. Uproxx is an independent subsidiary of Warner Music Group.