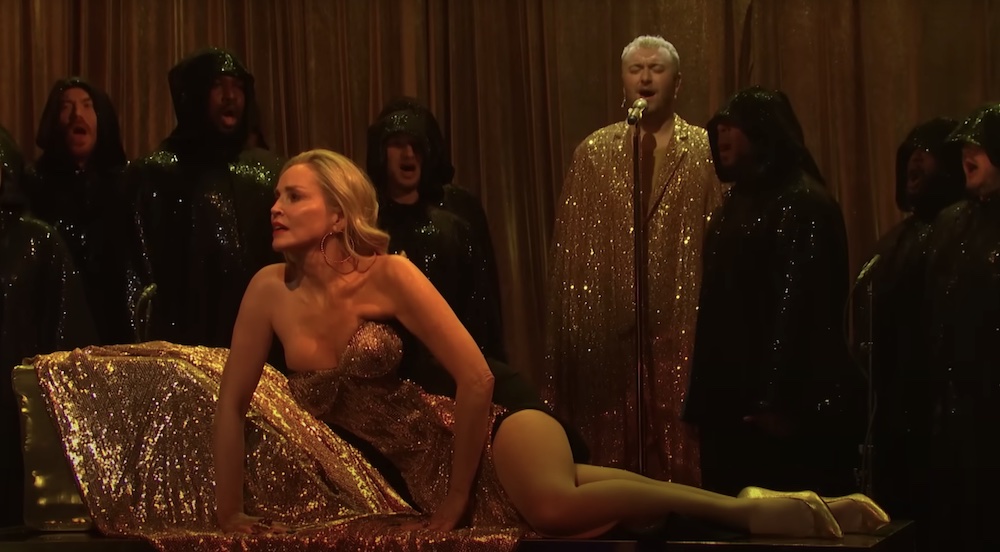 Sam Smith was the musical guest on the first new episode of Saturday Night Live in 2023. Smith brought along one surprise guest and one expected one.
Sharon Stone popped up in their performance for the recently-released single "Gloria," laying down for most of the time while Smith sang amidst a crew of sparkly hooded figures. This was Stone's first appearance on the show in over three decades — she acted as host in April 1992, shortly after Basic Instinct was released. Stone also popped up in the night's final sketch ("Film Noir").
Smith also had Kim Petras on-hand to perform their chart-topper "Unholy."
The guest host for the night was Aubrey Plaza, fresh off her run in The White Lotus. Plaza was joined by Parks And Recreation castmate Amy Poehler in the opening monologue and in Weekend Update to play their old characters; Joe Biden also pre-taped a video for the monologue. The Property Brothers and Tony Hawk (singer) appeared in a Miss Universe sketch, and Allison Williams appeared in a M3GAN pre-tape.
Watch all that below.
And here's the episode promo:
Next week's musical guest is Lil Baby, opposite host Michael B. Jordan.