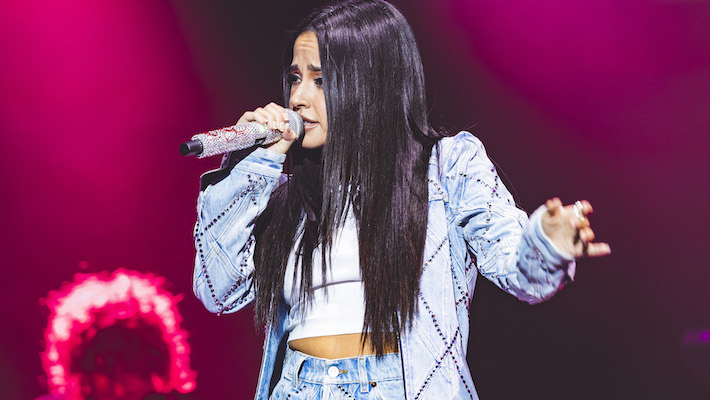 Last week, Hispanic Heritage Month kicked out, and for pre-game celebrations, Becky G's launched her Mi Casa, Tu Casa Tour. Over the next few weeks, fans from around the country will have a chance to experience the chart-topping singer's music live in a performance as part of her first top-billed tour. The Mi Casa, Tu Casa Tour setlist is expansive, including many of Becky G's biggest hits.
View the setlist according to Setlist.Fm, as well as the remaining tour schedule, can be found below.
In an interview with Variety's Thania Garcia, the singer opened up about what the Mi Casa, Tu Casa Tour, her first headlining venture, meant to her and the inspiration behind the show.
"[The] 'Mi Casa Tu Casa Tour' is about inviting people into an intimate experience with me. My intention is for it to be a place where we can sing, dance, laugh, and cry, all in the comfort of our shared space. I've never headlined my own tour before, so I really want it to feel personal and connect with my fans in that way because we'll build nuestra casa [our home] in every city, together," said the entertainer.
Mi Casa, Tu Casa Tour setlist
1. "Intro"
2. "Mayores"
3. "Fulanito"
4. "Buen Día"
5. "Bailé Con Mi Ex"
6. "Cuando Te Besé"
7. "Ya Acabó"
8. "Chanel"
9. "La Nena"
10. "Querido Abuelo"
11. "Cries In Spanish"
12. Selena Medley ("Como La Flor," "Bidi Bidi Bom Bom," "La Carcacha," and "Baila Esta Cumbia")
13. "Dolores"
14. "Mala Santa"
15. "Dollar"
16. "Arranca"
17. "Sin Pijama"
18. "Mamiii"
19. "Outro"
Encore
20. "Shower"
Mi Casa, Tu Casa Tour schedule
9/19 — Charlotte, NC @ Ovens Auditorium
9/21 — Atlanta, GA @ The Eastern
9/22 — Orlando, FL @ Hard Rock Live Orlando
9/23 — Hollywood, FL @ Hard Rock Live Hollywood
9/27 — Sugar Land, TX @ Smart Financial Centre
9/28 — Grand Prairie, TX @ Texas Trust CU Theatre
9/29 — San Antonio, TX @ Majestic Theatre
10/1 — McAllen, TX @ McAllen Performing Arts Center
10/3 — El Paso, TX @ Abraham Chavez Theatre
10/6 — San Diego, CA @ Balboa Theatre
10/7 — Los Angeles, CA @ The Novo
10/8 — San Jose, CA @ San Jose Center for the Performing Arts
10/14 — Phoenix, AZ @ Arizona State Fair