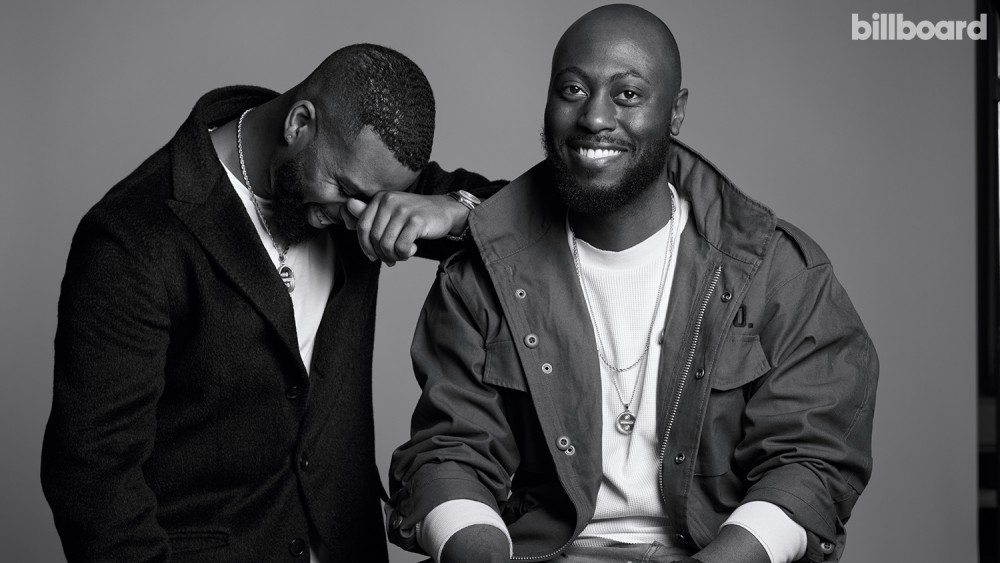 In 2017, dvsn found itself playing in front of thousands of enraptured German fans. The R&B duo consisting of singer Daniel Daley and producer Nineteen85 had joined Drake on his The Boy Meets World Tour; the act, which had recently signed to his OVO Sound label, figured the 15,000-capacity venues would be mostly tuning out its opening sets. Instead, large crowds at each of three stops in Germany belted back every word. "They're singing, lighters up, fully tuned in to what Daniel is doing onstage," recalls Nineteen85. "That's when I realized, 'Oh, this is way bigger than us.' "
Drake and Nineteen85 go back: The producer born Paul Jefferies, who was mentored by OVO Sound co-founder Noah "40" Shebib, produced "Too Much" on Drake's 2013 album, Nothing Was the Same. But at the time of the tour, dvsn had released only one album, Sept. 5. (A year prior to its release, Drake had played some of the duo's tracks on the Sept. 5, 2015, episode of his OVO Sound Apple Beats 1 show, which inspired the album's title.) By February 2016, dvsn had signed a recording contract with OVO Sound. Sept. 5 arrived the following month, entering the top 20 of Billboard's Top R&B/Hip-Hop Albums chart. The duo released its second album, Morning After, in October 2017 — and it achieved the same feat.
Now, the Toronto-based dvsn is preparing to release its third album, A Muse In Her Feelings, in March. It will be the second — following labelmate PartyNextDoor — in a succession of new releases this year from OVO's roster, which includes Roy Woods, Majid Jordan and Drake.
It's the same more-is-more strategy that hip-hop labels in particular have had success with in recent years: Top Dawg Entertainment dominated 2017 with releases from Kendrick Lamar and SZA; G.O.O.D. Music took over the summer of 2018 with projects from Kanye West, Kid Cudi, Pusha T and Teyana Taylor; and last year Dreamville released its third compilation, Revenge of the Dreamers III, plus debut albums from Ari Lennox and EarthGang.
Nineteen85 says it has been inspiring to have other OVO artists working on new music at the same time, and that it even pushed him to go back in the studio while working on A Muse In Her Feelings "and step my game up. There are just so many great minds — and no rules."
At the end of 2019, the duo released a string of singles, of which the Future-featuring, club-ready "No Cryin" was the biggest departure — and hinted at where dvsn was seemingly heading. But with January's bass-driven, slinky late-night lead single, "A Muse," the pair proved that it isn't going in just one direction. "The whole idea behind dvsn is, we're going to give you the unexpected," says Daley. "We are going to go against the grain — be divided from the bunch and separated from the past. The moment you think we're going to go left, we're going to do a hard right."
While working on the new album in Miami, the duo tapped songwriter and frequent OVO collaborator Allen Ritter (Cardi B, Rihanna, Kanye West) for "A Muse," which fuses live instrumentation with digitally engineered production and samples Lonnie Liston Smith's 1983 jazz classic "A Garden of Peace," also famously heard on JAY-Z's 1996 track "Dead Presidents II." Daley describes the finished product as "a more new age D'Angelo meets hip-hop meets a 2025 vibe."
Daley's vulnerable falsetto in particular has helped dvsn coexist with artists like H.E.R., Summer Walker, Daniel Caesar and Khalid, all of whom have found success by pushing different R&B approaches to mainstream audiences. "In the 2000s, everything sounded similar," says Nineteen85 of the genre. "[Now], it's the most diverse it has ever been."
Adds Daley: "We've found the place that [R&B] should go, just by being true to what we love. There is a whole wave of artists that are being so real and so true to themselves. That's all R&B needed — a jolt of reality."
---
Multiplying Success
"I knew Daniel and Nineteen85 as an incredible singer-songwriter and producer duo. I met with them one day in 2015 and they unexpectedly played me a 10-song project called dvsn. My immediate response was, 'Has 40 heard this? You need to play this for him ASAP.' As assumed, 40 loved the project and advised the guys to put it out. Within no time, everyone was coming to us asking about dvsn and if they were signed to OVO Sound. We realized we'd be crazy if we didn't. We then introduced the world to them with that project, Sept. 5, as their debut."
"I have been vibing with dvsn since day one. When I heard their first joint, I posted about it on Twitter. Then 40 reached out for me and we eventually made a proper connection. I am a huge fan of Nineteen85 and Daniel, and I am so happy and proud that we have had an opportunity to collaborate on the new project."
"When Daniel and 85 work together, it's undeniable. You can recognize their magic [from] all the way back to the first records they made until now. The consistency is a testament to how they know exactly where they want to take their music, and do."
"Traveling the world with these guys and seeing how the music translates live has been the best part of working with dvsn. People not only sing along at the top of their lungs, they also embrace the emotion of each record, which takes the experience to a whole other level."
A version of this article originally appeared in the Feb. 1, 2020 issue of Billboard.
---