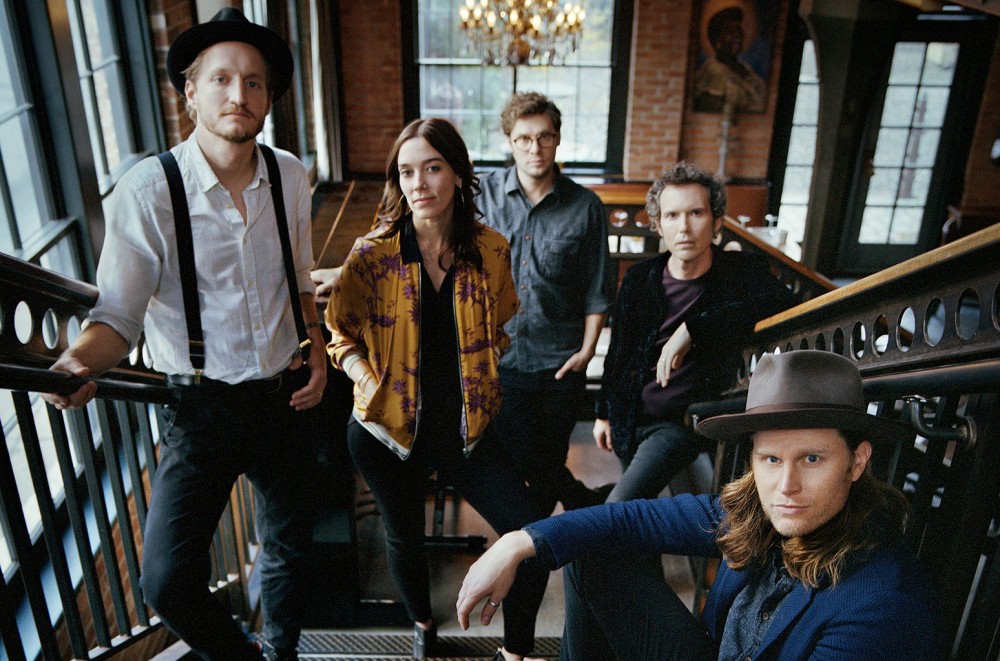 The Lumineers hit the road Friday (Jan. 31) in Asheville, N.C., to support their latest album III with what the group's Wesley Schultz promises is "the biggest stage setup we've had."
"I'm very excited for it," Schultz tells Billboard. "I think it'll tell the story of this album and have the live show move around a lot."
The extensive North American trek, which currently runs through mid-September, is the group's second arena tour, though they started headlining amphitheaters after the breakthrough success of their Grammy-nominated debut album and the hit "Ho Hey." Schultz says the group is taking a different visual tack than it did while touring for sophomore album Cleopatra, replacing the hydraulic B-stage on the arena floors with "something new and different. This time it has, like, a catwalk and a pit. The B stage offered a different perspective and brought the back of the room into the show; For this we're trying to sing to that audience member who's in the nosebleeds. There's different places on the stage where we can play to change perspective and sort of break up the show and give it a new look and reset it throughout the night." Don't expect much in the way of stunts from the Lumineers, though.
"There might be a lift, but I'm not involved in it," Schultz teases. "I don't think I'll ever be on a cable, flying through the audience like Peter Pan. I'll leave that to the pros, I think."
III was released during September and debuted at No. 2 on the Billboard 200. Presented in three conceptual chapters, the album was inspired by relatives of both Schultz and drummer Jeremiah Fraites who have struggled with addiction and mental health issues. "I think maybe the biggest misconception I had going into this was this album would be alienating because it's so personal," says Schultz, who has not revealed the identity of his relative during the album cycle in deference to other family members' privacy. "But what I've found is that there's a huge percentage of the population that has dealt with living with an addict or caring for or loving an addict — or they themselves are living with it. That's a sad thing, but in a weird way, it's comforting to know you're not alone — even though I wouldn't wish for anyone to have to deal with it. And maybe for them it's comforting to hear someone singing about it and talking about it openly."
The tour also marks the Lumineers first since singer-cellist Neyla Pekarek's departure in 2018, but Schultz says that Lauren Jacobson, who's played on all of the group's albums, is a more than adequate fill-in. "Every string part you hear on our albums, for the most part, is violin, and it's Lauren playing it," Schultz says. "One of the most iconic is 'Stubborn Love' and she came up with that part. So to bring her out on the road felt really natural. She had been on tour with Brandi Carlile right before this and likes to tour and knows all the parts. So it worked out really well for all of us."
Schultz adds that in addition to giving Lumineers fans a fresh look at the band he's also looking forward to seeing how the III songs morph and change as the tour progresses. "I think we always start pretty faithful to the (recorded) song and then you start making changes, and by the time a year or two has passed and you compare it to the album you don't even realize all the things you've done with it," he explains. "The focus isn't so much, 'Let's reinvent this right away' but 'Let's get this down and then let's go from there.' 'Gloria,' I think, has gotten a couple of clicks faster as we've played it, and something like 'Jimmy Sparks' has so much going on that it can't help but change. It's a slow change, and I don't know if it's always for the best but people seem to like it."
---