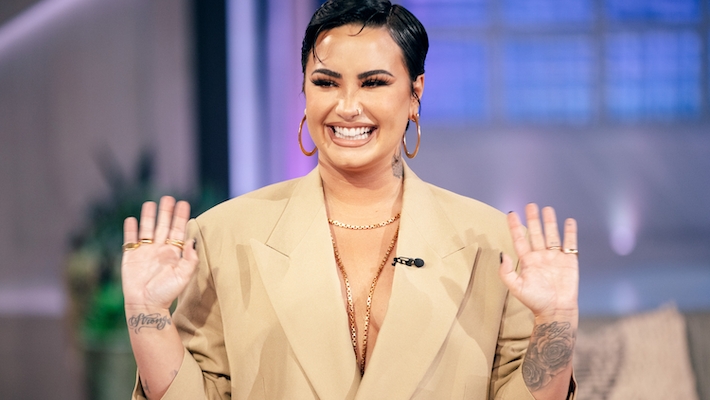 Demi Lovato performed a mashup of "Heart Attack (Rock Version)," "Sorry Not Sorry (Rock Version)," and "Cool For The Summer (Rock Version)" at Tuesday's (September 12) 2023 MTV Video Music Awards, which Taylor Swift thoroughly enjoyed from the audience.
Those are three of the 10 tracks on Lovato's Revamped, an album that finds them "breathing new life into the songs that played such a huge role in my career," as they wrote on Instagram when announcing the project. Revamped is due out on Friday, September 15. In addition to the MTV VMAs, Lovato celebrated their release week by visiting The Howard Stern Show on Monday, September 11.
Stern asked Lovato if "Cool For The Summer" captured their experience of falling in love with a woman, and Lovato confirmed they'd written it "before I came out as bisexual, at the time." Lovato added that their stepfather already had a hunch about their sexuality before officially coming out because of "Cool For The Summer."
Later, Lovato said they did not tell the woman at the center of "Cool For The Summer" that it was written about her and doesn't believe that she ever found out, even though the song dropped in 2015.
"Sometimes, I write songs, and I just leave them — let them be," Lovato said. When Stern asked whether the woman is famous, Lovato giggled and quipped, "What if she is?"
That further piqued Stern's interest, pressing, "Is she?" Lovato confirmed that it is about a famous woman, whom they were secretly involved with, but they will never privately tell the woman or explicitly identify her publicly because "I'm in a relationship now, and I feel like that would be inappropriate."
Watch the full clip above and watch Lovato's 2023 MTV VMAs performance below.
Revamped is out 9/15 via Island. Find more information here.