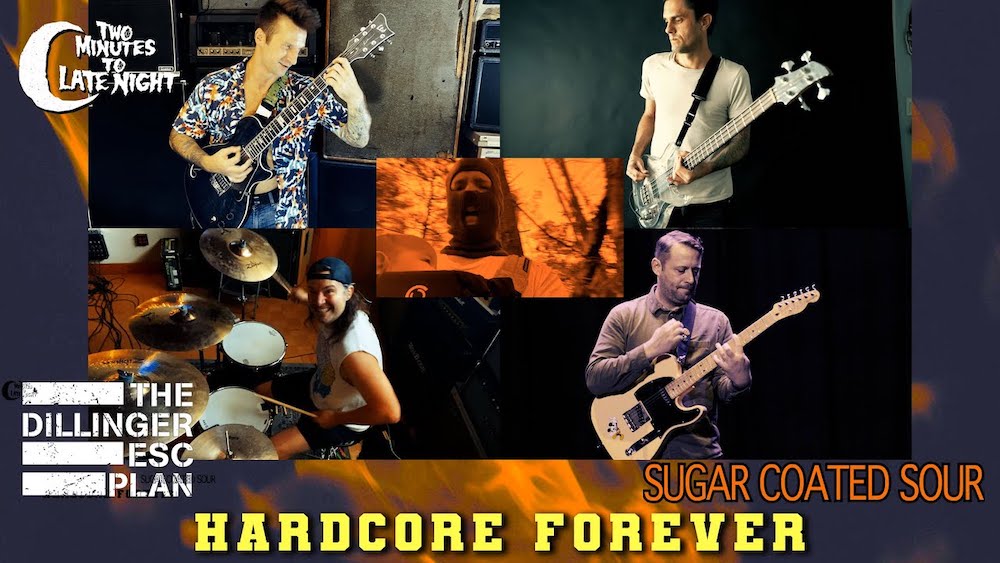 The Dillinger Escape Plan, the New Jersey mathcore pioneers, used to play the occasional cover; I remember them ending a Baltimore show with a version of Nine Inch Nails' "Wish" that practically singed my eyebrows off. But people don't really cover the Dillinger Escape Plan too often. That's not because Dillinger didn't have great, beloved songs. It's because Dillinger tracks were way too fast and complex for practically any other band to attempt. Today, though, we get to hear what happens with a band of complex-hardcore all-stars gets together to salute the Dillinger Escape Plan.
Last year, the great Two Minutes To Late Night video series introduced Hardcore Summer, a miniseries dedicating to hardcore covers. We got versions of songs by Botch, Deadguy, Converge, Folly, and Cave In. A few of those covers even featured members of the Dillinger Escape Plan. Last summer has been over for a minute, but the miniseries, now renamed Hardcore Forever, is back with whole team of heavy-hitters paying tribute to "Sugar Coated Sour," the panic-inducing monster jam that opens Dillinger's classic 1999 debut album Calculating Infinity.
In the Two Minutes To Late Night version of "Sugar Coated Sour" Full Of Hell/Sightless Pit screamer Dylan Walker puts on a ski mask and does his best version of Dimitri Minakakis' rabid screeches. Poison The Well's Ryan Primack and former Every Time I Die member Jordan Buckley intently shred. Justin Pearson, from the Locust and Dead Cross and Deaf Club, plays bass. 2M2LN regular Ben Koller, of Converge and Mutoid Man and All Pigs Must Die, beats up the drums. Two Minutes To Late Night figurehead Jordan Olds sits this one out, and I would've done the same if it was me. The people involved in this cover are all extremely talented, and all of them seem to be concentrating very, very hard. Below, watch the cover and check out the Dillinger original.
Check out the Two Minutes To Late Night website here.