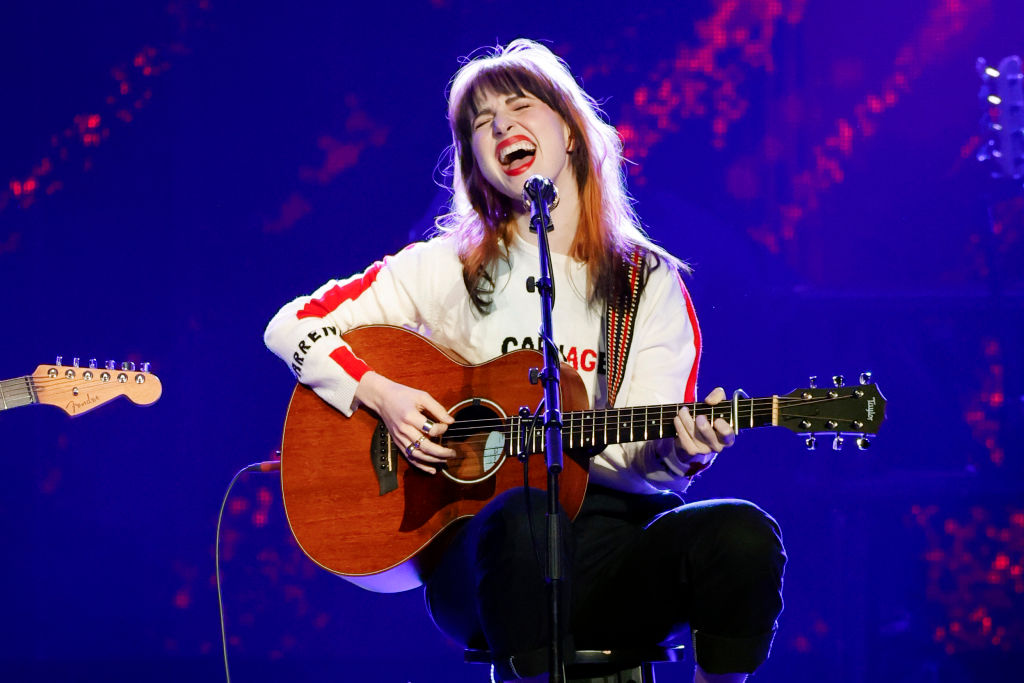 Recently, Tennessee passed a series of bills targeting the state's LGBT population, restricting things like drag shows and transgender treatment and surgery for minors. Last night, many of the members of Tennessee's music community responded by coming together for Love Rising, a fundraiser for LGBTQIA+ organizations. The show went down last night at Nashville's Bridgestone Arena, and it featured artists like Maren Morris, Julien Baker, Jason Isbell, Amanda Shires, and Allison Russell.
During last night's show, Jason Isbell and Amanda Shires performed together, and they covered Wet Willie's "Keep On Smilin'" with Allison Russell. Julien Baker, meanwhile, covered Neko Case's "Man." Nobody has posted footage of those two covers yet, but we do have some really good video of the mini-set from Paramore leader Hayley Williams.
Hayley Williams, fresh off of opening the first two dates on Taylor Swift's stadium tour, played a couple of songs acoustic, with singer-songwriter Becca Mancari backing her up on guitar. First, the two of them played Williams' solo song "Inordinary" together. When she wasn't singing, Hayley Williams was talking about what's happening in Tennessee: "What they're doing with this anti-drag bill — and how really it's actually just a distraction from all these other horrible things that they're trying to pass here — it feels like we're in a relationship with our city and our state that's all give, no get." Williams, Mancari, and the house band then covered Deana Carter's 1995 country anthem "Did I Shave My Legs For This?" In the middle of that performance, Williams introduced her "best friend Brian," a drag performer who sang the rest of the song with her. Watch it below.