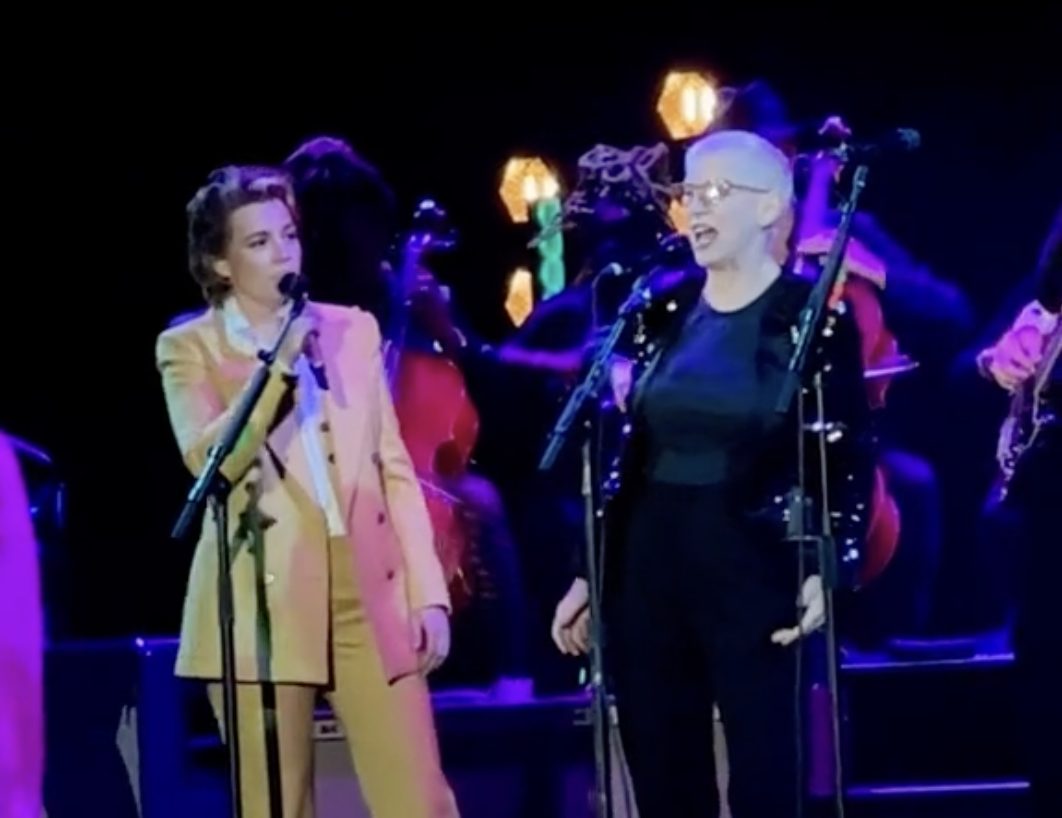 Ravensdale, Washington native Brandi Carlile is hosting her fourth annual Echoes Through The Canyon festival this weekend at the Gorge, the beautiful amphitheater a couple hours outside Seattle. Back in May, Carlile's pal Joni Mitchell was announced as the closing-night headliner for Saturday — Mitchell's first official ticketed performance in 20 years, after several other surprise appearances and quick sets at awards shows and galas. But first, Carlile brought out lots of other stars for Friday's festivities.
As the Seattle Times reports, Lucius joined Carlile early on to sing "You And Me On The Rock." Brandy Clark, whose new album was produced by Carlile, showed up to duet on her own "Dear Insecurity." She also had Sarah McLachlan on hand to do "Hold On." Carlile covered Queen's "We Are The Champions" with Allison Russell to close out the main set (right after another classic rock cover, Paul McCartney's "Live And Let Die"). And then, during the encore, she brought out Annie Lennox to sing "Why" with an assist from a returning Lucius.
Watch Lennox's appearance and some of the other big moments below, where you can also find the setlist via setlist.fm.
SETLIST:
"Stay Gentle / Over The Rainbow"
"Broken Horses"
"You And Me On The Rock" (with Lucius)
"The Things I Regret"
"Running To Stand Still" (snippet) (U2 cover)
"My Song" (with "Where The Streets Have No Name" interlude)
"The Eye" (Acoustic)
"That Year"
"Again Today"
"Dear Insecurity" (with Brandy Clark)
"Mama Werewolf"
"The Story"
"Hold On" (with Sarah McLachlan)
"This Time Tomorrow"
"Right On Time"
"Sinners, Saints And Fools"
"The Joke"
"Live And Let Die" (Paul McCartney cover)
"We Are the Champions" (Queen cover) (with Allison Russell)
ENCORE:
"Beginning To Feel The Years" (Acoustic)
"Why" (with Annie Lennox)
"Woodstock" (Joni Mitchell cover)
"Hold Out Your Hand"