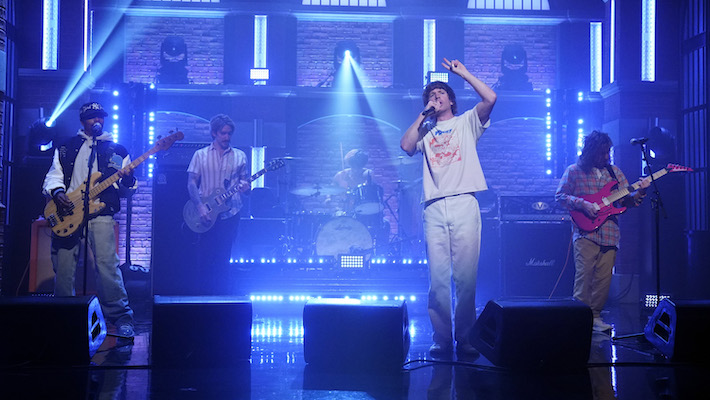 Turnstile's rise came quickly. Glow On, their third studio album, was a highlight of 2021 and brought them a slew of opportunities. They were nominated for three Grammys, they collaborated with Taco Bell, they performed on late-night television for the first time, and they played beer pong with Post Malone and Dua Lipa.
They're not done. The group often proudly reps their hometown, and they did so on Tuesday, August 8, when they threw the first pitch at the Baltimore Orioles game against the Houston Astros. The band all stood on the field and guitarist Pat McCrory made the throw.
Earlier this year, members of Turnstile also made a song called "Listening" for the viral sketch comedy series I Think You Should Leave With Tim Robinson.
About Glow On, bassist Franz Lyons told Uproxx, "I'm very grateful, but whether the whole world was paying attention or not, if this was fun and it was paying the bills and keeping us happy, in our heart and in our mind, I wouldn't even care who was listening," he said. "We've been doing it for 10 years, and I just turned around yesterday and realized where we were at. It just kind of feels like another day.
Turnstile is a Warner Music artist. Uproxx is an independent subsidiary of Warner Music Group.