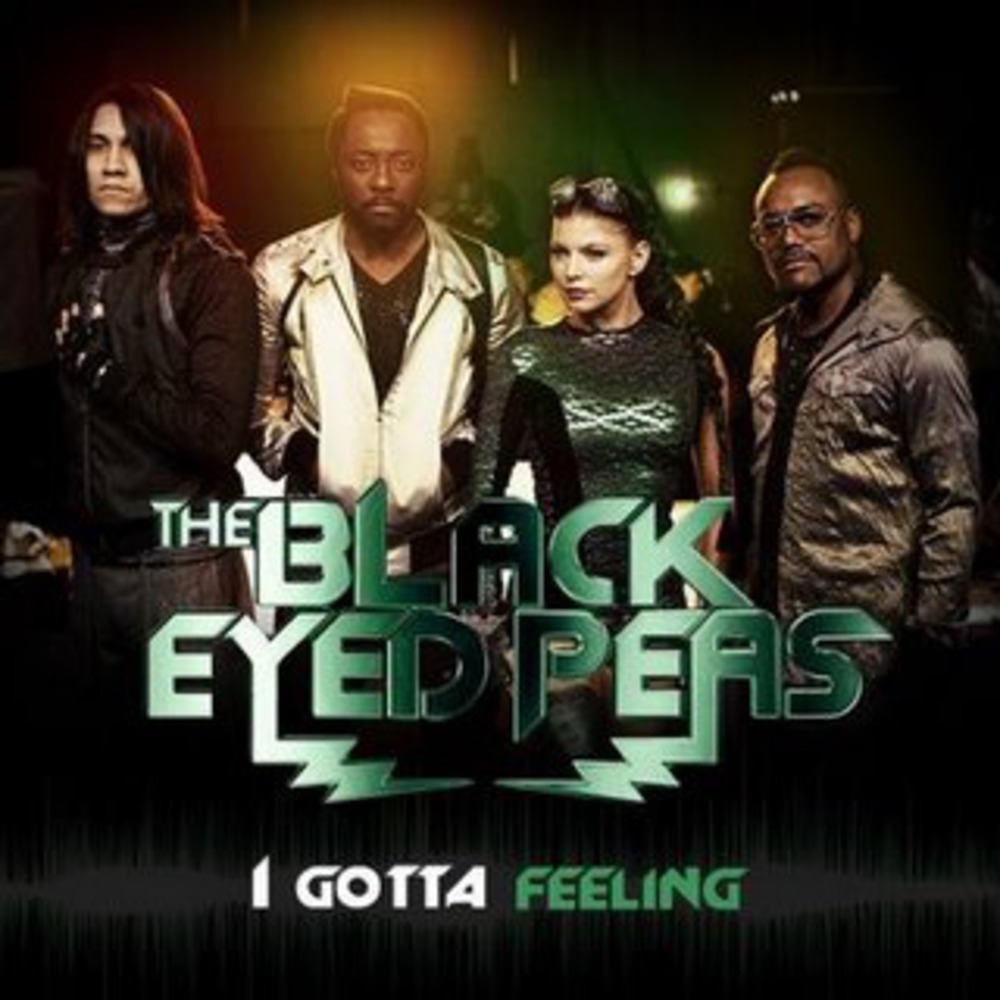 In The Number Ones, I'm reviewing every single #1 single in the history of the Billboard Hot 100, starting with the chart's beginning, in 1958, and working my way up into the present. Book Bonus Beat: The Number Ones: Twenty Chart-Topping Hits That Reveal the History of Pop Music.
Every night can't be a good night. We know this. In 2009, though, the Black Eyed Peas had a whole lot of good nights. With two back-to-back smashes, the LA group, onetime footnotes in the great saga of late-'90s backpack rap, held the top of the Billboard Hot 100 for 26 consecutive weeks — fully half of the year. That's 182 good nights in a row.
Nobody had ever pulled off a chart feat quite like that before the Black Eyed Peas. In 1994, when Boyz II Men went back-to-back with "I'll Make Love To You" and "On Bended Knee," their accomplishment seemed absurd and impossible. We would never see anything like this again, until we did. The Black Eyed Peas took Boyz II Men's cumulative 20-week total, and they just casually piled another month and a half on top of it. In that moment, BEP effectively broke pop music. If you were anyone else trying to make a #1 hit in 2009, you were fucked.
"Boom Boom Pow," the first of those hits, was a strange snapshot of its moment, a bleepy computer freakout that synthesized a few years of dance-music trends into one gallingly dumb but memorable package. The second of those hits went even bigger, and it never went away. To this day, "I Gotta Feeling" remains inescapable at kids' dances, picnics, weddings — anywhere that someone might need to evoke hedonistic feelings in the most wholesome contexts. "I Gotta Feeling" is an unfailingly chipper brainworm, a relentless four-minute sugar-rush that barely bothers to consider the idea that tonight might not be a good night. It's a good song. I like it.
Will.i.am, the principal architect of this heedlessly optimistic head-knocker, has always insisted that he and his group made something powerful and sophisticated with "I Gotta Feeling." In 2010, Will told Rolling Stone, "What is the easi­est emotion to act? Anger. What is the hardest? Joy. That's 'cause joy is com­plex. It's somber, sad, happy, heartbroken, hopeful — it's all these emotions in one. What you hear in 'I Gotta Feeling'? To me, that's joy. You're in pain, but tonight's going to be a good night."
The origins of "I Gotta Feeling" are buried in different people's attempts to mythologize themselves. In that Rolling Stone article, will.i.am claims that he wrote the song after watching Barack Obama's inauguration. Will had campaigned hard for Obama, orchestrating the viral-but-unlistenable campaign song "Yes We Can." Will says that he stood in front of the Lincoln Memorial on inauguration day, thinking about his life and his grandmother, and then he came up with "I Gotta Feeling" an hour later. That's a fun story, but I don't believe him for a second.
Interscope boss Jimmy Iovine has said that will.i.am had a different inspiration in mind. Iovine brought Will in to co-produce "I'll Go Crazy If I Don't Go Crazy Tonight," a really terrible single that U2, a group who's been in this column a couple of times, released in 2009. ("I'll Go Crazy" didn't make the Hot 100.) At the time, Iovine said, "I sent will.i.am over to the studio to do some remixes on 'I'll Go Crazy.' He works on them for two weeks, comes back and writes 'I Gotta Feeling.'… The chords are U2 chords, 100%. Will even told them."
Maybe will.i.am really was thinking of Obama when he came up with "I Gotta Feeling." There's a good chance that he was thinking of U2, too. (He namedrops Bono in the Rolling Stone story: "Bono said, 'Our music gets to peo­ple closer than you ever can be: You're in their ears, they put us in their head.' That changed my whole view on things." I'm trying really hard to avoid imagining a Bono/will.i.am conversation because I just don't need that mess in my head.) When will.i.am came up with the track, though, he was definitely thinking of the European dance music that he'd come to love. The choppy, staccato synthetic guitar chards on "I Gotta Feeling" sound almost exactly like the ones that Will's "I Gotta Feeling" collaborator, the French dance producer David Guetta, used on his own 2007 single "Love Is Gone." ("Love Is Gone" was Guetta's first Hot 100 hit; it peaked at #98.)
David Guetta released his first single in 1990, but his career didn't take off until the early '00s, when he hooked up with American singer Chris Willis and started cranking out a series of anthemic electro-house singles. Guetta was never a cool-kid dance producer. He had none of the cachet or mystique of fellow Frenchies like Daft Punk and Justice. But when will.i.am started pushing the Black Eyes Peas' sound more toward big-room dance music, Guetta was one of the first people he contacted. Guetta had the exact kind of cheese that the Black Eyed Peas needed. He sent Will some tracks, and they worked together in both LA and Paris. Guetta and his regular collaborator Frédéric Riesterer, who went by the name Fred Risto, co-produced a couple of songs on the Black Eyed Peas' album The E.N.D. "I Gotta Feeling" was the big one.
David Guetta and Fred Risto are both listed as songwriters on "I Gotta Feeling," but there's nothing in the credits about a "Love Is Gone" sample. Those hammering in-the-red chords reappear on the "I Gotta Feeling" intro, but the tone is all different. On the Black Eyed Peas song, there's another synth humming underneath, imitating the kids of swelling strings that you might associate with an inspirational movie moment. When the vocals come in, we also get some thrumming guitars, a bit reminiscent of what bands like Interpol and the Yeah Yeah Yeahs were doing in the early '00s. Max Martin and Dr. Luke brought that sound into the pop mainstream with Kelly Clarkson's "Since U Been Gone," but it's not like the indie bands invented that style; maybe those are the U2 chords that Jimmy Iovine was talking about.
Before we even get to the vocals, then, "I Gotta Feeling" is a strange hybrid beast. It's got electro keyboards, rock guitars, vaguely hopeful strings. (I don't know how many of those sounds come from actual instruments, but it doesn't really matter.) What we don't get is anything that suggests actual rap music. The Black Eyed Peas were evidently past that. On "I Gotta Feeling," the different BEP members don't take turns rapping verses. Instead, they all chant together, their co-mingled voices suggesting the kind of mass catharsis that the song badly wants to evoke.
Early on, they sound wistful. Will.i.am sings that tonight's gonna be a good night, but he sounds hesitant, maybe a bit sad. Quickly, though, the song builds. More voices come in, and so do kickdrums and handclaps. Fergie does her diva-wailing thing. Someone contributes wordless woo-hoos. Then, finally, the beat drops, and they're all yelling together: "Tonight's the night! Let's live it up! I got my money! Let's spend it up!" When those voices come together, they build in confidence and certainty. They start to sound a little more secure when they insist that tonight's gonna be a good night.
"I Gotta Feeling" has extremely simplistic nursery-rhyme lyrics, and that's the first thing that people mention when they make fun of the song. People make a lot of fun of this song. Anything this overwhelmingly huge is bound for backlash, and as you'll see at the bottom of this column, "I Gotta Feeling" blocked some much-worthier songs from reaching the #1 spot. And yes, there are some gallingly dumb bits in there. It should be enough for the Black Eyed Peas to pledge to party every day, puh-puh-puh-party every day. They shouldn't need to name all the days off the week. That's too much. We get it.
But the simplicity of "I Gotta Feeling" is the point. It's a song about banishing doubts from your mind, psyching yourself up, willing yourself to believe that tonight will be a good night. I wonder if the group used the word "Gotta" in the title intentionally, as some kind of signal. "Gotta" usually means "got to," as in "must." The phrase "I Must Feeling" makes no sense. The Black Eyed Peas are simply telling us that they have a feeling, but "I Got A Feeling" just wouldn't look the same. "I Have A Feeling" would be a fucking disaster. Grammar is for chumps, anyway. If you're conveying meaning, making yourself understood, then you're using language correctly. Maybe that's what BEP are telling us with that title. Maybe they're announcing that the rules don't apply, that we should stop overthinking things. Or maybe it was just a typo that nobody corrected. I don't know.
The good night of "I Gotta Feeling" never arrives. The song has its own peaks and valleys, its buildups and its moments of catharsis. But nobody ever sings that they're now having a good night. Instead, they're simply talking about all the things that they intend to do. They'll go out and smash it, like oh my god. They'll jump off that sofa. They'll kick it off. They'll have a ball if they get down and go out and just lose it all. They'll paint the town, shut it down, burn the roof, and then they'll do it again. It's all anticipation. "I Gotta Feeling" is less a song about partying, more a song about mentally preparing yourself to party.
The sound of "I Gotta Feeling" is not pure excitement, though that's in there. It's got a nervous undercurrent — realizing that maybe it won't be a good night and then attempting to banish that thought from your head. Fergie briefly acknowledges it — "I feel stressed out, I wanna let it go" — but she doesn't let herself dwell. I think that unspoken hesitance is a big reason that "I Gotta Feeling" was able to resonate the way that it did. The song's feeling is not not sheer exhilaration; it's something a little more uneasy than that.
Look: Maybe I'm over-analyzing this goofy-ass song that, from a certain angle, is about not over-analyzing anything. "I Gotta Feeling" gets on a lot of people's nerves because it's so mindless, so repetitive. The choruses sound like choruses, and the verses also sound like choruses. If you're looking for any kind of depth, you have to really stretch. (I truly don't hear depth in "I Gotta Feeling." I hear emotional resonance, which is not the same thing.) I think "I Gotta Feeling" works as well as it does partly because it moves away from everything that the Black Eyed Peas had done up to that moment. Will.i.am was always a pretty bad rapper, but "I Gotta Feeling" doesn't really require him to rap. Instead, he just has to shout party-life mantras as loud as he can. It's the canniest thing that he could've done.
"I Gotta Feeling" also has hooks for days. It's dumb and relentless like a Ramones song, and I mean that as praise. The song was also marketed in a way that made it inescapable. The Black Eyed Peas did everything that they could to push "I Gotta Feeling" into people's faces. The video showed an idealized Hollywood trash-culture party, and it also put Fergie in lingerie as much as possible. The group also performed the song in a Target commercial, effectively advertising themselves.
When "I Gotta Feeling" was blowing up, the Black Eyed Peas didn't really say no to anything. There was, for instance, the promo for the upcoming CBS fall lineup — "I Gotta Feeling" soundtracking all those clips of The Mentalist and The Big Bang Theory and all the various CSI offshoots.
And then there was the performance at the kickoff party for the 24th season of Oprah. Oprah Winfrey gasped and took cell-phone videos while the group performed in downtown Chicago, switching up their lyrics to reflect the moment: "Jump off that sofa! Keep watching… Oprah!" (Maybe that's a Tom Cruise reference, but it seems to imply that you're supposed to watch Oprah while standing up, which nobody has ever voluntarily done in the history of the world.) While the group performed, thousands of rictus-grinning extras did one of those painstakingly choreographed flashmob dances — a postcard from that peak era of forced cheerfulness.
The Black Eyed Peas did that Oprah performance in September 2009, two months after "I Gotta Feeling" replaced "Boom Boom Pow" at #1. That day, the song was still on top, and it would remain on top for another month and a half. After a certain point, even those of us who liked "I Gotta Feeling" had to admit that the song's constant presence had become oppressive. The Black Eyed Peas simply couldn't maintain that momentum forever. The crash was inevitable. Maybe they realized that they were getting corny, that nobody would ever take them seriously again. Maybe they knew that they simply had to ride that moment for all it was worth, since there wouldn't be another one. The group's "I Gotta Feeling" follow-up was the relatively downbeat "Meet Me Halfway," a song that nobody thinks about anymore. ("Meet Me Halfway" peaked at #7. It's a 3.)
David Guetta arguably got a bigger boost out of "I Gotta Feeling" than the Black Eyed Peas did. When that song crashed the charts, America suddenly realized its appetite for Guetta's shamelessly hooky big-room EDM. Later that year, Guetta teamed up with Akon, an artist who's been in this column a few times, on the single "Sexy Bitch." It became Guetta's first major American hit as lead artist. ("Sexy Bitch" peaked at #5. It's a 5.)
In the years that followed, Guetta teamed up with huge pop stars and made bigger hits, turning himself into a brand name and forcefully rejecting the archetype of the faceless, anonymous dance producer. In 2011, Guetta made it to #4 with his Usher collab "Without You" and with his Nicki Minaj collab "Turn Me On." ("Without You" is a 5. "Turn Me On" is a 3.) Long after his brand of EDM has faded from the American mainstream, Guetta is still capable of scoring an out-of-nowhere freak hit, as long as he picks the right obvious sample. That's what he did earlier this year, when his Eiffel 65-jacking Bebe Rexha collab "I'm Good (Blue)" surfed a TikTok wave all the way to another #4 peak. (It's a 7. Scoff all you want. I know I'm right. Nobody can tell me shit.)
The Black Eyed Peas have also persisted, in their own way. "I Gotta Feeling" remains their biggest hit, but it was not their last. It won't even be the last time we see the Black Eyed Peas in this column. They'll be back.
GRADE: 8/10