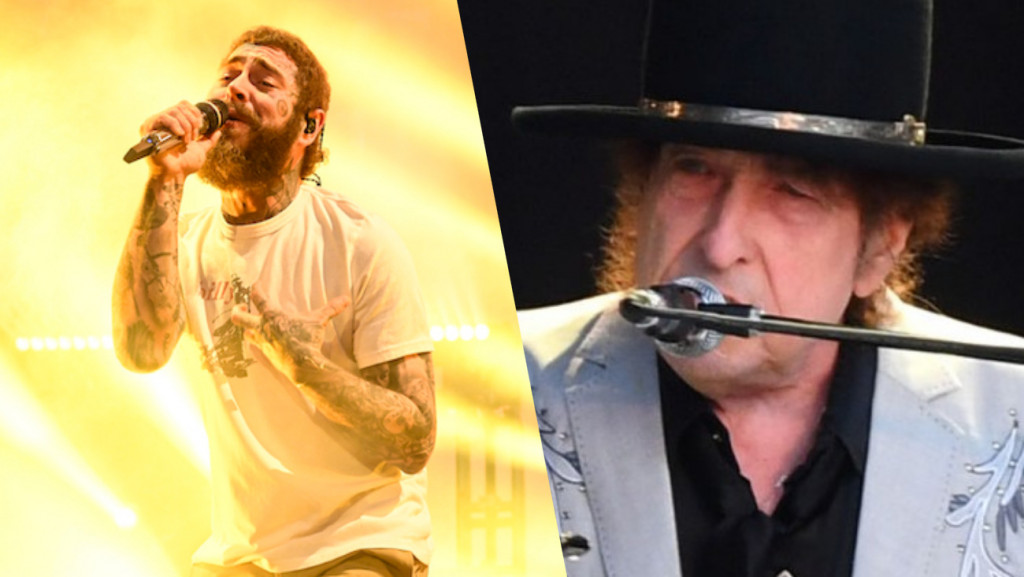 Post Malone is a major Bob Dylan fan and there's plenty of evidence of that. One of the most-circulated online videos of pre-fame Posty is him covering Dylan's "Don't Think Twice, It's All Right." In 2020, Malone told Uproxx that after his set of Nirvana covers, he'd be keen to put on a performance of Dylan songs. It turns out Malone apparently had the opportunity to collaborate with the folk icon, but it appears the future of the partially finished song is now in doubt.
This is according to a new Rolling Stone interview with producer Michael Cash, who was involved with the project. Cash says he was trying to put together an album of hip-hop artists covering Dylan songs. Dylan apparently approved of Posty and event sent along some unreleased lyrics, which Dylan had titled "Be Not Deceived," for Malone to build a new song around. Cash says Malone was "literally in tears" when he first heard Dylan's words.
In March 2021, Malone apparently visited Cash's studio to record the song, and after getting the track "about 40 percent done," Malone had to leave. Malone seemingly dragged his feet finishing the song, and according to Cash, Dylan got tired of waiting and retracted permission for Malone to use the lyrics. As Cash put it, "It just seems like nobody really managed expectations, and it just seems like nobody communicated. A really cool piece of music got made, and then it just got weird. It got really weird."
Malone didn't offer a comment for the story, but he seemed to address the collaboration during a 2022 interview with Jimmy Fallon on The Tonight Show, telling the host, "I have not met Bob Dylan but we have been… hmm, I don't how much I'm at liberty to discuss. We've been chatting. He's always just been a voice in my head. Always just appreciated the music and appreciated the songwriting."
The Rolling Stone piece dives into more details about the Malone/Dylan story, so check it out here.