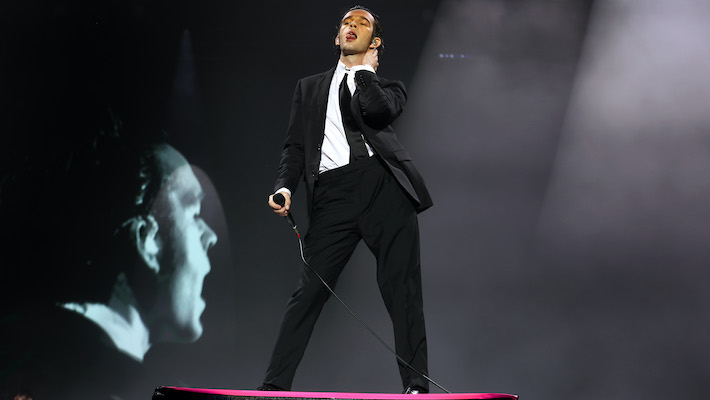 Matty Healy isn't one to pass up a grand gesture, even if it's against the law. In late July, Healy and The 1975 were performing at Good Vibes Festival 2023 in Kuala Lumpur, Malaysia when Healy protested the country's anti-LGBTQ+ laws by kissing bandmate Ross MacDonald on stage.
The 1975's set was cut short, and Healy informed the crowd he and the band had "just got banned" from Malaysia. The rest of the festival was subsequently canceled, as explained in a statement posted to its website that notes the cancelation was ordered by the Ministry Of Communications And Digital in response to "the controversial comments and remarks made by" Healy and The 1975.
That's not the end of it.
According to The Guardian, Future Sound Asia (FSA), Good Vibes' promoters, "are now pursuing a claim against the British band calling on them to acknowledge liability and compensate FSA for damages incurred."
The publication relayed, "If they fail to do so, FSA will take action in the UK. FSA claim that Healy's actions 'tarnished' the festival's reputation and that they 'intentionally contravened the agreement [the band] had with FSA.'"
The Guardian previously reported on July 26 that "a group of Malaysian musicians and festival vendors" were "preparing a class action lawsuit against The 1975."
In the days after the festival's cancelation, The Strokes' Julian Casablancas commented on Instagram that Healy and The 1975's performance "def helped the white outsider awareness" but "likely will change little to nothing in Malaysia."
Healy also seemingly criticized Muse for adjusting their setlist to "entertain while also respecting the guidelines," as Hello Universe co-founder Adam Ashraf told Rojak Daily.