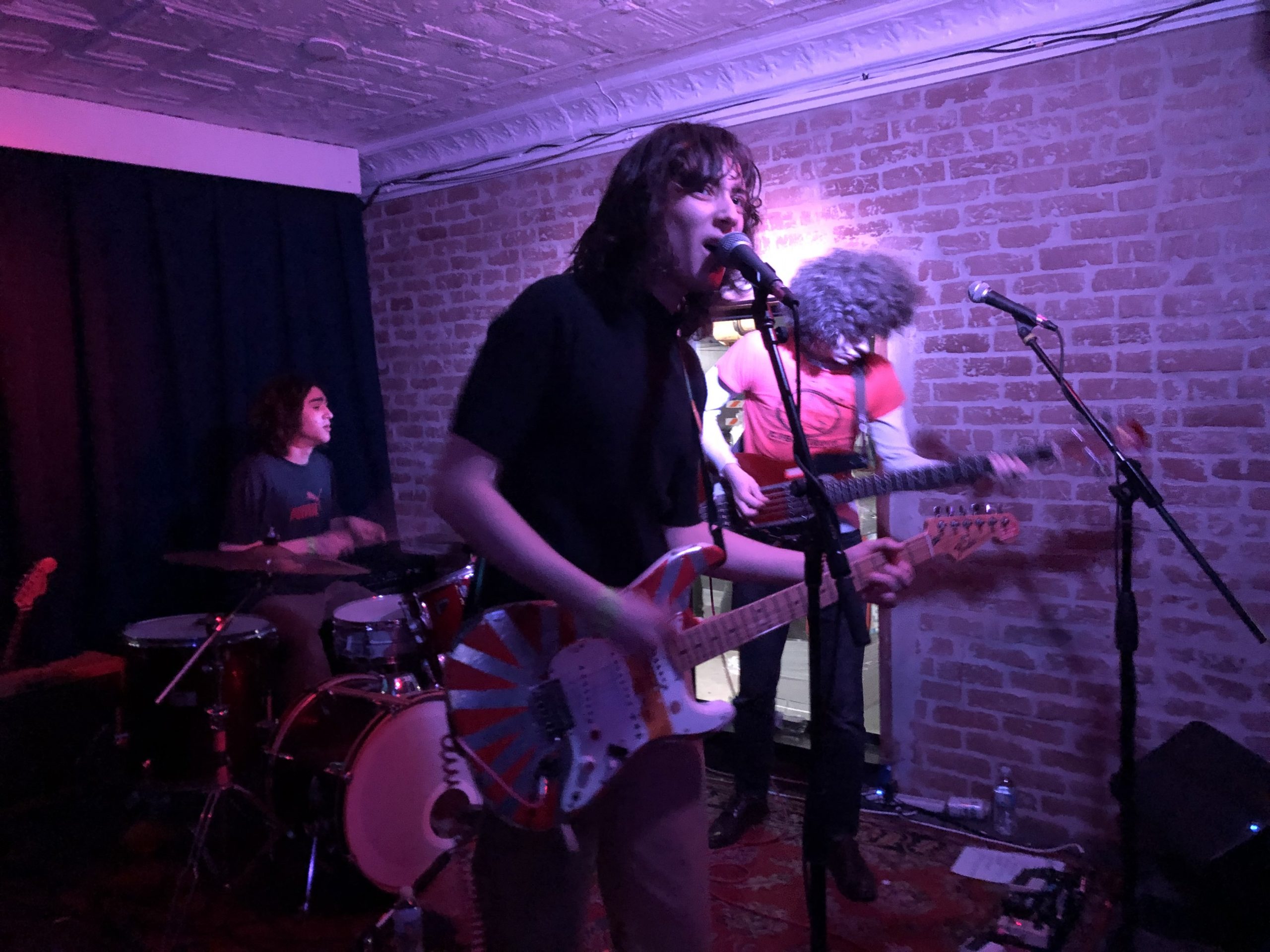 "The best teenage band since Squirrel Bait." Making that your Bandcamp bio is one way to grab the attention of discerning underground rock fans with an ear toward history. The Chicago trio Lifeguard clearly know their way around the classics, at least if your definition of "classic" includes the frantic, noise-wrecked punk offshoots of the '80s — like, sure, Squirrel Bait, the Kentucky melodic hardcore band whose hearty and rhythmically complex records helped lay the foundation for entire genres. Watching Lifeguard onstage at Chess Club for an official SXSW showcase Friday, I noticed more than a little Mission Of Burma in their sound too, as long as we're discussing the forefathers of scraping, dissonant art-punk.
Last month Lifeguard announced their signing to the venerable Matador Records, which recently helped to make stars of another band from the same young Chicago scene, Horsegirl. In a sense, Matador was already family; Lifeguard drummer Isaac Lowenstein's sister Penelope is in Horsegirl, and Lifeguard bassist Asher Case's dad Brian — currently of FACS — played in the former Matador band Ponys among other noteworthy groups like 90 Day Men and Disappears. But listening to Lifeguard at Chess Club, I got that the sense that even without the prior affiliations, they would have appealed to Matador co-owner Gerard Cosloy, who snuck into Burma shows as a teenager and later signed Squirrel Bait to Homestead Records.
With Austin resident Cosloy front and center, snapping the photos in the above tweet, Lifeguard blitzed our senses Friday. The songs coursed with the anxious energy of youth, but not the clumsiness. It was half an hour of tense, fast-paced post-punk with sharp edges and (sometimes) flatted fifths, delivered with a confidence and authority that either belies Lifeguard's age or underlines it (I can't decide). Both Case's bass and Kai Slater's guitar buzzed through aggressive, discordant riffs at times and careened into squalls of feedback otherwise, occasionally spreading out into extended drones. The vocals, mostly from Slater, were hollered and yelped with a blunt forcefulness that reminds me of Hot Snakes frontman Rick Froberg's weathered bark, but with a not-quite-grown-up slightness. The songs were tight and knotty, toying around with tension and texture at breakneck speeds, like a FACS LP played at 45 rpm.
Lifeguard haven't actually released anything on Matador yet, and before putting out a full-length, the label plans to reissue last year's Crowd Can Talk EP; commenters on Bandcamp compare that one to everything from Descendents to Erase Errata, to give you a further sense of this band's range. Crowd Can Talk and Friday's show have me eager to hear a new record, whenever it comes. This band was in some ways raised by one generation of indie rock and quite literally came of age within another, a scene that is only beginning to spill out into the world beyond Chicago all-ages shows. (See also: Friko, recent signees to Fire Talk Records, who were playing right next door at Swan Dive during Lifeguard's set.) Before hitting their 20s, Lifeguard already feel more seasoned and self-possessed than a lot of buzz bands in Austin this year. If they do follow in the footsteps of Squirrel Bait, we can look forward to a gamut of inventive sounds from these three down the road — not to get too far out ahead of the fiery, inspired music they're making now.
TOUR DATES
4/29 Chicago, IL @ The Metro #
7/21 Philadelphia, PA @ Ukie Club ^
7/22 Asbury Park, NK @ House of Independents ^
7/23 Baltimore, MD @ Ottobar ^
7/25 Washington, DC @ DC9 ^
7/27 Durham, NC @ The Pinhook ^
7/28 Asheville, NC @ The Grey Eagle ^
7/29 Nashville, TN @ Third Man Records ^
7/30 Atlanta, GA @ Masquerade ^
8/1 Birmingham, AL @ Saturn ^
8/2 New Orleans, LA @ Toulouse Theatre ^
8/3 Houston, TX @ White Oak Music Hall ^
8/4 McAllen, TX @ The Gremlin ^
8/5 San Antonio, TX @ Paper Tiger ^
8/7 Austin, TX @ Parish ^
8/8 Dallas, TX @ Sons of Hermann Hall ^
8/9 Fayetteville, AR @ George's Majestic Lounge ^
8/11 Lawrence, KS @ The Bottleneck ^
8/13 Chicago, IL @ Thalia Hall ^
% w/ June of 44
# w/ Eleventh Dream Day
^ w/ Horsegirl