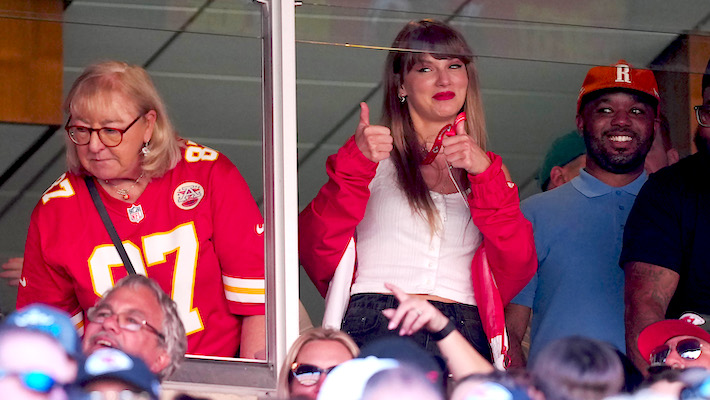 Are Taylor Swift and Travis Kelce dating? Maybe! It looks like there's at least something going on there, especially after Swift turned up to see Kelce's Kansas City Chiefs play the Chicago Bears yesterday (September 24). She appeared to have a heck of a time at the NFL match-up, and Swifties had their own fun churning out Swift/football memes.
Plenty of fans are in celebration mode, like one who wrote, "taylor dating an american football player who is vaccinated, drinks bud light and loves his mom," alongside a video of Olivia Wilde chanting, "We love America!"
Others cracked jokes about how Swifties are suddenly football fans now, or are at least trying to be. One shared a video of Hulk Hogan attempting to listen to hip-hop and wrote, "Swifties forcing themselves to watch Football because Taylor is involved."
https://twitter.com/LocalSoundwave/status/1706130766298542522
Another shared a photo of a young Chiefs fan posing in his room that's decked out in team gear and wrote, "*taylor goes to one chiefs football game* me:."
Some fans joked that Swift had some learning to do when it comes to the sport, like one who shared a photo of a zombified Swift using a laptop and wrote, "Taylor researching how football works last night before the game starts."
Check out some more memes below.