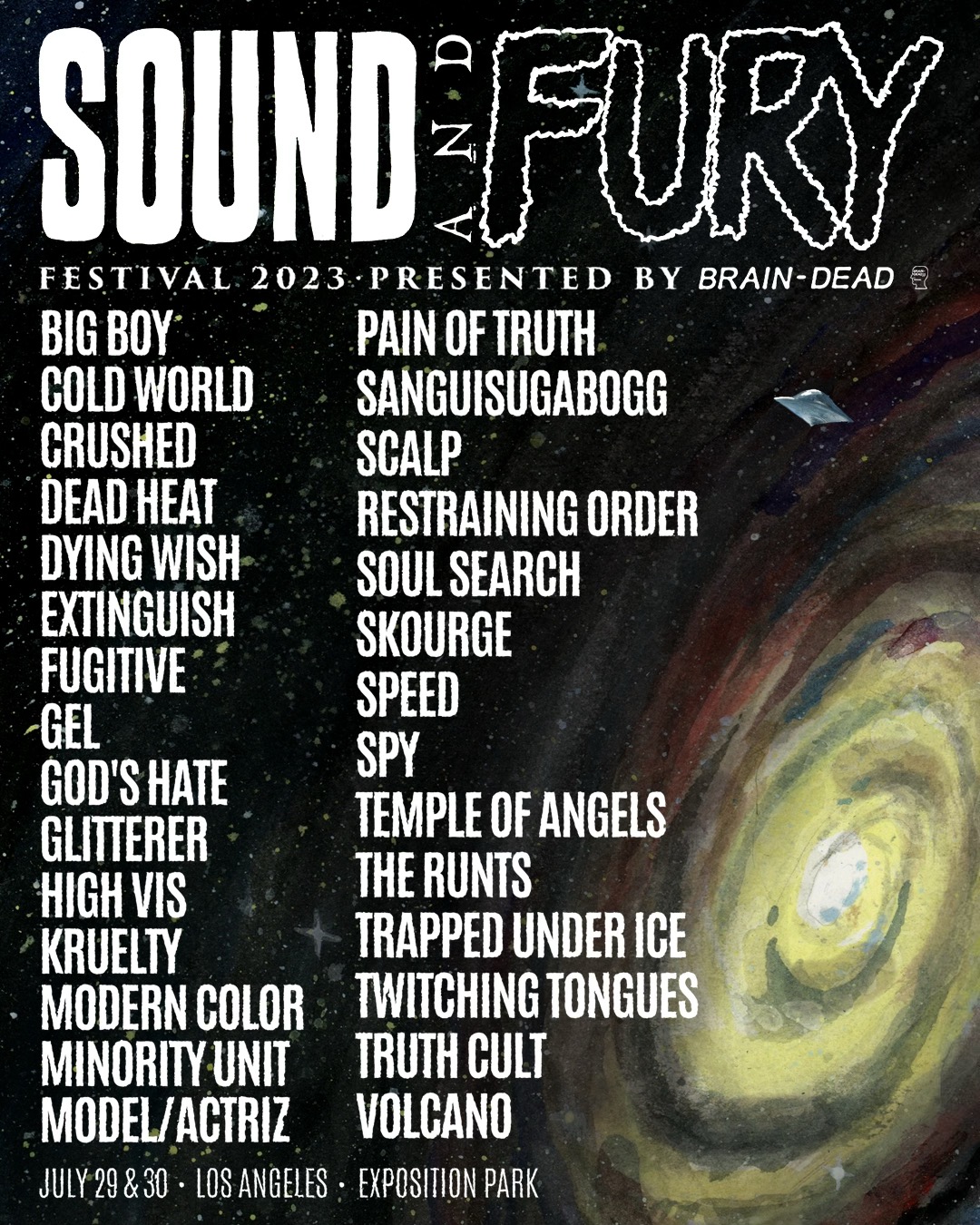 Last year, thousands of people gathered in LA's Exposition Park for Sound And Fury, a magical moment that was, by many accounts, the single biggest hardcore festival in North American history. That show had many of the best bands in the genre, and it was headlined by California heroes Gulch, who played their last show ever. This year, they're running it back. The 2023 Sound And Fury fest goes down 7/29-30 at the same venue, and it looks like it's going to be crazy.
Some of the standout bands from last year's Sound And Fury are coming back this year, including Speed, Spy, and God's Hate. Someone in the know told me that Sydney bruisers Speed are actually headlining this year, which is absolutely wild, considering that they don't even have an album out. But whether or not that's happening, I could see it.
There are big, returning names on the lineup, too. Baltimore greats Trapped Under Ice, who just played a pair of triumphant comeback shows, will play. So will Twitching Tongues, the long-running metallic hardcore band led by the extremely busy brothers and God's Hate members Colin and Taylor Young. Pennsylvania legends Cold World, who only play a few shows a year, are playing, as are the back-in-action California bruisers Soul Search and Minority Unit. And the festival will also feature tons of the young, ascendant bands from the hardcore world.
High Vis, the hardcore-adjacent British band, just played their first run of US shows, and those sets were, by all accounts, revelatory. They're playing Sound And Fury. So are some of the other bands in their vein, like Glitterer, Truth Cult, Modern Color, and Model/Actriz. Fugitive, the new thrash band from Power Trip's Blake Ibanez, are on the bill, as are Skourge, whose singer Seth Gilmore is also in Fugitive, and death metallers Sanguisugabogg and ultra-heavy Japanese band Kruelty. And of course there's hardcore: Gel, Pain Of Truth, Restraining Order, Dying Wish, Dead Heat, Big Boy, Extinguish, Scalp, Volcano, more. You can find all the relevant info here.