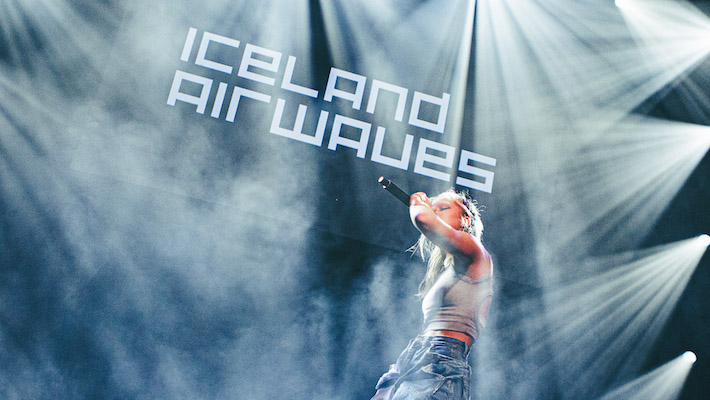 In the United States, dozens of music festivals take place every year that give concertgoers the opportunity to discover new artists. To name just a few, there's Pitchfork Music Festival and SXSW for indie music, Something In The Water and Essence Music Festival for R&B, Rolling Loud and Camp Flog Gnaw Carnival for hip-hop, and Ultra and Electric Forest for EDM. These US festivals have hundreds of thousands of people flocking to their grounds to collectively lose it to their favorite artists and find their next musical obsession. But one isolated festival has positioned itself as the leader in music discovery of all genres for years now, and they're on a mission to close the gender lineup gap while they're at it: Iceland Airwaves.
Identifying as the "world's most northerly music showcase and industry festival," Iceland Airwaves brings emerging artists from all across the world (Iceland included, of course) the weekend of November 2 through November 4 2023 to play their music to a diverse and international crowd. Much like SXSW, Iceland Airwaves doesn't exist in one venue alone. Instead, the four-day spectacular is spread out all across the city of Reykjavík, allowing concertgoers a range of experiences from an intimate set in a cathedral to a full-blown rager in a massive concert hall.
The festival, which was founded in 1999, has been committed to booking gender-balanced line-ups as part of the festival's ongoing work with Keychange, a pledge that was signed in 2019. This year is no different. Gender-parity is still at the centerfold of the festival with a range of artists from several countries and music genres. This year's lineup highlights include Bombay Bicycle Club, Yard Act, Balming Tiger, Blondshell, Cassia, Lime Garden, Squid, Faux Real, Andy Shauf, and Ghostly Kisses, along with Icelandic artists like NANNA, Daði Freyr, Axel Flóvent, Árný Margrét, Eydís Evensen, Neonme, Myrkvi, and LÓN. Thankfully, Uproxx is breaking down the lineup to spotlight some acts you don't want to miss.
Here are the acts you don't want to miss at Iceland Airwaves 2023:
Andy Shauf
This Canadian indie mainstay has been releasing lush and tender music since 2009, with his latest being the excellent 2023 LP Norm. While his 2020 release The Neon Skyline was more conceptual, Norm takes listeners on a journey through the artist's many little epiphanies about love and snapshots of human connection.
Blondshell
Blondshell is one of 2023's biggest indie breakouts. The LA-based artist uses music to transmute angst about toxic relationships and the instability of early adulthood, all while paying homage to grungy early aughts with blown-out guitars, thundering power chords, and even a song dedicated to the cult favorite TV show Veronica Mars.
Squid
British quintet Squid are sure to bring the noise to Reykjavík this year. With their latest project O Monolith, Squid's palpable energy manages to be both noisy and melodic. Throughout eight songs, Squid takes listeners on a disorienting journey, with much of their music starting slow before the band launches into a full-on frenzy of sound. With Squid, it's safe to say listeners should expect the unexpected.
Anjimile
This Boston-by-way-of-Texas artist has gone from indie breakout to consistent favorite since dropping his 2020 debut Giver Taker. On the heels of his sophomore album The King, which dropped in September, Anjimile explores and reflects on his identity through music. Moving fluidly from tender and quiet to rageful and raucous, Anjimile's boundless sound pushes the boundaries of folk rock.
JFDR
JFDR is the project of Icelandic singer-songwriter, Jófríður Ákadóttir. her wistful approach to music goes from moody to reflective, creating music that's, in her words, "about clearing and healing; like breathing fresh strong air through your old self." Her music has already inspired many, including Björk, who cites her as an inspiration.
Daði Freyr
Daði Freyr is another Iceland musician taking the stage at the festival this year, though he now resides in Berlin. Freyr burst onto the international music scene when he represented Iceland in the 2021 Eurovision Song Contest with the track "10 Years," which impressively finished in fourth place. Since then, Freyr has been honing his feel-good music, continuing to release upbeat synth-forward music with his latest album I Made An Album that's sure to be a blast to year in a live setting.
Balming Tiger
Alternative K-pop group Balming Tiger is a genre-blending group known for their tangible energy, cutting-edge sound, and awe-inspiring stage presence. Together, they fuse elements of punk, hip-hop, and synthy pop as heard on their just-released debut LP January Never Dies. They also have a collaboration with BTS' RM, "Sexy Nukim," which gives a taste of their swaggering, feel-good sound.
Gaidaa
Dutch-Sudanese R&B/Soul artist Gaidaa isn't one to miss at Iceland Airwaves. Hailing from The Netherlands, Gaidaa's music is characterized by powerful emotion she pours into each one of her songs. Mixing honeyed vocals with pacifying melodies, Gaidaa represents a new generation of soul artists poised to take the world by storm.
Kneecap
What do you get when you cross hip-hop, political satire, and Gaelic? The answer is Kneecap, a newly signed hip-hop trio hailing from Northern Ireland on a mission to bring their culture to wider audiences. The group, which rap mostly in their native language, aim to ignite conversations about Irish history with a swaggering sound, wild energy, and sharp lyricism.
Haley Blais
Canadian indie singer-songwriter Haley Blais oftentimes sings of growing pains. No, not the ones you experienced as a young kid. Rather, the emotional growing pains of being in your twenties. The singer's stunning, airy vocals are the result of her time as a classically trained opera vocalist, and with her new album Wisecrack, Blais strives to uncover the darker side of coming into adulthood while still maintaining a sense of playfulness in her sound.
Iceland Airwaves hits Reykjavik on November 2nd. Find more information about the festival here.