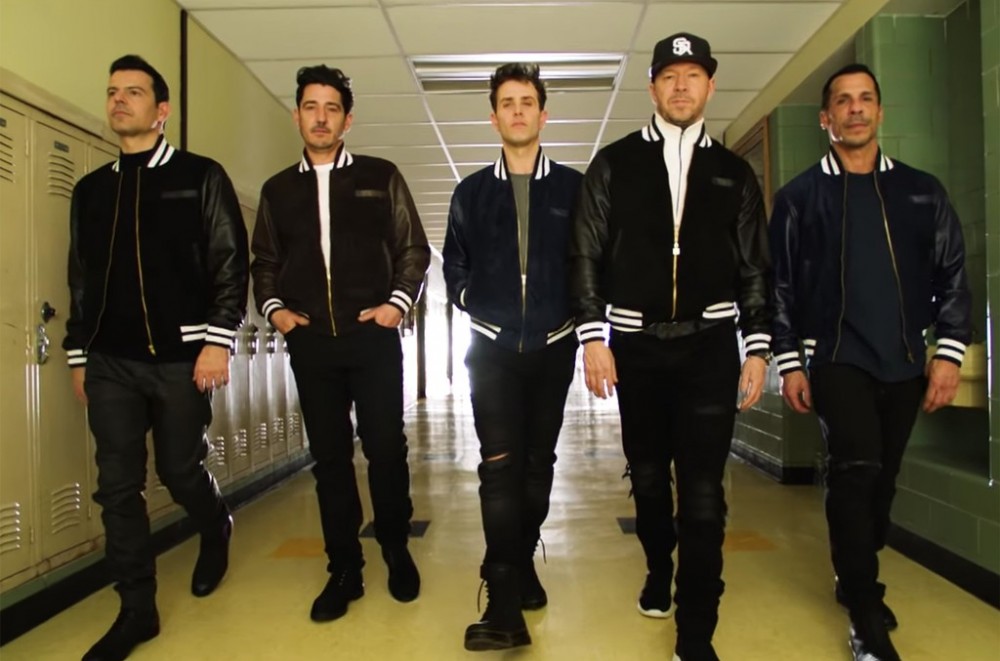 Big Freedia, Jordin Sparks, Boyz II Men and Naughty By Nature are invited.

We're all stuck at home, but New Kids on the Block are here to make sure that at least we can dance and have some fun. The man band released an upbeat bop on Friday morning (April 24), "House Party," and they've pledged to donate merch sales and all net proceeds to No Kid Hungry.
Oh, and did we mention all the guests that are invited to jam on the song? The feel good ray of sunshine features vocals from Boyz II Men, Big Freedia, Jordin Sparks and Naughty By Nature, who all Zoom into the visual for the track, which also has cameos from Carrie Underwood, Nicole Scherzinger, Ken Jeong, Jenny McCarthy, Derek Hough, Kid 'N Play and Mark Wahlberg.
"For those about to lose their minds, we gotta remember that in the worst of times, we can make the best of times," Donnie Wahlberg says in a voiceover at the top of the track, as Boyz II Men croon their approval. Then the song's joyful bounce kicks in and the jam — written and produced by Wahlberg and Deekay Music over FaceTime and other apps — unleashes some real talk about being stuck at home.
"It's nine o'clock/ Ain't got nothin' else but time/ I think I'm gonna lose my mind," Jordan Knight sings as Wahlberg wonders, "When will it stop?/ Can't take this s–t no more/ Wanna go back to before," dancing in his living room along with two blue furries. "But it's safe inside now/ We gonna turn the lights down/ Don't you wanna let your feeling go," Joey McIntyre pleads before the chorus reminds fans to"stay home."
"I was inspired. People need to be entertained, to feel light, to be happy. If we can do even the smallest thing to lift someone's day we will do that," Wahlberg said in a statement about writing the song while on quarantine in his home. "And in doing so, we will also donate all net proceeds to benefit No Kid Hungry. All we want to do is give back in the best way we know how."
NKOTB are also auctioning a dream tour package to benefit No Kid Hungry that includes two tour stops and puts the winner on the tour bus for one night with the band. The winning bidder will also receive two tickets to a future NKOTB tour, hotel accommodations, round-trip air for two, a merch bundle and access to the tour meet and greets with NKOTB; bidding s open now through May 8 at 9 p.m. EST here.
Watch the "House Party" video below.