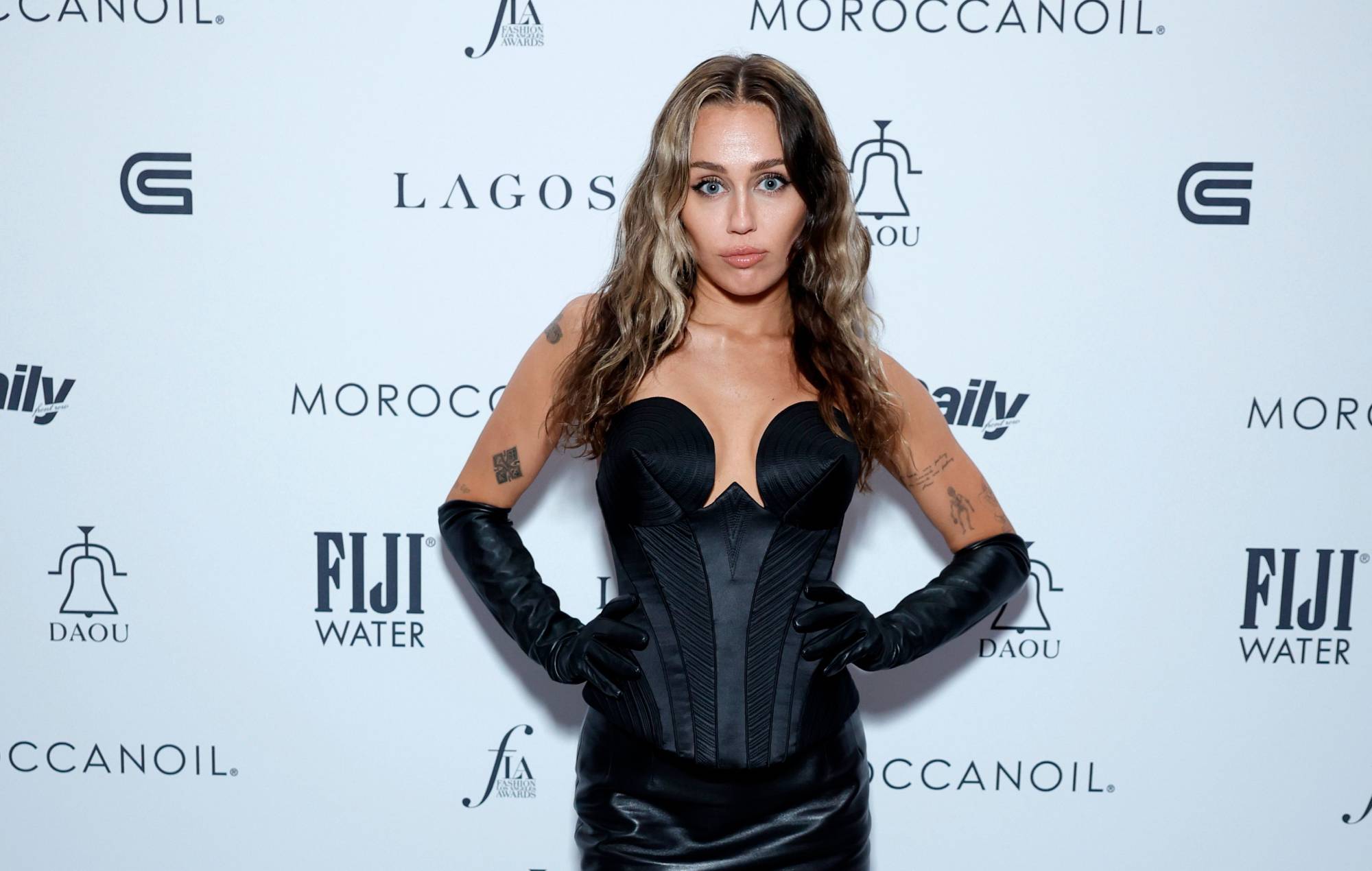 Miley Cyrus has reflected on the "upsetting" controversy around her 2008 Vanity Fair cover.
Discussing the magazine cover in a recent episode of her 'Used To Be Young' TikTok series, in which she looks back at significant moments throughout her career, Cyrus reflected on how much she enjoyed doing the photoshoot.
"Everybody knows the controversy of the photo, but they don't really know the behind-the-scenes, which is always much more meaningful," the singer said of the cover photo which featured a then 15 year old Cyrus draped in a white sheet with red lipstick on which was taken by famed photographer Annie Leibovitz.
She continued: "My little sister Noah [Cyrus] was sitting on Annie's lap and actually pushing the button of the camera taking the pictures," she said. "My family was on set and this was the first time I ever wore red lipstick. Pati Dubroff, who did my makeup, thought that that would be another element that would divide me from Hannah Montana."
Cyrus then explained that the controversy behind the photo was that the cover showed her as the opposite of the child-friendly Disney character, Hannah Montana, she had been portraying at the time .
"This image of me is a complete opposite of the bubble gum pop star that I had been known for being, and that's what was so upsetting," she said. "But, really, really brilliant choices looking back now from those people."
When the cover was first released back in 2008, Cyrus issued a statement apologizing for the photoshoot. "I took part in a photo shoot that was supposed to be 'artistic,' and now, seeing the photographs and reading the story, I feel so embarrassed," she said in a statement at the time. "I never intended for any of this to happen, and I apologise to my fans, who I care so deeply about."
In 2018, during the cover's 10th anniversary, the singer took to Twitter/X to share that she was not actually sorry and tweeted a 2008 cover of the New York Post that featured her and wrote: "I'm not sorry…fuck you #10yearsago."
In other news, Cyrus released a her new song 'Used To Be Young'.  The track was announced earlier this week as being "dedicated to my loyal fans," and it arrived with its own video on Friday. It is the first material from the pop star since her eighth and most recent album 'Endless Summer Vacation', which was released in March.
The singer recently said that said she was "thinking of Adele" when writing the song.
After footage was shared of Adele telling the crowd at her Las Vegas residency that she was "obsessed with Miley Cyrus's new song," Cyrus then shared the footage on X/Twitter and told the star: "I thought of you often while writing this song – always hoped that you would love it. This means the world to me. I love you. Mission accomplished."
Back in May, Cyrus confirmed that she would be taking a hiatus from touring and explained her reasons for doing so. "It isn't what's best for me right NOW," she wrote in a note to her fans.
This week, the singer also discussed her 2013 public argument with Sinéad O'Connor to mark her song 'Wrecking Ball' turning 10.
Upon the song's release a decade ago, O'Connor wrote an open letter to Cyrus after the pop-star cited the late Irish singer as an inspiration for her explicit video for 'Wrecking Ball'.
In the letter, O'Connor warned Cyrus not to let the music industry make a "prostitute" out of her, with Cyrus then responding by posting photos of O'Connor in a fragile mental state and comparing her to the actress Amanda Bynes, who was hospitalised after a mental breakdown that same year.
On her new special Endless Summer Vacation: Continued (Backyard Sessions), Cyrus said: "I had no idea about the fragile mental state that she was in, and I was also only 20 years old, so I could really only wrap my head around mental illness so much. All that I saw was that another woman had told me that this idea was not my idea."