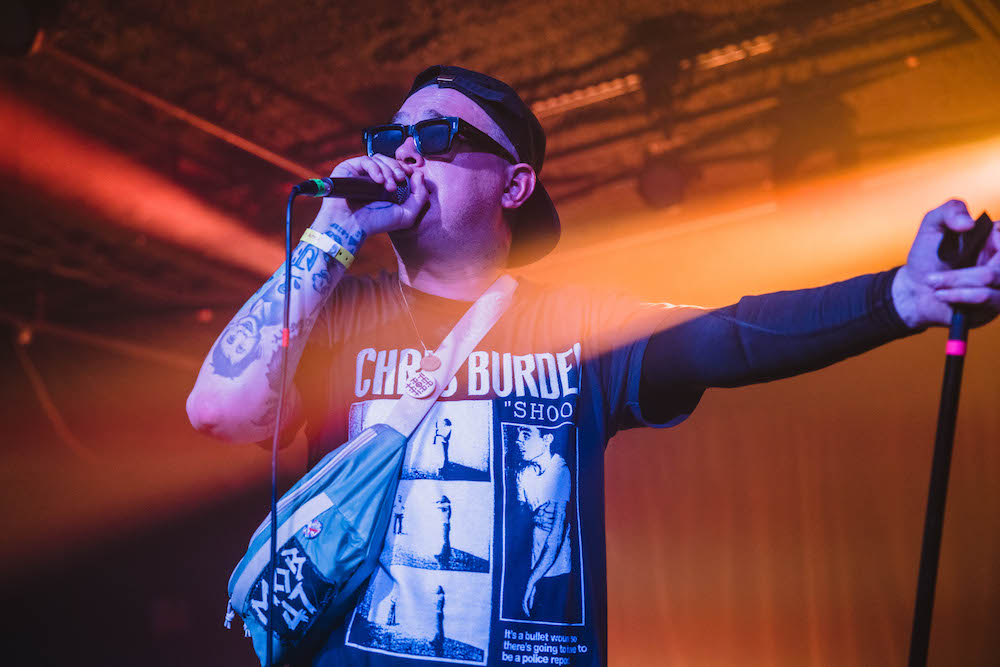 In 1971, Chris Burden had himself shot in front of a live audience. Burden, an installation and performance artist, performed a piece that he called Shoot, and the entire performance was about Burden's willingness to endure a gunshot wound and his audience's willingness to let it happen in front of them. An assistant shot Burden in the arm with a rifle, from close range. An eight-minute video of the shooting survives on the internet — an early example of a kind of extreme transgressive body art that's echoed down through the decades. When Lil Ugly Mane performed yesterday at Oblivion Access, a festival named after one of Ugly Mane's more experimental albums, he did it in a Chris Burden Shoot T-shirt. It was hard not to take some kind of message from that.
I did not expect to see Lil Ugly Mane perform at Oblivion Access. I don't think anyone did. Ugly Mane, who came up by making shadowy lo-fi murk-rap about drugs and depression and death, documented much of his past few weeks on Instagram, but he's since deleted all of it. The stuff on that page was deeply concerning. When Ugly Mane announced an American tour a few months ago, he said that the entire enterprise was basically his own personal nightmare, that he did not want to be doing it. In his Instagram stories a couple of weeks ago, Ugly Mane wrote some deeply upsetting things — things that I honestly don't feel comfortable relating here. His tour was quickly cancelled. But here he was, in Austin.
Lil Ugly Mane has always been a mysterious figure. In the early '10s, when his internet legend first spread, Travis Miller was a Richmond punk who was deep in the harsh-noise realm, making tiny-run experimental cassettes that might sell a few dozen copies. Miller invented his Lil Ugly Mane persona as a way to play around with the aesthetics of Southern underground rap, especially '90s stuff from Memphis and Houston, and he fell in with Raider Klan, the shadowy group of Florida kids who were messing around with the same sounds. Ugly Mane might've been an outsider in the rap world, but this was a moment when an outsider could make a real impact. Ugly Mane could really make beats, and he could really rap — talking visceral violent shit in ways that paid homage to older styles without slavishly recreating them. He also processed and down-pitched his own vocals, turning his own presence into abstraction. Before he started playing live shows, people didn't even know that Ugly Mane was white.
In the decade since Lil Ugly Mane released his underground-landmark 2012 album Mista Thug Isolation, Ugly Mane's dark and elusive style has become big business. Acts like $UICIDEBOY$ and Ghostemane, who came out of some of the same underground circles, are now touring arenas, but this was never going to be Lil Ugly Mane's way. Instead, Travis Miller got deeper into more experimental sonics and more vulnerable lyrics; his 2015 album Oblivion Access is a document of a man falling apart. At times, Travis Miller has walked away from Lil Ugly Mane entirely, releasing black metal or free jazz projects under different aliases. At times, he's gone dark and released nothing. Last year, he played Oblivion Access with a giant animatronic dog as his backing band.
Lil Ugly Mane's 2022 Oblivion Access set was the stuff of instant internet legend. At the beginning of the night, an orange animal mascot, a budget version of a Chuck E. Cheese house-band critter, told the crowd that Lil Ugly Mane could not perform that night and that he, the classically trained Thermos Grenadine, would take his spot instead. Eventually, Ugly Mane came to the stage and got into a sketch-comedy back-and-forth with Thermos. He did perform songs, but the songs themselves did not seem to be the point. Lil Ugly Mane was on some other shit. You could hear it in his last album, 2021's Volcanic Bird Enemy And The Voiced Concern, an unexpected and pretty-great take on Folk Implosion-style '90s breakbeat-slacker indie rock. He wasn't going to do anything that made sense.
When Lil Ugly Mane announced his return to Oblivion Access, nobody knew what he'd do. Then it seemed like he wouldn't be there at all. After the past few weeks of scary, chaotic Lil Ugly Mane news, it was a genuine shock to see the Oblivion Access bookers announce that Ugly Mane's set would happen as planned: "We completely understand and value the importance of seeking help when needed. The choice was his whether or not to play OA23 and we fully supported either decision he made." Until I saw Lil Ugly Mane step onstage, I didn't really think he'd be there.
Lil Ugly Mane played on a daytime bill with another rap enigma, the ridiculously prolific Rochester street-rap maniac RXK Nephew. Nephew's live show also seemed like an open question; artists who live on YouTube don't always do their best work in live performance. But Nephew's physical, herky-jerk music sounds great in a club situation, and he had a devoted core of fans up front jumping around to all of it. The show was hectic and sloppy, with Nephew rapping over his own recorded vocals and spending much of the show in shadows at the back of the stage. But it was still engaging and fun. It was a rap show.
When Lil Ugly Mane made it onstage, it was still a rap show. I've been told that Ugly Mane brought all his animatronic animals down to Austin, but they never made it to the stage. Instead, it was just Ugly Mane and a DJ, delivering a full-on rap set that mostly drew from Mista Thug Isolation and that didn't even touch on Ugly Mane's more far-out recent experimental stuff. And it was great. Ugly Mane smashed it. I wasn't expecting that.
Lil Ugly Mane can rap. Onstage yesterday, he was comfortable and commanding. He's got a deep, in-the-pocket drawl that honestly sounds better without all the delay and tape-hiss effects that Ugly Mane uses on record. The MSI tracks hit like anthems, with the whole crowd chanting along. And Ugly Mane looked good. I half-expected him to be wrapped up in bandages, but only an Allen Iverson-style Nike shooting sleeve suggested that he'd endured any recent physical trauma.
Ugly Mane talked about it, though. Early on, he said, "This song is about dying." Then, after a long pause, he almost shrugged, "It's an option." After a while, he mentioned that he'd just cancelled a tour that he didn't want to cancel: "I been in a fuckin' facility for a little bit now. I just got out like three fuckin' days ago, so here I am." This was by way of introducing a song about how "substance abuse affects mental health," a point that he made again and again. He told people not to let that get away from them. He also gave rest-in-peace shoutouts to Gangsta Boo and Ted Kaczynski, and he told us, "French cultural theorist Jean Baudrillard said the invention of the ship was also the invention of the shipwreck." (That might not be an exact quote, but he definitely said the words "French cultural theorist Jean Baudrillard" onstage.)
Lil Ugly Mane has never been a stable figure. That's been key to his appeal. You're hearing rap music from someone who never envisioned himself as a rapper, talking with authority about the darkest depths of human experience. Right now, he seems to be in an especially unstable piece, and it's worth wondering whether going to see him play live is participating in someone's self-destruction — almost like going to sit in the audience while Chris Burden has himself shot. But Ugly Mane was triumphant yesterday. He put on a crowd-pleasing set. He accepted love from his audience and gave love back. He looked strong, and it was great to see. I hope it wasn't just an act. I hope he's doing OK.