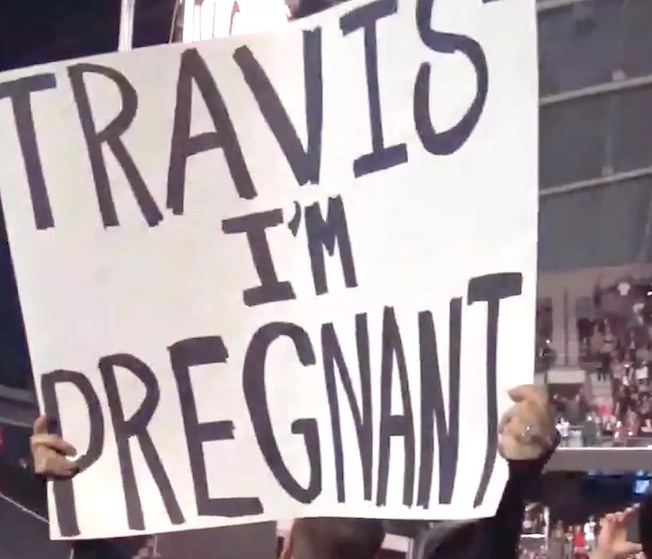 I am admittedly not a big Kardashians person, but you don't have to be to know that the eldest Kardashian — Kourtney — is married to Blink-182 drummer Travis Barker. Over the last couple of years, the couple have filmed their journey to conceive on Hulu's The Kardashians, which premiered season three in May. Things weren't looking great — Kourtney said the couple were done with IVF in a filmed confessional — but I guess something finally clicked! Last night, at Blink's reunion show at BMO Stadium in Los Angeles, Kourtney held up a "Travis I'm Pregnant" sign in the audience, which is honestly a pretty great throwback to the band's video for "All The Small Things."
Released in 1999, the "All The Small Things" video famously skewered Y2K boy bands of the era (Backstreet Boys' "I Want It That Way" video in particular) by putting the band in an airplane hangar and unleashing a hoard of screaming fans, one of whom is holding a "Travis I'm Pregnant" sign.
Anyway, at last night's LA show, arena cameras projected Kourtney's stunt on the big screens so Barker (and the rest of the crowd) could see. "Someone's dick still works," the band quipped as Barker got down from the stage to embrace Kourtney. Watch the moment below; it's pretty cute, regardless of how you feel about all things Kardashian.
https://twitter.com/blink182chile/status/1669992247746613248