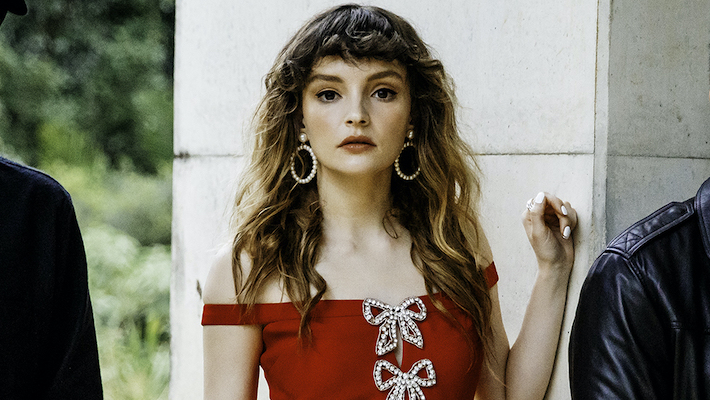 Chvrches leader Lauren Mayberry explained to Mark Hoppus on Apple Music's After School Radio in 2021 that she was a "bad entry level journalist" in her twenties because "if you're in a band, […] it's hard to review other bands the way that people, critics, want you to."
Music journalists will soon be able to review Mayberry as a solo artist for the first time, as she announced on Thursday, July 20. The Scottish artist posted a narrated video, tour dates, and an open letter, the latter of which says:
"This year is the 10th anniversary of the first CHVRCHES album. I met Iain and Martin when I was 23 — a little baby of a person, in hindsight. Looking back on what we've achieved together, so much of it doesn't feel real or even possible. Thank you to every person who has been a part of that.

I am so proud of all the chapters our band has been able to have and I am so grateful to my bandmates for taking me on that journey with them. We are all confident that the CHVRCHES story has many more pages yet to be written.

For now, though, I am excited / terrified / bewildered to tell you that I have been working on my first ever solo music and will be able to start sharing it soon.

For a long time, I couldn't imagine ever doing anything outside of CHVRCHES. Since I was 15 years old, I have always, only, ever been in a band. I always wanted so badly to belong somewhere — to be one of the boys, and to fit in. But as I sail / stumble through this era of my life (your 20s really do go by in a flash, kids), it has started to feel like there are things I want to write and say and do that need to be done on my own.

Thank you for being kind to us and for giving me the opportunity to do this. The first headline shows are now announced and on sale at 10am local tomorrow in the US and Monday in Europe. I guess here we f*cking go?!"
In the Instagram video, Mayberry says, "The only thing I ever really wanted as a writer, as a performer, was to connect with people. Being the only girl and the only woman in so many bands I've been in was a very lonely experience a lot of the time. I internalized a lot of things, and it's strange to start unraveling some of that. It's not an ending, and it's not a beginning, but it would be a shame to let this moment go to waste."
As Mayberry said, tickets for her North American headlining dates will go on public sale beginning on Friday, July 21, at 10 a.m. local time. UK and European dates will become available on Monday, July 24, at 10 a.m. local time.
Check out Mayberry's solo dates below, and find more ticketing information here.
09/04 — Washington, DC @ 9:30 Club
09/16 — Brooklyn, NY @ Music Hall of Williamsburg
09/18 — Allston, MA @ Brighton Music Hall
09/20 — Toronto, ON @ Horseshoe Tavern
09/22 — Chicago, IL @ Lincoln Hall
09/23 — Urbana, IL @ Pygmalion
09/25 — Seattle, WA @ Neumos
09/26 — Portland, OR @ Mississippi Studios
09/28 — San Francisco, CA @ August Hall
09/29 — Los Angeles, CA @ Troubadour
10/05 — Glasgow, UK @ Oran Mor
10/06 — Birmingham, UK @ O2 Institute 3
10/08 — Manchester, UK @ Gorilla
10/09 — London, UK @ Scala
10/11 — Amsterdam, NL @ Melkweg Oz
10/12 — Berlin, DE @ Lido
10/13 — Munich @ Strom
10/15 — Paris, FR @ La Maroquinerie
10/16 — Cologne, DE @ Luxor
10/17 — Prague, CZ @ Rock Cafe
10/19 — Vienna, AT @ Flex
10/21 — Zurich, CH @ Bogen F
10/22 — Milan, IT @ Magnolia
10/24 — Barcelona, ES @ La Nau
10/25 — Madrid, ES @ Sala Capernico