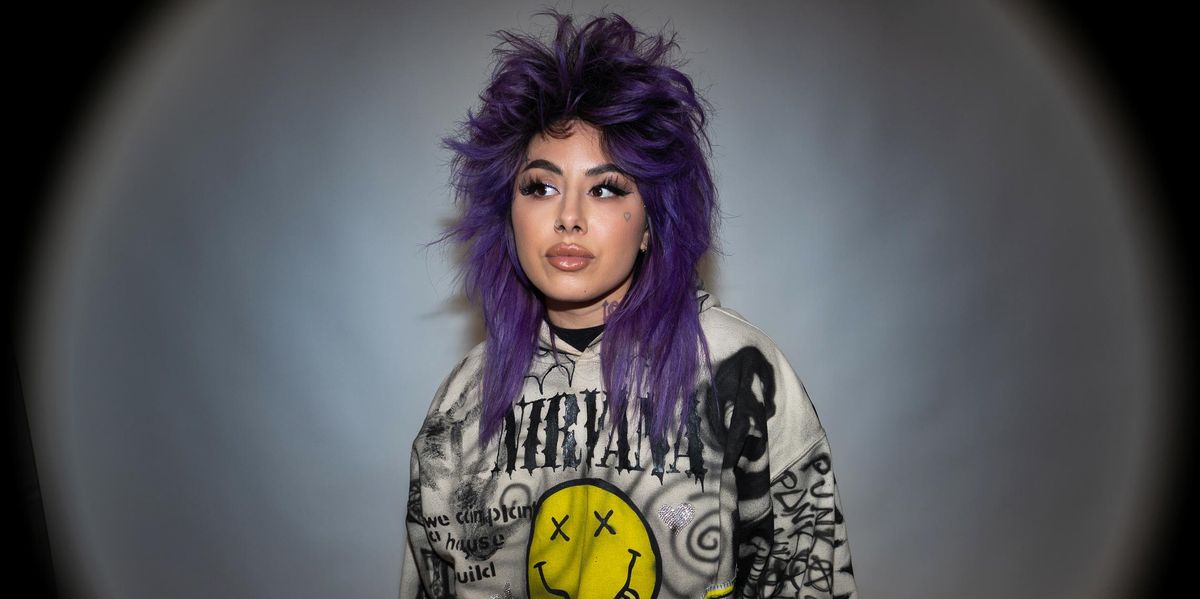 Interview and Photos by Jordan Edwards
Los Angeles based singer-songwriter KILLBOY just released the EP MY CRUSH. It includes seven tracks, including the previously released "NAILS" and "DADDY ISSUES."
MY CRUSH marks KILLBOY's first EP for Atlantic Records. The Texas-born, Los Angeles-based musician gained a following over the past few years with viral songs like "U + ME" and "HOW YOU GON'." Working with legendary rock producer John Feldmann, she's now created a rock sound that fits perfect.
KILLBOY is on the road with Sueco on his "It Was Fun While It Lasted" tour through the end of October. Before she hit the road, we met up to talk about the evolution of her music, and yes, the story behind that purple hair.
---
Is NAILS about a real person, and do they know it?
I had a writing session that day with Jake and Dwilly and Collin, and I was in a really bad mood because my landlord was stressing me out about my broken down car. Everybody was just spouting off things nobody thought anyone should ever actually sing, and I was like "Na, that's so sick. I'm gonna do it."
You've developed more of a rock sound over the last year or so. Why did you lean in that direction?
I booked my first show and started rehearsing singing to trap tracks and it felt like bad karaoke. So I got a band and we turned them to rock versions and I was like yeah, I'm done with this bedroom trap shit.
What inspired the sound on your single "LOSER?"
I was riding my bicycle around town everyday listening to a lot of Beck, Limp Bizkit, and ACDC.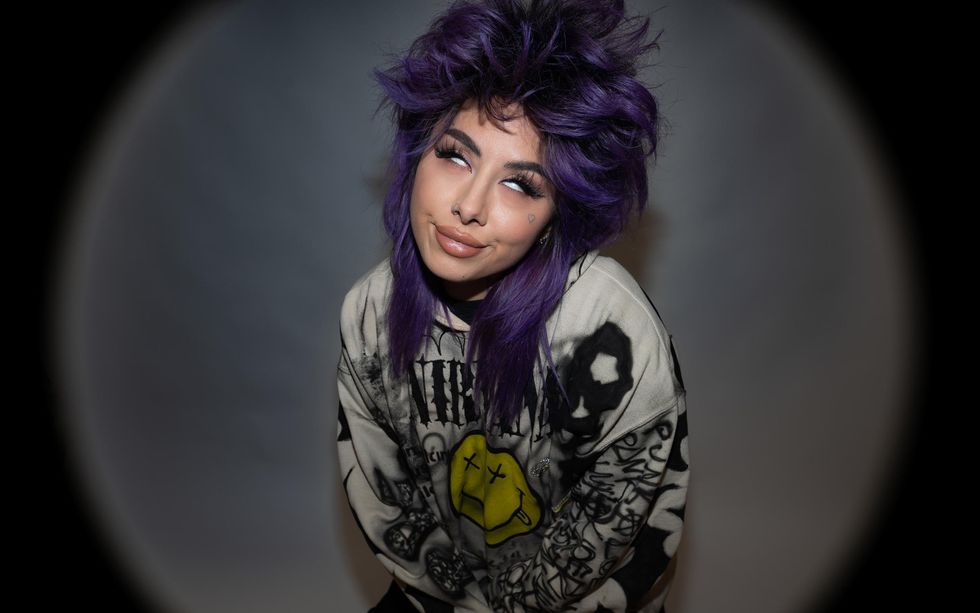 What was it like working with John Feldmann on DADDY ISSUES? What did you learn?
I worked with him on all but two of the songs from this first project. The most meaningful thing I learned was when I told him I was nervous that no one was going to like my music on tour. He said that in the early days of Goldfinger people threw bottles of piss on them at every show, and they still went out every time and gave the best show they could. So I learned that you could be as sick as Feldy and the worst thing imaginable could still happen every single time. It wouldn't even matter as long as you never give up.
You initially resisted signing with a major label. Why did you go with Atlantic?
They've been super supportive with allowing me to make the music I want to make and helping me get out on the road.
When you were younger, you hid your music from your family. Have they embraced it now that you've become successful?
Yeah, they are proud of me. My mom likes "LOVE AGAIN" and "JOLENE," but they're only on Soundcloud. My brother loves "LOSER."
What's the best thing about being on tour and the worst thing about being on tour?
On tour I'm living my dreams, laughing my ass off with the band, terrorizing the tour manager, and meeting the people who like the music. The worst part is when it ends.
You're known for your big purple hair. How did you arrive at that style and color?
I accidentally burned off a small chunk of it bleaching it, and I always thought it looked so sick. So I kept cutting more around that one little alfalfa piece and finally, I was like let's go full Kingdom Hearts. I just feel so fucking sick when it looks this way. I don't know why I love purple so much, I just do.
What have you been listening to lately?
Grouplove, I accidentally forgot about them for years and just discovered they made a couple more albums so I'm catching up. One of my favorite bands ever.

NAILS – KILLBOY (OFFICIAL MUSIC VIDEO)

www.youtube.com

KILLBOY October Tour Dates with Sueco
7 – St. Louis, MO – Old Rock House
8 – Kansas City, MO – recordBar – SOLD OUT
11 – Denver, CO – Bluebird Theater
13 – Albuquerque, NM – Launch Pad – SOLD OUT
14 – Phoenix, AZ – Crescent Ballroom – SOLD OUT
15 – San Diego, CA – House of Blues Voodoo Room – SOLD OUT
16 – Santa Ana, CA – Constellation Room – SOLD OUT
19 – Los Angeles, CA – The Roxy
21 – Ventura, CA – Ventura Music Hall22 – San Francisco, CA – August Hall
23 – Sacramento, CA – Harlow's
25 – Bellingham, WA – Wild Buffalo
27 – Seattle, WA – Neumos
28 – Portland, OR – Hawthorne – SOLD OUT
29 – Vancouver, BC – Fortune
* FESTIVAL PERFORMANCE