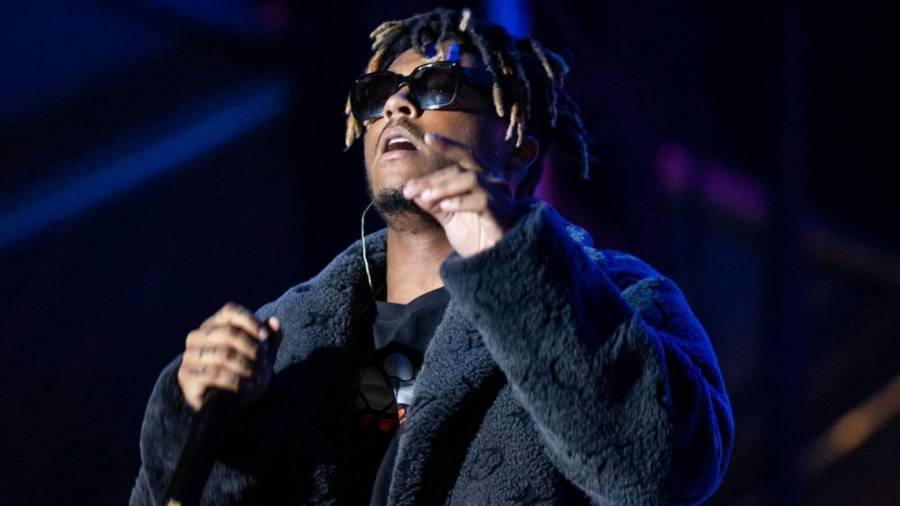 Juice Wrld passed away from an accidental drug overdose roughly seven months ago, but his family, friends and fans are keeping his legacy alive. On Monday (July 6), an Instagram post was uploaded to his official account, revealing a release date for his first posthumous album Legends Never Die. 
According to the caption, the project is expected to arrive on Friday (July 10).
The caption included the 21-year-old rapper spitting a freestyle for the camera that alluded to his struggle with substance abuse: "You gotta admit yourself/You need some help/I gotta admit myself/I'm on these drugs/I feel like I can't save myself."
The line echoes Juice's sentiments in his first posthumous single "Righteous," which was released in late April.
"Five or six pills in my right hand, yeah," he raps. "Codeine runneth over on my nightstand/Takin' medicine to fix all of the damage/My anxiety the size of a planet (Yeah, ooh)/Holes in my skull, over time/My heart's over ice."
But there had been other signs in addition to his lyrics. Following the Chicago native's December 2019 death, his mother Carmella Wallace issued an emotional statement about her son and the demons he faced.
We loved Jarad with all of our hearts and cannot believe our time with him has been cut short," Wallace said. "As he often addressed in his music and to his fans, Jarad battled with prescription drug dependency. Addiction knows no boundaries and its impact goes way beyond the person fighting it.
"Jarad was a son, brother, grandson, friend and so much more to so many people who wanted more than anything to see him defeat addiction. We hope the conversations he started in his music and his legacy will help others win their battles as that is what he wanted more than anything. We know that Jarad's legacy of love, joy and emotional honesty will live on."
Juice's promising career was just getting started when his life was cut tragically short. His last album before his untimely passing, 2019's Death Race For Love, debuted at No. 1 on the Billboard 200, selling roughly 165,000 total album equivalent units in its first week.