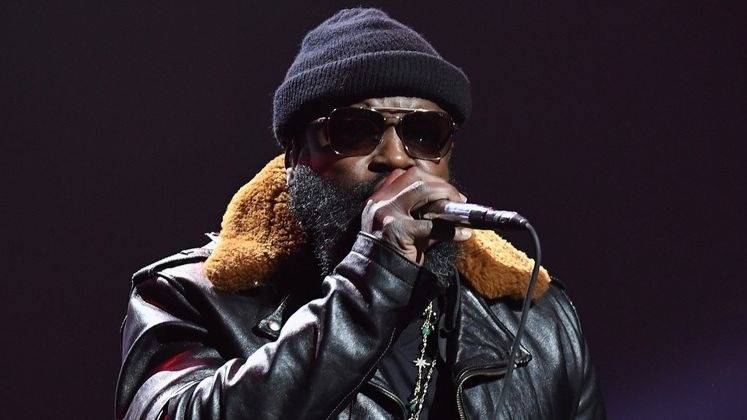 Black Thought has announced another installment in the Streams Of Thought series. The 13-track EP, aptly titled Streams Of Thought Vol. 3: Cain & Abel, features a wide variety of guests including Killer Mike, Pusha T, ScHoolboy Q, Swizz Beatz and indie rock band Portugal. The Man, among others.
The Roots MC made the reveal in an Instagram post on Monday (July 6) alongside the cover art. In the caption, he explained the project was produced by Sean C and would arrive on July 31. The first single, "Thought Vs. Everybody," is expected to be released on July 10. He also made sure to tag everyone who's contributing to the project on the post.
"It's time," he wrote. "Streams of Thought Vol. 3: Cain and Able with my brother Sean C (@itsseanc) coming July 31st. Cover art by the talented Khari Turner."
Streams Of Thought Vol. 2 arrived in November 2018 and boasted nine cuts produced solely by Salaam Remi. Its predecessor, Streams Of Thought Vol. 1, was released that same year in May. Produced by 9th Wonder and the Soul Council, the five-track EP featured Rapsody, Styles P and KIRBY.
The project received a 4.5 out of 5 rating from GroovyTracks and proved without a doubt, "Tariq Trotter is a beast and leaving him out of any top lyricist conversations would equate to blasphemy."
Black Thought recently appeared with Public Enemy at the 2020 BET Awards for an updated version of "Fight The Power" with Nas, Rapsody, YG, Questlove and Enemy Radio MC Jahi.
Check out the tracklist below.
1. I'm Not Crazy (First Contact)
2. State Prisoner
3. Good Morning f. Swizz Beatz, Pusha T and Killer Mike
4. Magnificent
5. Experience" (Interlude)
6. Quiet Trip f. Portugal. The Man & The Last Artful, Dodgr
7. Nature Of The Beast f. Portugal. The Man & The Last Artful, Dodgr
8. We Should Be Good f. CS Armstrong
9. Steak Um" f. ScHoolboy Q
10. Thought Vs. Everybody
11. Ghetto Boyz & Girls f. CS Armstrong
12. Fuel f. Portugal. The Man & The Last Artful, Dodgr
13. I'm Not Crazy (Outro)