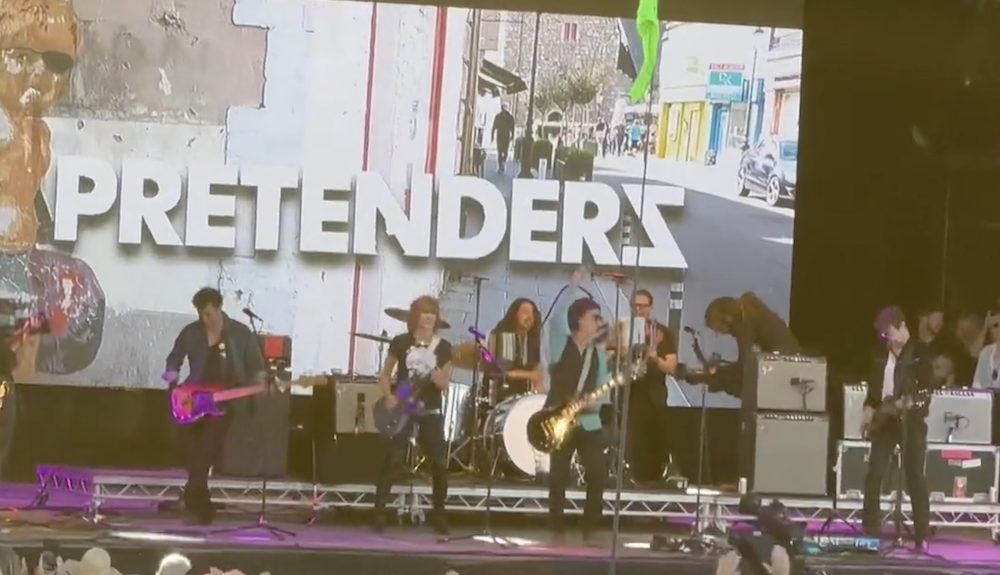 The Pretenders brought along a few guests to their Glastonbury set today, including Foo Fighters' Dave Grohl, who played drums for the band, plus Johnny Marr, who also came onstage as a special guest. It's actually something of a homecoming for Marr, who was briefly a member of the Pretenders in 1987 after the Smiths parted ways. "My favorite thing about Glastonbury over the years is seeing my guitar heroes," Chrissie Hynde said as she introduced Marr, who performed "Tattooed Love Boys" with everyone. Marr was also on hand for classics like "Chain Gang" and "Don't Get Me Wrong."
Marr actually talked to us about his Pretenders days in our We've Got A File On You interview:
You might imagine, on a human level, your band breaking up so publicly and with such acrimony: It felt like, I wake up in the morning and it was like being in an earthquake. Buildings falling around all over you. Then at the same time, you're getting a call from a mutual friend saying, "Hey, listen, the Pretenders' guitar player quit and they got a whole lot of dates in America and Chrissie would love for you to come over." I go, "Well, I really want to get the fuck out of here, and I want to play the guitar, and I like the Pretenders songs." I was never one for sitting and working out many other people's guitar parts. I used to work out records, T. Rex songs and stuff, when I was young. But there were a few records I worked everything out on: Bert Jansch's L.A. Turnaround, the Stooges' Raw Power, Rory Gallagher's Deuce, and the other was the Pretenders' first album. I kinda knew the way those songs went.

It was really weird. As I said, this earthquake was happening and someone pulled me out. If you're going to be pulled out of an intense life situation, you could do a lot worse than Chrissie Hynde. It's a situation with a lot of intensity on a daily basis, friendships breaking down. I'm suddenly partnered up and in a close friendship with someone with someone where two of her band members have died. Try that on for size. It was amazing for me to be with an adult who everyone knows as ballsy, strong, opinionated. She was like, "Boo hoo, two of my fucking band died, try that on." That was the vibe. I got out of the country, and the next thing I was concentrating on was walking onstage opening for U2 at the Olympic Stadium in Los Angeles and other places like that, because they were on the Joshua Tree tour. Now, I'm 24, and I haven't walked onstage to 100,000 people before. That was really good to distract me from the fact that my closest friends were all talking about lawyers, and shit going on in the media. Around that same time, almost in the exact same week, I got a call from Paul McCartney's office asking would you like to come over jam. That's pretty surreal.

Like everything in life, when shit goes down, you find out who your friends are. Luckily for me, my friends were Matt Johnson, and Bernard Sumner, and Chrissie Hynde. And they were all like, "Hey, now you're free, come and play!" The backstory to The The was before I formed the Smiths, Matt Johnson and I wanted to be The The together. It was just a matter of teenage economics. I thought they were doing incredible stuff. I started playing with The The as a sort of session. Chrissie was in a place with the Pretenders where she'd been touring a long time and she had small children. She needed a break from that. And The The were like a gang of guys on a mission. It was Ocean's Eleven or something. There was no way I was going to be allowed to not be involved in that, from Matt. It was a strange, personal story that I only ever really got to explain when I wrote my book.

And I was a kid, you know. Anyone whose band breaks up, if you form that band, it's heartbreaking. All this incredible, exciting stuff was going on, but to be honest with you — whilst it was happening, my heart was broken. It was a tricky time of life, but I look back on it with amazement that I was strong enough to do it. I wouldn't want me own children to go through it. But if they did, I'd be very proud of them, you know?
As for Grohl, he previously joined the Pretenders on stage during the Taylor Hawkins tribute show at Wembley Stadium last year. The Pretenders are set to release their new album, Relentless, on September 15; last week, they unveiled their latest single, "I Think About You Daily" featuring Jonny Greenwood.
Watch some fan-shot footage of the whole crew at Glastonbury below.