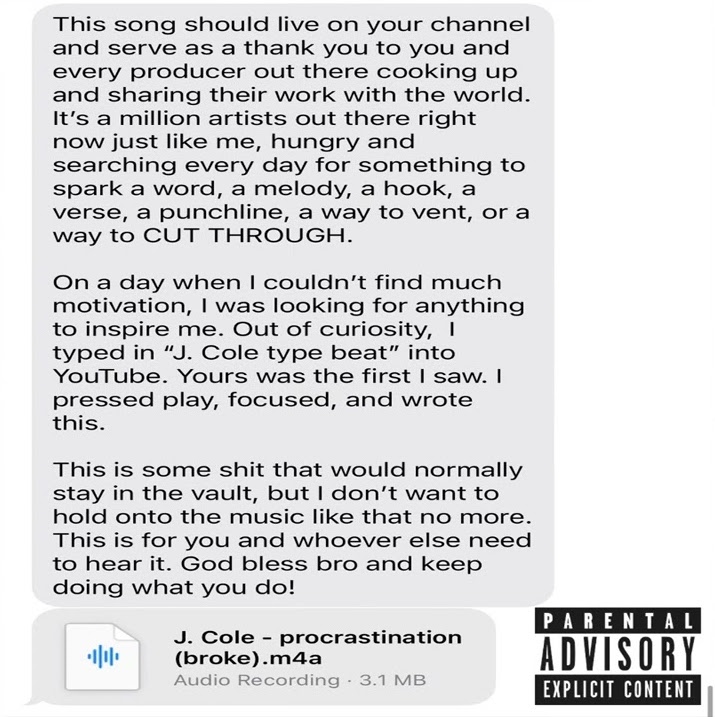 Last we heard from J. Cole, we got the rapper's Gangsta Grillz mixtape, released in April 2022. Cole also guested on a bunch of singles, including Smino's "90 Proof," BIA's "LONDON," YG and Moneybagg Yo's "Scared Money," and Benny The Butcher's "Johnny P's Caddy." Well, tonight J. Cole and producer Bvtman have shared a brand-new track called "Procrastination (Broke)." The new cut comes more than a year after Cole dropped his 2021 LP The Off-Season.
As Cole notes in a text, he hadn't originally planned to release "Procrastination (Broke)." But he decided to drop it as a "thank you" to Bvtman and "every producer out there cooking up and sharing their work with the world."
"It's a million artists out there right now just like me, hungry and searching every day for something to spark a word, a melody, a hook, a verse, a punchline, a way to vent, or a way to cut through," the text says. "On a day when I couldn't find much motivation, I was looking for anything to inspire me. Out of curiosity, I typed in 'J. Cole type beat' into YouTube. Yours was the first I saw. I pressed play, focused, and wrote this."
Cole ended with: "This is some shit that would normally stay in the vault, but I don't want to hold onto the music like that no more. This is for you and whoever else need to hear it. God bless bro and keep doing what you do!"
Listen to "Procrastination (Broke)" below.