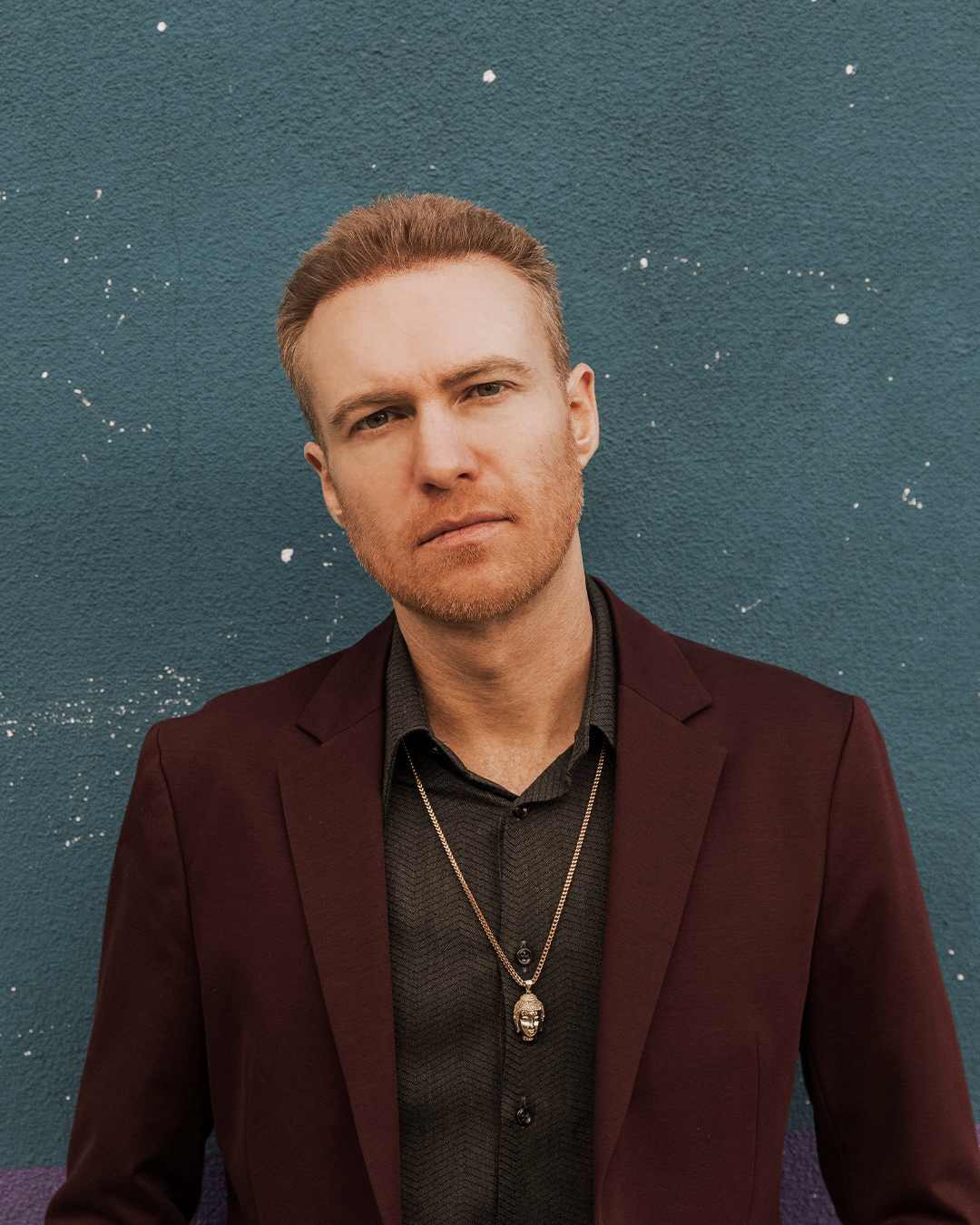 American songwriter Justin S. Grant recently launched his music career with the debut experimental pop single and music video titled "Don't Go!." A native of Santa Barbara, California, Justin S. Grant is an entrepreneur, singer, author, and speaker. His full life is a result of his experience in diverse sectors throughout his journey. We had the chance of interviewing him about his newly released song and music video, his creative process, and upcoming plans. Following-up on his debut single, Justin S. Grant also released a cover of The Beatles' "Let It Be."
Hello Justin! Super excited to have you at GroovyTracks! Firstly, congrats on your release 'Don't Go!,' can you tell us a little bit about this song? What's the story behind it?
Thank you! It's been a long journey to get here, and I hope people will resonate with this debut tune. The song's story is a mix of reality and fantasy. Undoubtedly, daily reality is often difficult, but reality can also be beautiful, such as when embraced by the arms of our love. So, the song acknowledges the hardship of life, while conjuring a "let's just lay here together forever" fantasy.
Your lyrics seem to be very emotional and personal – do you write them yourself? Do you channel your personal experience through them?
Yes, I wrote the lyrics. Certainly, I channel personal experiences into the story, and generally my songs are a collage of real-life events, compressed into one creation.
Furthermore, my approach is to elevate the personal up to something universal, with the hope that many listeners can relate to the message. Some artists believe that only their raw truth should be expressed, and their true fans will love this, but I disagree. That's called a personal diary, which is not wrong, but is not something that is produced for others. I attempt to make songs that are more inclusive. When I listen to a song with a lyric that perhaps only the creator could understand, that seems like a failure to communicate, like a missed opportunity to psychologically touch others.
We know you have had a very successful career in writing, as you are the author of bestselling books. How is it different to focus on music rather than writing? Does your experience in literature help you while writing music?
Well, what is similar about writing books, composing songs, and producing music, is that they all require eons of sitting in front of a computer screen! Ha! And yes, indeed there is creative overlap between the disciplines. My studies and experiences with music and literature continuously interact – I try to make my books "musical" and my lyrics "accessible", clear and easily understood.
A major difference is that the digital tools for writing text are much simpler than the tools used for producing music. It's actually amazing how complicated today's audio tools are compared to the start of the computer era, word processing, and then even more so compared to the analogue recording era. In many ways digital tools are faster than ever, and certainly cheaper than traditional audio gear. But in music production school we learned from some wise old teachers that many tasks happened faster in the past because there was nowhere near the possibilities for perfection and complexity compared to what can be done today in the spheres of sound design and music production.
Artistically speaking, when writing books, I generally try to incite thought in the readers, whereas with music, I'm usually trying to evoke emotion in the listeners. Relatedly, the songwriters of many famous songs have admitted that their lyrics are essentially nonsense. While we may still love those tunes, I can't imagine I would ever do this!
Also, I'm not aware of any successful books that are mainly full of emotions and meaningless words! But almost anything is possible… I'll keep an open mind.
What does your creative process look like? Do you firstly prepare beats or lyrics? Do you work with producers and writers or do you do it all yourself?
Flowing from the last point, I tend to think in verbal language, and so for me the lyrics always come first. Sometimes I wish I daydreamed in melody and harmony, like classical music composers surely must. But for me the lyrics act as the latticework of the song, and then the musical component comes afterwards, through experimentation with my voice, piano, and/or guitar, working in concert.
To date I have mostly done everything myself: lyrics, composition, music production, recording, mixing, and mastering. Naturally all this takes way too long and there really isn't enough time for anything. So, for my debut song "Don't Go!" I tapped a talented family friend, Hans, to help with music composition and give feedback on the evolving production. We have numerous other songs in the works; my lyrics with him as lead composer. Also, I hope to work with other music producers in the future, so they can spend years in front of the computer instead of me!
Writing lyrics comes pretty easily, but in my fantasy, all I want to do is sing for people all day. Singing is my bliss. A boy can dream.
Your music video for 'Don't Go!' has its own vibe and mood – did you take part in writing its script? How was your experience recording it?
Yes, the director, Zane, and I worked out the video vision together. The filming crew was great to work with, but the room was overflowing with gear which made things rather cramped behind the scenes! Thankfully, the actress, Alena, was as friendly as she is talented as she is lovely. All combined, we were all very pleased with the ultimate outcome.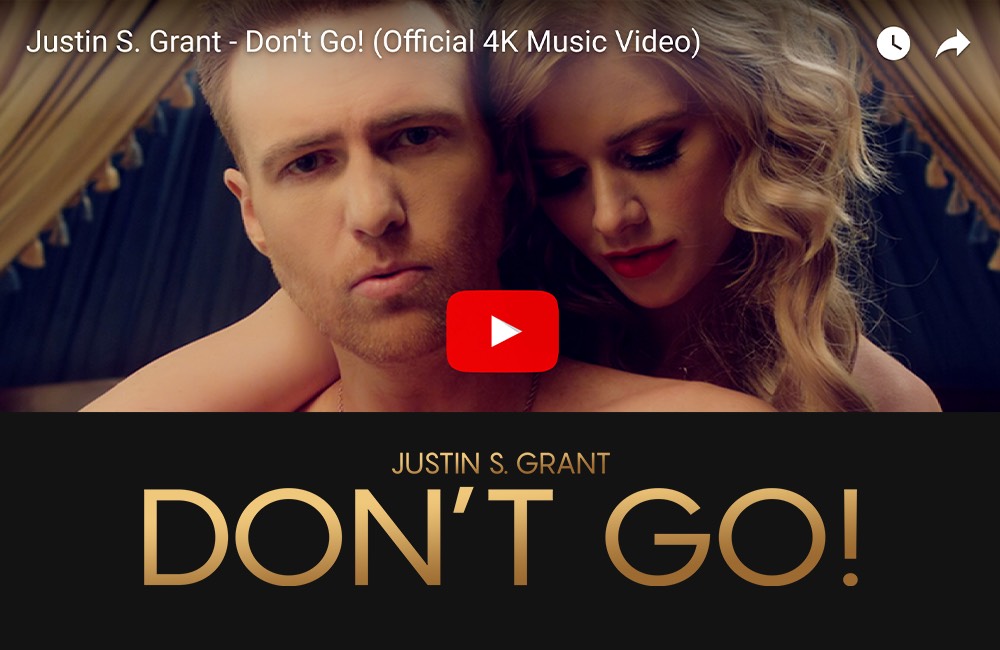 What's next in 2021 for you? Are you planning new releases?
Absolutely! Bigs plans for many musical releases! Original songs, music videos, and classic cover songs from The Beatles, Leonard Cohen, and Cat Stevens/Yusuf Islam, are already completed or in the works.
And pandemic permitting, my performative visions will finally come to light! We all love our screens… but are over ready for some IRL music fests ASAP, yes?!
Justin S. Grant On Social Media: Instagram – Spotify – Website – YouTube