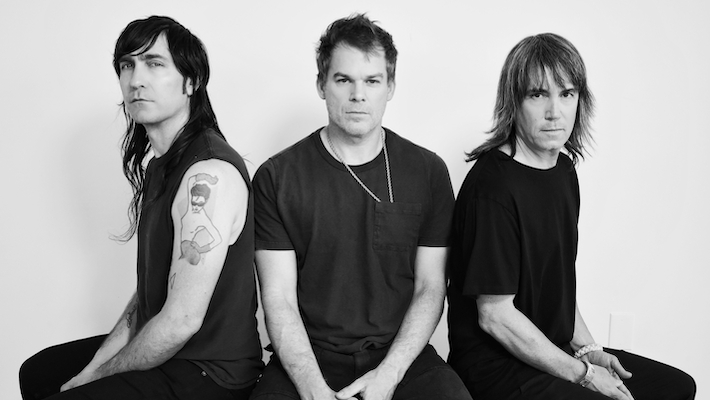 Many people know Michael C. Hall for his award-winning lead role in the drama series Dexter. But they might be surprised to learn Hall also fronts the synth-wave trio Princess Goes. And perhaps even more surprisingly, the band totally rips.
Princess Goes' music manages to be both touching and visceral with a collection of mesmerizing songs led by Hall's arresting voice. The band — composed of Hall alongside Blondie keyboardist Matt Katz-Bohen and acclaimed drummer Peter Yanowitz — first won over indie listeners with their 2021 debut Thanks For Coming, a dance-y LP that toes the line between industrial rock and synth-pop.
But now, Princess Goes are ready for their next chapter. After announcing their sophomore release Come Of Age, which is slated to arrive September 15th, the band kicked off their new era with the stunning lead single "Shimmer." True to its title, the atmospheric track features glistening production as Hall's vocals imbue the song with a dream-like quality.
Ahead of the release of Come Of Age — and their next single "Blur" arriving on 8/16 — Princess Goes sits down with Uproxx to talk environmental unity, Daft Punk, and rearranging furniture in our latest Q&A.
What are four words you would use to describe your music?
Katz-Bohen: Visceral, Transcendent, Danceable, Ecstatic.
It's 2050 and the world hasn't ended and people are still listening to your music. How would you like it to be remembered?
Katz-Bohen: As the soundtrack to international environmental unity.
What's your favorite city in the world to perform?
Katz-Bohen: Difficult to say and ever changing, but at the moment: Glasgow, because they sing their own songs to YOU onstage, plus I cannot understand their version of English; Mexico City; Baltimore (they are just filthy), Salt Lake City Utah.
Who's the person who has most inspired your work, and why?
Hall: Myself. I've always been around. And Lao Tzu. For unnamable reasons.
Where did you eat the best meal of your life?
Hall: Hanoi, Vietnam.
What album do you know every word to?
Hall: Our new album, Come Of Age.
What was the best concert you've ever attended?
Hall: Radiohead, Madison Square Garden, Kid A tour.
What is the best outfit for performing and why?
Katz-Bohen: Anything by Walter Van Beirendonck (for obvious and naughty reasons).
Who's your favorite person to follow on Twitter and/or Instagram?
Yanowitz: One of my oldest friends in the world, Money Mark (@moneymark). His Instagram is a combo platter of his unique creative soul, 1 finger keyboard songs, homemade instruments he builds out of literally anything. His daily Covid Jams were one of the things that got me through the pandemic.
What's your most frequently played song in the van on tour?
Yanowitz: The noise rock band the Boredoms from Osaka, Japan. Their 1999 album Vision Creation Newsun is a masterpiece of harmony, tribal beats, 2 drummer jams, and thrusting sonic propulsion.
What's the last thing you Googled?
Hall: How long before incandescent light bulbs are outlawed?
What album makes for the perfect gift?
Yanowitz: You really can't go wrong with any album by Daft Punk.
Where's the weirdest place you've ever crashed while on tour?
Yanowitz: In Natalie Merchant's tiny bunk on her tour bus.
What's the story behind your first or favorite tattoo?
Yanowitz: I met Scarlett Johansson right before she got famous. She had just finished filming Lost in Translation and was back in NYC. She used to come see my old band Morningwood play because she grew up with Paula, who was Morningwood's singer's best friend. I ended up hanging out with Paula and Scarlett a couple times, and I was immediately smitten with Scarlett. One night, when we were getting stoned on my patio in Greenwich Village, I remember telling them about a tattoo I imagined getting on my biceps… on one bicep would be the "LV" from the Louis Vuitton logo, on the opposite bicep would be "OE" in the same font style.. so if u drew an imaginary X crossing through my heart it would spell "LOVE". One night I shared a cab with Scarlett back downtown. I was dying to ask for her phone number, but something made me hesitate and I never saw her again. Yet hanging with her those brief moments awoke something in me. I hadn't been smitten like that in forever. I'd forgotten what it even felt like. But those couple of hangs with Scarlett reminded me that I wanted to feel that with someone, that I shouldn't settle for anyone unless I felt that way. So, a few weeks after that I went and got that tattoo on both arms, and 4 months later – on a Tribeca rooftop – I met the absolute love of my life, Lisa, and we've been together 20 years.
What artists keep you from flipping the channel on the radio?
Hall: Dylan, Fela Kuti, Gillian Welch, Philip Glass.
What's the nicest thing anyone has ever done for you?
Hall: Thrown me a pitch to hit.
What's one piece of advice you'd go back in time to give to your 18-year-old self?
Yanowitz: If you ever find yourself alone in a taxicab with Scarlett Johansson, definitely ask for her number!
What's the last show you went to?
Katz-Bohen: Iggy Pop at Crystal Palace in London. No wait, it was actually my friend Greko's birthday bash at Silver Lining in NYC. Dammit! No, it was Deadtooth at Brooklyn Made.
What movie can you not resist watching when it's on TV?
Katz-Bohen: Zoolander.
What's one of your hidden talents?
Hall: Rearranging furniture.
Come Of Age is out 9/15 via SO In De Goot. Find more information here.