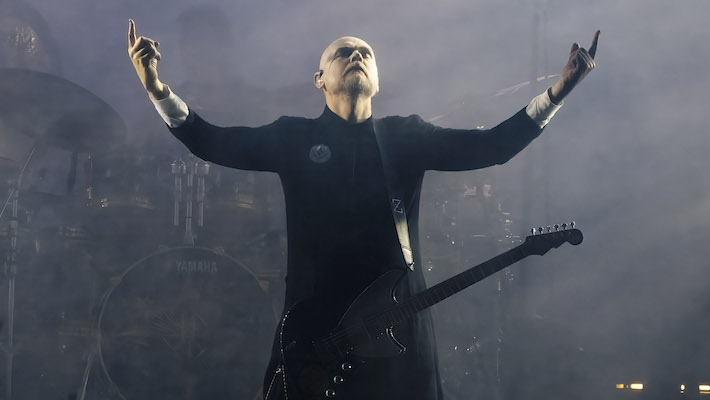 Last fall, The Smashing Pumpkins' show at The Hollywood Bowl in Los Angeles was amplified by a surprise appearance from Willow Smith, who joined them for a rendition of "Cherub Rock." This year, the Billy Corgan-fronted band embarked on their The World Is A Vampire Tour. Interpol and Stone Temple Pilots are serving as openers.
"I grew up in a world where I needed to know bands like Siouxsie And The Banshees and The Cure existed, it meant there was a place for people like me to hang out and belong," Corgan said in a statement upon the tour announcement this March. "That's what The World Is A Vampire is about. Bringing back that sense of community."
He continued, "If you don't fit in, you belong here. It's about having a shared experience and respecting others, but ultimately having fun. A true alternative festival, where all the self-proclaimed weirdos and outsiders of the world can get together and have a party."
The World Is A Vampire Tour kicked off with two shows at The Chelsea At The Cosmopolitan in Las Vegas on July 28 and July 30 before hitting Salt Lake City, Utah on August 1. The next scheduled show is for Thursday, August 3, at Shoreline Amphitheatre in Mountain View, California. See all the remaining North American dates here.
Below is The Smashing Pumpkins' setlist for The World Is A Vampire Tour (as chronicled on setlist.fm).
1. "The Everlasting Gaze"
2. "Doomsday Clock"
3. "Once In A Lifetime" (Talking Heads cover)
4. "Today"
5. "Perfect"
6. "Disarm"
7. "The Celestials"
8. "Purple Blood"
9. "Ava Adore"
10. "Tonight, Tonight"
11. "Bullet With Butterfly Wings"
12. "This Time"
13. "Spellbinding"
14. Hubble Bubble (Toil And Trouble)" (Manfred Mann cover)
15. "Jellybelly"
16. "Empires"
17. "Hummer"
18. "Beguiled"
19. "1979"
20. "Cherub Rock"
21. "Zero"