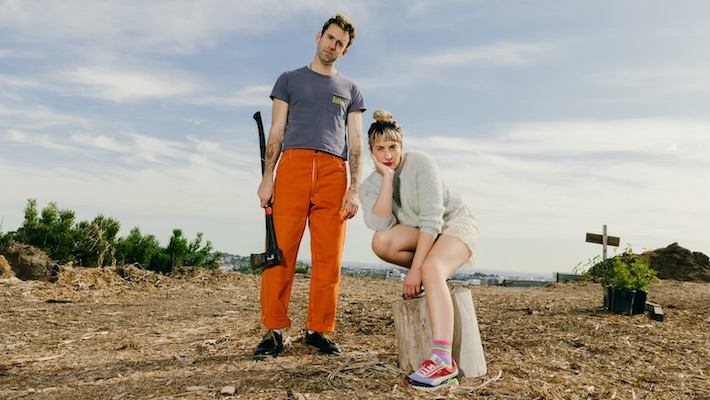 What happens when you're a songwriter whose music is labeled "too weird" for the mainstream? Pat Morrissey and Jess Corazza have an answer. They were working in the studio and collaborating with major artists like SZA and Weezer when they were offered a publishing deal. "Everyone kept saying, 'The stuff that you're writing is slightly too left-of-center — weirdo stuff,'" Morrissey said in a press statement.
So, they started their own band. And thus, Ill Peach was born. With their debut LP This Is Not An Exit, the group proves they perfected the science behind creating cathartic art rock. The group moves between totally ripping on tracks like the explosive "Blah Blah Blah" and album opener "Bloom," and taking a softer, more cinematic angle on songs like "Hush" and "Head Full Of Holes."
To celebrate their debut, Ill Peach sit down with Uproxx to talk armpit farts, LCD Soundsystem, and chanting Phoebe Bridgers' name in our latest Q&A.
What are four words you would use to describe your music?
Corazza: Raw, colorful, boisterous, multi-faceted.
It's 2050 and the world hasn't ended and people are still listening to your music. How would you like it to be remembered?
Corazza: Remembered in the way that nostalgia hits you and takes you back to a moment/memory/time in life, but it still feels like an untouched sound.
Who's the person who has most inspired your work, and why?
Corazza: 16 yr old me. Because every song on the album would go through the same test. Would that kid be into this or not? And if not, then we keep pushing it.
Where did you eat the best meal of your life and what was it?
Morrissey: Probably wild boar ragu in Italy. That was a recent one, so it's the most memorable.
Tell us about the best concert you've ever attended.
Corazza: LCD Soundsystem at Hollywood Bowl. People let loose. We were in conga lines with strangers. Everyone was dancing, laughing, and singing. It was really magical, I kept finding friends.
What song never fails to make you emotional?
Morrissey: "House Of Cards" by Radiohead.
What's the last thing you Googled?
Morrissey:: Who made Chef Boyardee?
Where's the weirdest place you've ever crashed while on tour?
Corazza: A basement motel in Amsterdam — dark vibes.
What's your favorite city in the world to perform and what's the city you hope to perform in for the first time?
Morrissey: Honestly, Montreal was the loudest and most angsty crowd. We were on tour with Hayley Kiyoko for that one. That place rules. Also, best cappuccino I've ever had. I would love to perform in Tokyo and see that side of the world.
What's one piece of advice you'd go back in time to give to your 18-year-old self?
Corazza: Don't go to college. Just go live and find yourself. That sounds bad, but for me specifically, it would've helped me on my journey faster.
What's one of your hidden talents?
Morrissey: I can do a wide range of armpit farts.
If you had a million dollars to donate to charity, what cause would you support and why?
Morrissey: Wow that's hard. There are so many causes that deserve so much, but one thing we believe in is music and art. We would put that money towards several of the wonderful charities that put an emphasis on music for kids.
What are your thoughts about AI and the future of music?
Corazza: Well it's frightening — just not really knowing how far it will go. I think if used as a tool it can help with creation, but as far as being able to personify anyone and creating music based off their likeness, I think it's dangerous. Art is already in a fragile state.
You are throwing a music festival. Give us the dream lineup of 5 artists that will perform with you and the location it would be held.
Corazza: hmm this could be weird: Radiohead, Rufus Wainwright, Yeah Yeah Yeahs, Idles, and Rosalía. Location: Stonehenge.
Who's your favorite person to follow on social media?
Corazza: Hailee Catalano (she makes me hungry every time I watch her cook something) or Jayne Matthews (I cut both of our hair using a straight razor because of her).
What's the story behind your first or favorite tattoo?
Morrissey: We both got our first tattoos when we first moved to New York. This girl at this party told us to go to this guy in Coney Island who was one of the OG Sailor Jerry guys. He would tattoo navy dudes in Times Square coming in off the boat who just had one night to party before going back out to service. Anyway, you show up at this guys house and put your name on a list and wait in his basement for hours and then he barely says anything, does the tattoo, and is like, "Just give me $40 for it." It was a Frank Lloyd Wright-looking thing that Jess designed while we were waiting.
What is your pre-show ritual?
Morrissey: Lots of stretching and guttural sighs and then for some reason last year with our band before we go on stage we chant Phoebe Bridger's name but we pronounce it different every time (i.e. Farby Barggles) don't ask why. We love Phoebe. It's more to just keep the spirit light and fun.
Who was your first celebrity crush?
Corazza: Leonardo DiCaprio; hardcore Titanic fan at a very young age.
You have a month off and the resources to take a dream vacation. Where are you going and who is coming with you?
Corazza: Either somewhere Nordic or complete opposite like Thailand or Japan. We would take our besties.
What is your biggest fear?
Corazza: Failure and getting older.
This Is Not An Exit is out now via Hardly Art / Pop Can. Find more information here.