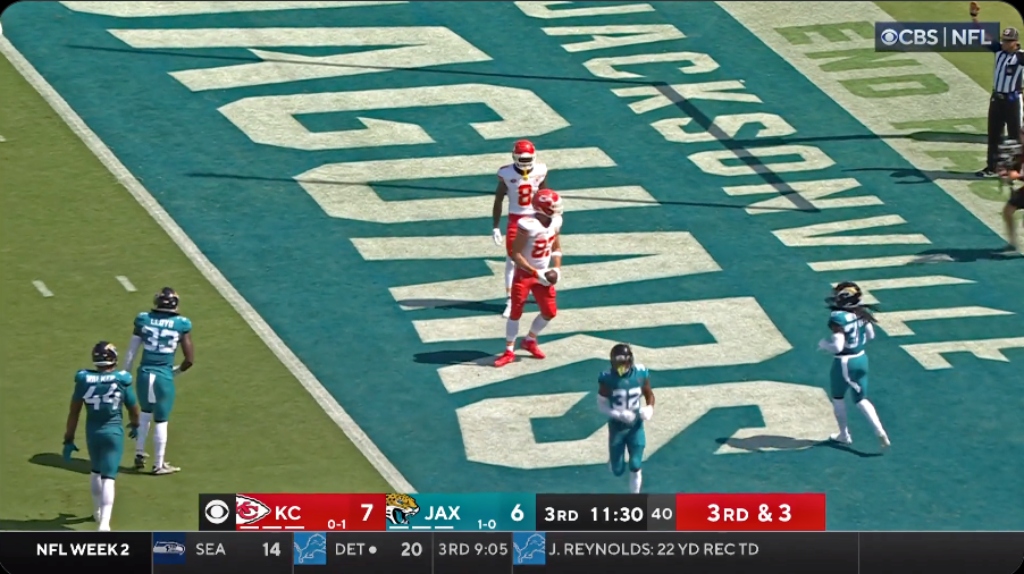 Travis Kelce missed Week 1 for the Chiefs as he dealt with a knee injury and had to watch as the Kansas City offense sputtered without him in a loss at home to the Detroit Lions.
The good news for the defending champs is that their star tight end made his return to the lineup in Jacksonville — along with star defensive tackle Chris Jones — and the two All-Pros made their presence felt as the Chiefs tried to bounce back against a Jags team they beat in the Divisional round of last year's playoffs. In the third quarter of a low-scoring affair, the Chiefs offense finally got rolling a bit and Kelce got involved as he so often does in the red zone, with Patrick Mahomes finding him on an ad-libbed play for a touchdown that put KC up 14-6.
Mahomes and Kelce working out of structure for a touchdown isn't anything out of the norm, but the biggest highlight of this play is Ian Eagle's sensational call, as the play-by-play man dropped a cheeky Taylor Swift reference, noting that Kelce found a "blank space" in the Jaguars defense. Kelce is currently rumored to be dating the pop star, although no one has been able to confirm that and his brother, Jason, would only laugh off a question about it after the Eagles' win on Thursday Night Football.
Eagle's one of the best in the business for a reason, and this is some of his best work to give a little wink to the rumors — he also added a "shake it off" before they went to the commercial break.