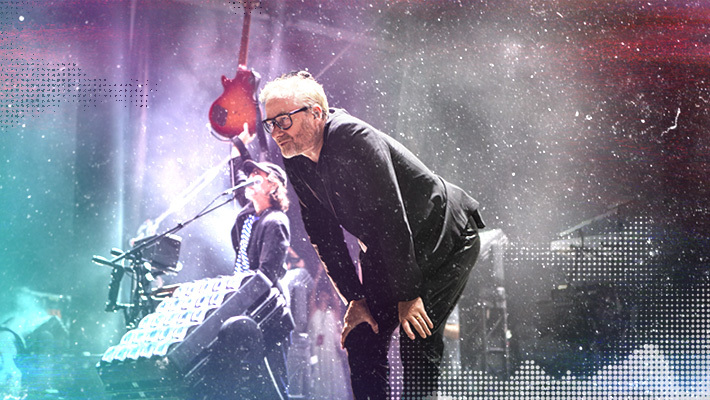 Earlier this week, The National dropped a surprise new album. It's called Laugh Track, and it arrived just five months after their previous LP released in 2023, First Two Pages Of Frankenstein. Since both records essentially draw from the same sessions, it makes sense that they have received similarly mixed reviews. To my ears, Laugh Track is somewhat more consistent, and the inclusion of "Smoke Detector" — easily the rawest and most rocking song on either record — automatically makes it feel relatively looser and jammier. But in the end Laugh Track has the same weaknesses as Frankenstein — too many celebrity guest stars, too many same-y sounding piano ballads, too much bloat.
I question whether there should have been two new National albums at all. The release of Laugh Track confirms the central issue of this band's latter-day period: They have seemingly lost the ability to self-edit. This problem first emerged on 2019's I Am Easy To Find, which at 16 tracks is The National's longest album to date. Unfortunately, the material didn't justify the size; I think that record would be at least 25 percent better if you have removed at least 25 percent of the songs. As it is, I Am Easy To Find previews the surplus of hazy, mumbly, and snail-paced mood pieces that have come to clog National records.
When I saw The National on tour in 2022, I was thrilled by the early previews of their latest material. The songs were propulsive and guitar-heavy, reiterating a core truth about this band: On the concert stage, they transcend the bookish reputation their records have earned them, injecting their songs with the energy and spirit of a proper rock 'n' roll outfit. ("You need to see them live" is a stereotypical rejoinder to criticism of any band, but it really is true for The National.) When Bryce Dessner told me that they were incorporating live recordings into the studio versions on their upcoming album, I was doubly psyched. It seemed like precisely the right direction to take after I Am Easy To Find.
You can hear some of that in the best songs spread across their twin 2023 records, particularly "Smoke Detector" and "Eucalyptus" from Frankenstein. But unlike their live show, The National on record has a frustrating habit of killing their own momentum.
A criticism I would make of both Frankenstein and Laugh Track is that they lack dynamism, and that is due to how they are structured. Strong songs that spotlight the band's chemistry are frequently surrounded by murky laments that fail to drive the albums forward. The resulting whole winds up sounding soggier than it should.
But here's the thing: I actually think there are some really great songs here. They just aren't being showcased as well as they could be. Therefore, I have taken it upon myself to perform emergency A&R for The National. I have listened to the pile of 23 songs released on their latest records, and I have crafted (or Frankenstein'ed) a solitary 12-track, 60-minute LP that I think is much better than either First Two Pages Of Frankenstein or Laugh Track.
It is my contention that this album, which I have named Frankenstein Laughs — sorry to pat myself on the back, but that's a good-ass title — not only separates the wheat from the chaff, but also the track sequence enhances the qualities of each song while connecting them thematically, so that they equal more than their individual sums. I concede that the animating idea of Frankenstein Laughs is self-centered: I compiled the album that I envisioned The National making when I saw them on tour the last year. Or at least I got a lot closer to it. But I honestly believe it's a better overall listening experience that does justice to the good work The National has done lately.
Let's break down both sides of Frankenstein Laughs. Here is Side A:
"Eucalyptus"
"Tropic Morning News"
"Space Invader"
"Hornets"
"Laugh Track"
"Deep End (Paul's In Pieces)"
The first three songs are also the best tracks from this period. The slow-burn of "Eucalyptus" sets an immediate tone, both musically and lyrically, establishing a raw "torn and frayed" vibe that supports Matt Berninger's scenario about a busted-up relationship that will act as a through-line on Frankenstein Laughs. "Tropic Morning News" is in the catchy and upbeat "Mistaken For Strangers" slot, and "Space Invader" lands the introductory trilogy with the record's most epic soundscape. Clearly, we are off to the races here.
We then bring things down with two beautiful songs, "Hornets" and "Laugh Track," the latter being the only Phoebe Bridgers feature on Frankenstein Laughs. I am a Bridgers fan, but she is an ingredient that has been way overused in contemporary indie rock, like avocado or cilantro at your favorite "hip" bistro. And The National in particular have really overextended their Phoebe Bridgers usage this year. But "Laugh Track" is a very good song, and limiting Bridgers overall sweetens her particular flavoring on the track.
Finally, we close with "Deep End (Paul's In Pieces)," a medium tempo rocker with a "Graceless" feel, an ideal conclusion for the first half of Frankenstein Laughs.
Let's turn over to Side B:
"Smoke Detector"
"Ice Machines"
"Grease In Your Hair"
"Crumble"
"Turn Off The House"
"Send For Me"
"Smoke Detector" already seems like a pivotal number from this era. But on Laugh Track, it's positioned as the last track, which makes it feel like an outlier rather than a song that might have otherwise been central to a different (better?) National album. On Frankenstein Laughs, I have rectified this by putting it at the literal center of the record. On my album, "Smoke Detector" is a black hole from which The National must emerge on the rest of Side B. Two fine tracks from the back half of First Two Pages Of Frankenstein, "Ice Machines" and "Grease In Your Hair," offer some relief and signify steps toward the light. Then we arrive at the excellent Rosanne Cash duet, "Crumble," which in this context brings us back to the same "romantic dissension" themes established by "Eucalyptus."
Just as the opening trilogy of rockers sets a tone, the closing trilogy of introspective numbers puts a period at the end of the sentence. The spooky "Turn Off The House" is in the penultimate slot, and features some excellent drumming from Bryan Devendorf while placing us in the emptiness of a once-full home. Then comes "Send For Me," which also closes First Two Pages Of Frankenstein but in this sequence connects with "Eucalyptus" as a denouement that hints at reconciliation without quite delivering it.
This is a well-rounded album! You get rockers followed by quieter tracks and vice versa, and it all flows like a late-night conversation that is at turns explosive and soul-searching. At the risk of sounding melodramatic, or even like a megalomaniac: I feel that I have saved The National from themselves! Or I would have, had the band asked me to do this in a real-life scenario.