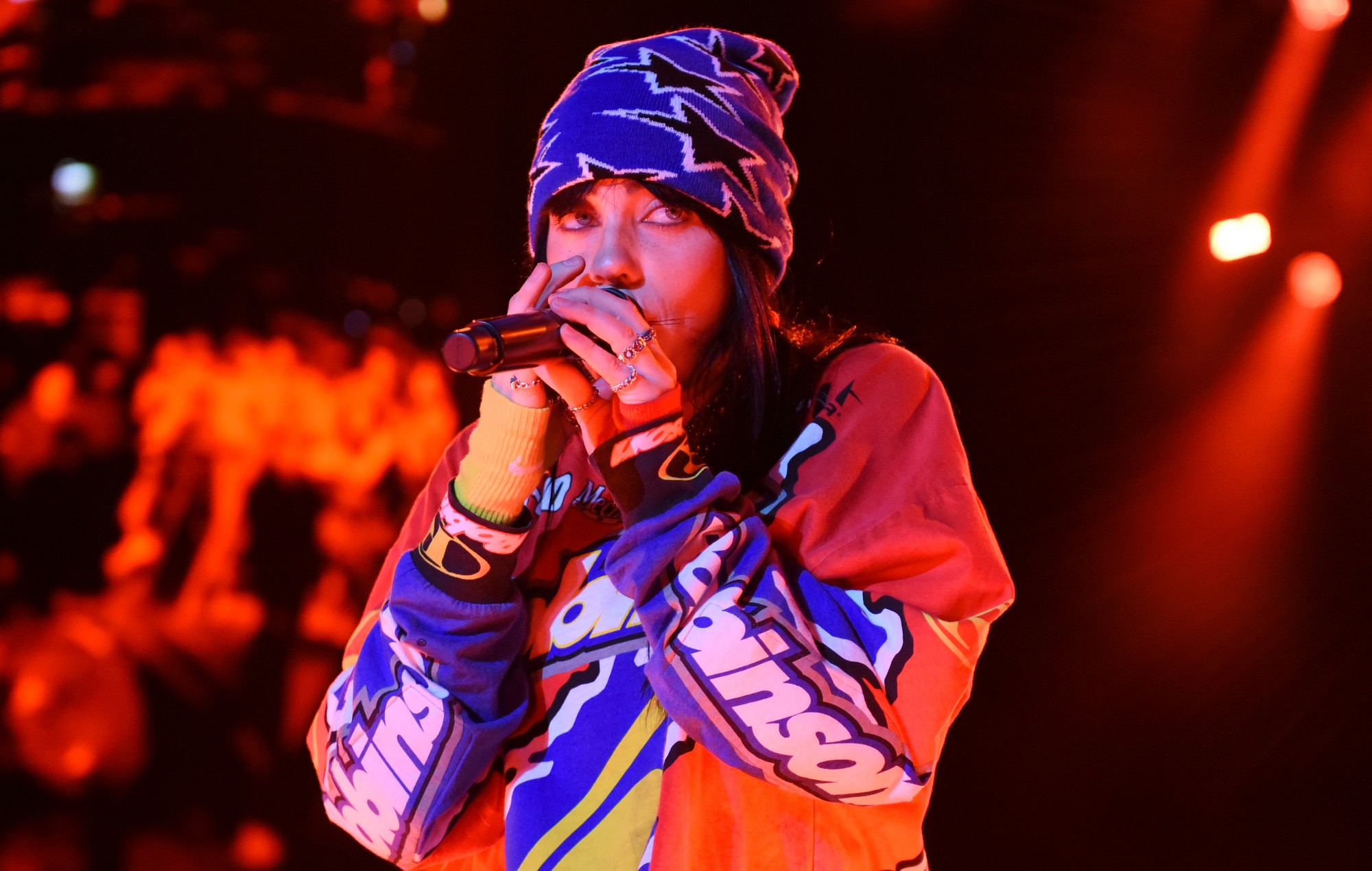 Billie Eilish has wrapped up her headlining set at Leeds Festival 2023 with a stunning selection of songs to make up her setlist – here's what she performed.
Last night (August 25), the 21-year-old became the youngest act to headline Leeds, beating out London rapper Dave who headlined last year at the age of 24. Her historic set saw Eilish bring out her biggest hits and early-career classics to deliver a career-spanning performance.
For her set, Eilish (and her brother Finneas) treated those in attendance to a massive setlist containing over 20 songs including set opener 'Bury A Friend', the Barbie soundtrack's 'What Was I Made For?', 'Ocean Eyes', 'Oxytocin', 'Bad Guy' and show-closer 'Happier Than Ever'.
While performing 'What Was I Made For?', Eilish referenced and cracked up to a viral TikTok meme, in which user @queenzziel0cthevoice dueted the karaoke version of Billie's music the song, singing the first verse in a slightly different pronunciation, which sounds like "Although Enjoyment" when the original lyric is "All the enjoyment."
Watch fan-shot footage from Billie Eilish's Leeds Festival 2023 set below.
Billie references the viral "Although Enjoyment" during the performance of "What was i made for?" Tonight at Leeds festival 😭pic.twitter.com/4OOlQHAw84

— Billie Eilish Society (@BillieSociety) August 25, 2023
Billie Eilish performando "TV" no Leeds Festival. pic.twitter.com/DmwZAQIIDw

— Billie Eilish Brasil (@BillieEilishBR) August 25, 2023
#LEEDS: Billie performing 'you should see me in a crown' at @OfficialRandL in Leeds, UK tonight. pic.twitter.com/iT5otBegBQ

— Billie Eilish Tours (@billieeilishtrs) August 25, 2023
Billie Eilish finalizando seu show no Leeds Festival com "Happier Than Ever". 💖 pic.twitter.com/3oOquhkfQT

— Comunidade Billie BR (@ComuBillieBR) August 26, 2023
Following the end of her set, Eilish greeted fans at the railings, hugging, snapping photos with and talking to them.
Billie Eilish's Leeds Festival 2023 setlist was:
'Bury A Friend'
'I Didn't Change My Number'
'NDA'
'Therefore I Am'
'My Strange Addiction' 
'Idontwannabeyouanymore/lovely'
'My Future'
'You Should See Me In A Crown'
'Billie Bossa Nova'
'Goldwing'
'What Was I Made For?'
'Oxytocin'
'Ilomilo'
'I Love You'
'Your Power'
'TV'
'Bellyache/Ocean Eyes'
'Getting Older'
'Lost Cause'
'When The Party's Over'
'All The Good Girls Go To Hell'
'Everything I Wanted'
'Bad Guy'
'Happier Than Ever' 
The end of Billie Eilish's set and Billie greeting fans at Leeds Festival pic.twitter.com/kldAFFLKS2

— maxikarp (@MaxKav10) August 26, 2023
Billie Eilish is due to headline Reading Festival 2023 on August 27.
Elsewhere at Reading last night, headliner Sam Fender charmed the audience with a performance worthy of a five-star rating from NME. NME's Andrew Trendell wrote of the performance: "Fender, an artist dealing solely in reality and singing straight to the heart to the young crowd with the world at their feet, makes that seem all the more possible. He's a mirror to this audience, and that's why belongs on this stage more than anyone."
Visit here for the latest NME news, reviews, interviews, photos and more action from Reading & Leeds 2023.