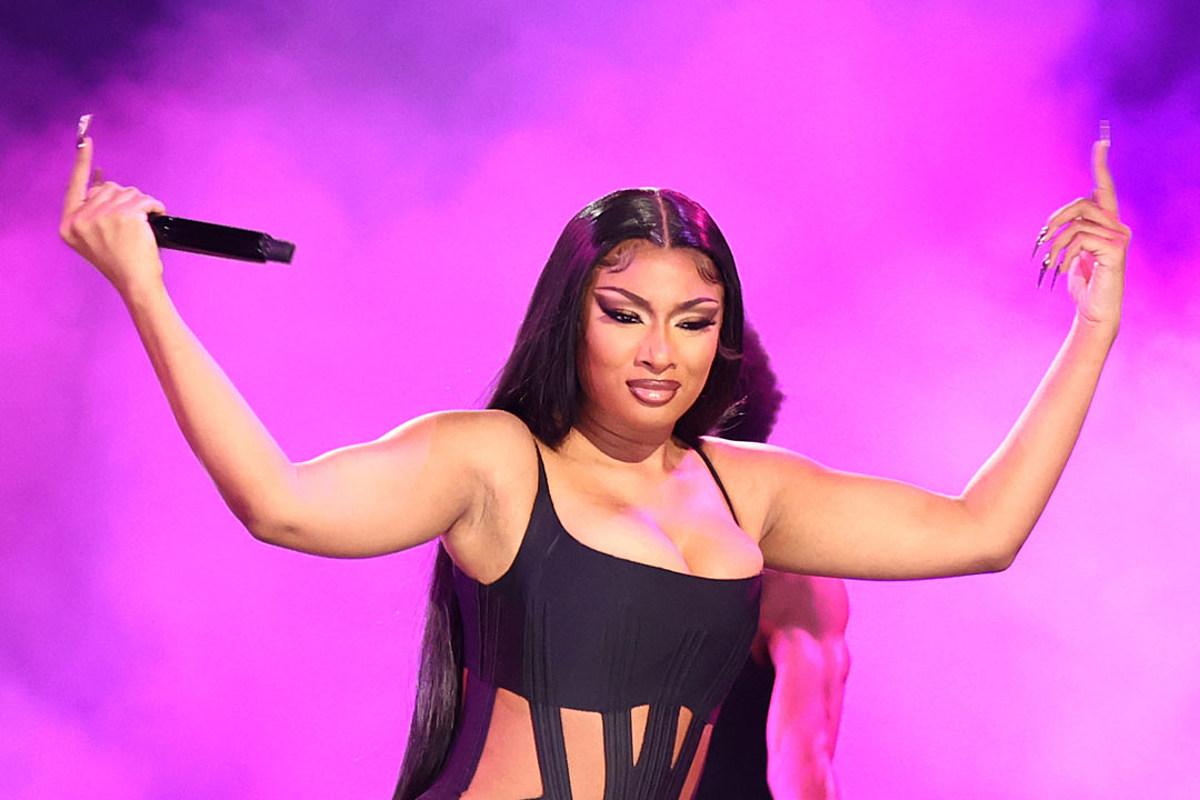 As hip-hop continues to have popular culture in a chokehold, the artists within it will continue to loom large as personalities. Times have changed to the point that companies are partnering with rappers more than ever before. They know the visibility and money that comes with the endorsement of a celebrity. Enter Megan Thee Stallion, the Houston rap star who has been rising through the ranks since her song "Big Ole Freak" broke through in late 2018. Her charisma, talent and sense of humor has led to her racking up endorsement deals left and right, covering everything from makeup to fast food to clothes.
When it comes to working with big-time brands, Megan Thee Stallion has already covered a ton of bases. She teamed up with Nike, which resulted in her wearing the company's clothing in ads, plus her own fitness plan built into the Nike Training Club app. Being under the Nike umbrella has been a dream for both athletes and rappers alike; Meg got to live both sides of it, partnering an artist who has publicly been into fitness with the biggest athletic brand out.
The Super Bowl is one of America's biggest sports events every year, and Meg got to be a part of a commercial during the NFL's championship game. Due to her deal with Cheetos to promote their Flamin' Hot Cheetos and Flamin' Hot Doritos, Meg voiced an animated rapping bird, with singer/songwriter Charlie Puth also involved. Being in a Super Bowl ad is a huge deal; a female rapper rising to that level is major and shows how lucrative it is to be tied in with Megan.
Check out many of Meg's endorsement deals and brand opportunities like Popeyes, Cash App, Revlon and more below.
Starting in 2019, Megan Thee Stallion teamed up with the timelessly popular fashion house Coach as a model in their fall campaign, titled "For All." This relationship has continued on as Meg, with her boyfriend Pardison Fontaine in tow, starred in Coach's 2021 fall campaign, "With Friends." Going along with the theme of the shoot, Meg's friends from the fashion and beauty industry were also in the photos.

There's nothing like a money move. Cash App, the money exchange app, worked with Megan last year on a multi-pronged campaign. Meg gave away $1 million in stock in huge companies such as Netflix, while making a video series called "Investing For Hotties," where she explains how to invest and use the stock market. In addition to that, she dropped a clothing line, where all of the proceeds went to charities in her hometown of Houston and across the world.

Over the last few years, Nike has been quick to tie themselves to famous rappers, with Drake and Travis Scott being two of the biggest names. In September of 2021, Megan announced on social media that she was now a Nike ambassador, with pictures of her donning the athletic company's apparel and getting her own fitness program on the Nike Training Club mobile app. She sees herself as an athlete, as rapping, dancing and performing are all physically taxing; she certainly has a point. The campaign also came with posters featuring Meg, which were adorned all over major cities, such as New York City.

Sports Illustrated Swimsuit Cover

In 2021, Megan Thee Stallion made history and became the first rapper on the cover of the Sports Illustrated Swimsuit issue. A childhood dream that came to fruition, Meg got her own shoot in the magazine, where she posed on the beach in Hollywood, Fla.

Megan agreed to a franchise development deal with fast-food restaurant Popeyes in late 2021. Most people are aware that this resulted in her getting her own condiment at the chain called Hottie Sauce. The deal also included a clothing and accessories collaboration, along with charity donations.

Two years ago, Megan was named Revlon's Global Brand Ambassador, making her the newest face of the makeup company's campaigns at the time. She did her own makeup in her initial campaign shoot, dropped a YouTube makeup tutorial and released her a Revlon makeup collection, known as the Hot Girl Sunset collection. Meg also dropped the Big Bad Palette, which included 10 eye shadow shades.

Megan Thee Stallion's hairstyles have been an important part of herself expression, so teaming up with a hair care company only makes sense. In 2021, she became Mielle's first global ambassador, making her the face of a Black-owned company with a woman CEO.

Streaming titan Netflix added Megan Thee Stallion to their team, giving her a first-look deal in December of 2021. The deal opens the door for Meg to executive produce and create content for Netflix. Just last month, she posted pictures of herself with cards decorated with the logo for Stranger Things, Netlfix's long-running hit sci-fi series, for a Halloween promo.

In a huge moment, Megan Thee Stallion appeared in a Flamin' Hot Cheetos Super Bowl commercial with Charlie Puth. A lifelong fan of the brand, Meg also appeared in two teaser trailers for the commercial. In the ad that aired during the Super Bowl, Meg is a bird, singing along to Salt-N-Pepa's "Push It" as her animal friends dine on Flamin' Hot Cheetos and Doritos.

A proud anime fan, Megan Thee Stallion collabed with the anime streaming service CrunchyRoll in July of 2020, releasing a line of shirts, hoodies and a bag. Adorned with anime-style illustrations of Meg, the collection sold out quickly, a perfect marriage between artist and merchandise deal.

Acting on Saturday Night Live

Thee Hot Girl coach can add Saturday Night Live host to her resume. On Oct. 15, not only did she perform, she hosted and acted in several skits on the late-night show. In the Girl Talk skit, she plays talk show guest Stacy, a woman who's boyfriend of four years asked her to move in with him but she recently caught him cheating. Little is said between Stacy and the talk show host, but the advice is hilariously understood.

Elsewhere, she plays one of three strangers brought to the club by mutual friends, a student having to deal with a condescending substitute teacher, a workout instructor, a single woman in need of a hoodie, a daughter whose dad can't spot a deer and a nurse on Hot Girl Hospital.

In September, Megan launched a mental health resources website called Bad Bitches Have Bad Days Too.

"Hotties! You know how much mental wellness means to me, so I created a hub with resources that can help when you might need a hand," Megan tweeted. "Head to badbitcheshavebaddaystoo.com now and check it out. Love y'all so much — @theestallion."

She-Hulk: Attorney at Law Appearance

Megan and She-Hulk had a twerking session on Disney+'s She-Hulk: Attorney at Law, which premiered in September. The rapper made a cameo appearance and hired attorney Jennifer Walters aka She-Hulk to represent her in a catfishing case.