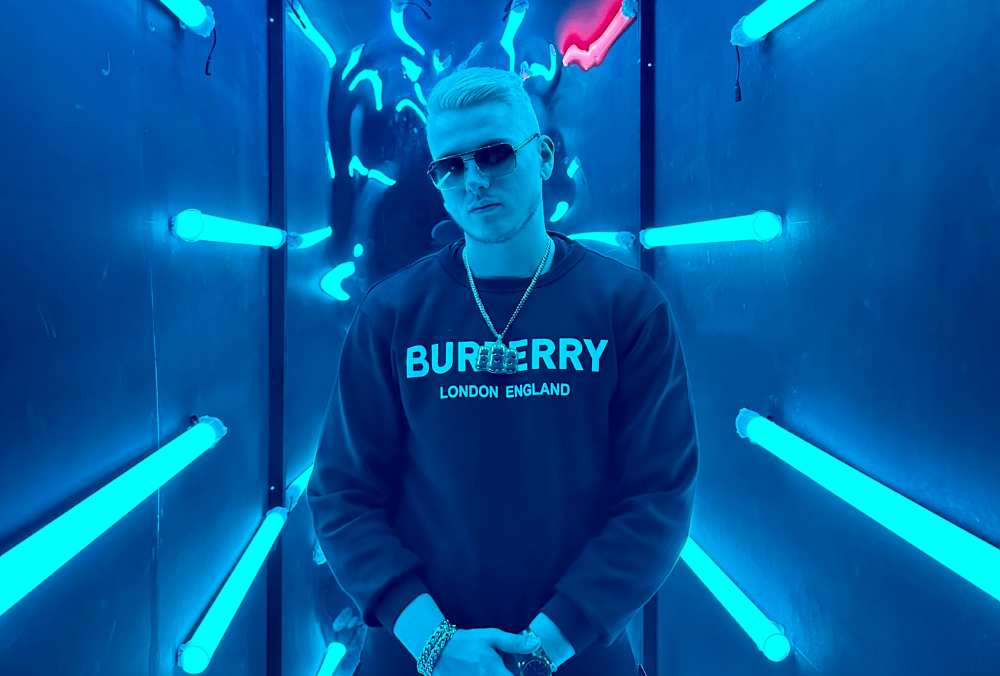 Up-and-coming rapper and songwriter, Don Modus, who last dropped a collaboration with Iz Sosa, titled "East 2 West," discusses his new single and how it represents a new era for him as an artist. He explains that he's now confident in his sound and style, and plans to share more releases in the coming months, including the upcoming song "Big Time," which features his trademark flow with a classic Memphis sample.
Don Modus also talks about his growth and evolution since his last release a year ago. He further reveals that songwriting has become easier for him, and his confidence in his brand and sound remains steadfast. He admits that he is focused on investing in his future and taking the leap of faith required to be a successful artist.
Continue to read the interview below.
"East 2 West" just came out! Can we say that this latest single is part of a new era for Don Modus? How does it compare to your previous releases?
Calling it a new era would be an understatement. During all my past releases I feel like I was still figuring it out, you know finding my "look" finding my "sound," etc. This new push is different because I'm confident in what I wanna do. The foundation has all been laid in years past, and now I'm ready to really break through. Everything has a bigger budget and my team is rocksolid!
We've heard that you have a new song on the way called "Big Time." Without giving too much away, can you give us a sneak peek into the sound and vibe of the track?
Yes, this April 7th I'm releasing the new single alongside a music video that was shot in Atlanta. It features my trademark flow with a classic Memphis sample. We made the beat from scratch, and did all the engineering in my home studio. That's a point of pride for me that we do everything fully independent and don't outsource anything.
There are a few singles lined up for the coming months. Does that mean you have plans to drop an album or an EP? Where does "East 2 West" fit into that?
I honestly want to feed the streets and release as much music as possible. I want to drop a solo EP, as well as do a separate EP full of features. My management team has stressed the importance of taking my time so that each video has good engagement, but in my heart I would be dropping as much as possible. "East 2 West" is a standalone single and music video that got this new era rolling.
You mentioned that the video for "East 2 West" was a change of pace for you in terms of shooting style. Can you discuss the creative process behind the video? Do you plan to share more videos in the future?
Yes, it definitely was. I'm big on making plans when it comes to production, but this time I decided to listen to my friend and wing everything. While I still would rather have a plan for the next shoot, I do have to admit that everything went well, and it was a very low-stress day of shooting. I currently have four other videos shot and edited that I can't wait to release.
What kind of music did you listen to while growing up? Name a few artists who you believe have shaped your sound.
My biggest role models in rap are 21 Savage, Kanye West, Future, Jay Z, and 2 Chainz. I love how they all control their own narratives and have a relentless work ethic. I've learned something different from all of them and hope to be a combination of all of their strengths. I know it's a bold statement but you gotta go big time.
How has your growth and evolution as an artist been since your last release, which was approximately a year ago?
In addition to the countless tracks I've recorded and have stored in the vault, I've experienced massive growth as an individual. Without going into too much detail, I've expanded all of my business endeavors and grown them to a point where I'm able to travel and make passive income. This is going to be the key for my run going forward as it allows me to work on music without exhausting my funds. Also from a lyrical perspective, it has become way easier to write songs. Any time I face writer's block I just think of something cool that happened this past week and put a clever twist on it.
In what ways do you maintain your artistic vision while also adjusting to the constantly evolving music industry?
I was told a long time ago to make music for the future not for the present. So when I first started developing my sound it was raw ,but now I feel like times are really catching up with what I'm trying to do. My goal is to have hard-hitting lyrics that aren't preachy with a good balance of reverb heavy acoustic effects. I'm also not trying to be like anybody else. I'm confident in my brand and know that the people will love it once they get exposure. This confidence allows me to justify investing in my future and take the leap of faith that it requires to be a Don.
Watch the official music video for "East 2 West" here:
Listen to "East 2 West" on Spotify: