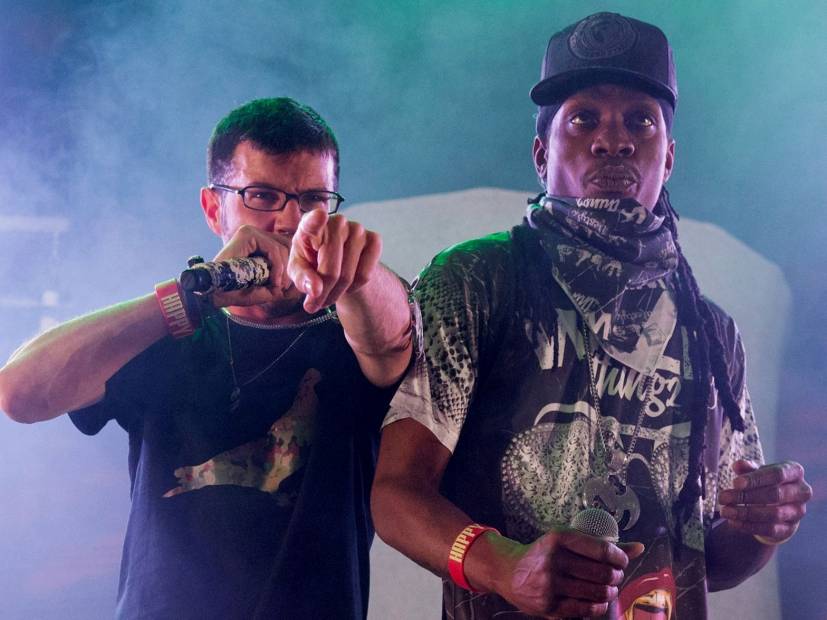 Kansas City, MO – The entire Strange Music, Inc. family suffered an unimaginable loss when Ces Cru's longtime producer Justin "Info Gates" Gillespie suddenly passed away on Wednesday (January 29).
Ces Cru rapper Ubiquitous took his sorrow to Instagram but managed to stay focused on Gillespie's sense of humor.
"This guy has the best sense of humor," he wrote. "Telling each other jokes is easily one of my favorite things to do with him. He might keep me on the phone for an hour or two but that's what happens when you laugh yourself into tears. He's a pillar of support, an indispensable team player. Muscle Chestbrook!! He usually runs the snatch trap offense.
"I bet he's got LJ looking for his toys right now. It's been a hell of a day, I can't thank everyone enough for all the outreach and support. We miss you already homie, forever #thankful for your companionship and influence on my life adventure. We all love you very much."
According to DJ True Justice, Gillespie attended a show at The Riot Room in Kansas City the night he died.
"He went outside during our performance, passed out and started convulsing," True Justice wrote in a Facebook post. "The EMTs attempted to revive him directly in front of our van. On behalf of the Slap Frost Revue, I send my deepest condolences to his friends and family."
RMLLW2LLZ, who is currently on tour with True Justice, Equipto, Z-Man, Mike Marshall and Vocab Slick, witnessed the tragic event firsthand.
"I was standing next to my merch table and Info walked out of the venue," he tells GroovyTracks. "I turned toward the stage for maybe two or three seconds. I turned and looked out the window just as he began to fall. Two other patrons in the venue whom I assumed were some of his homies ran out the door and began to try to assist him. He appeared to be having a seizure. His friends were calling 911 and rolling him over on his side.
"After he stopped seizing, they checked his pulse and began chest compressions on him. Then two other patrons ran out to help with giving chest compressions just as the ambulance was arriving to the scene. The EMTs got right to work and tried their best. They gave him more chest compressions and pulled out the defibrillator, then put him on the truck and sat for a minute. Then they pulled off."
Unfortunately, medical professionals were unable to save Gillespie's life. DX sends our condolences to his friends, family and fans.