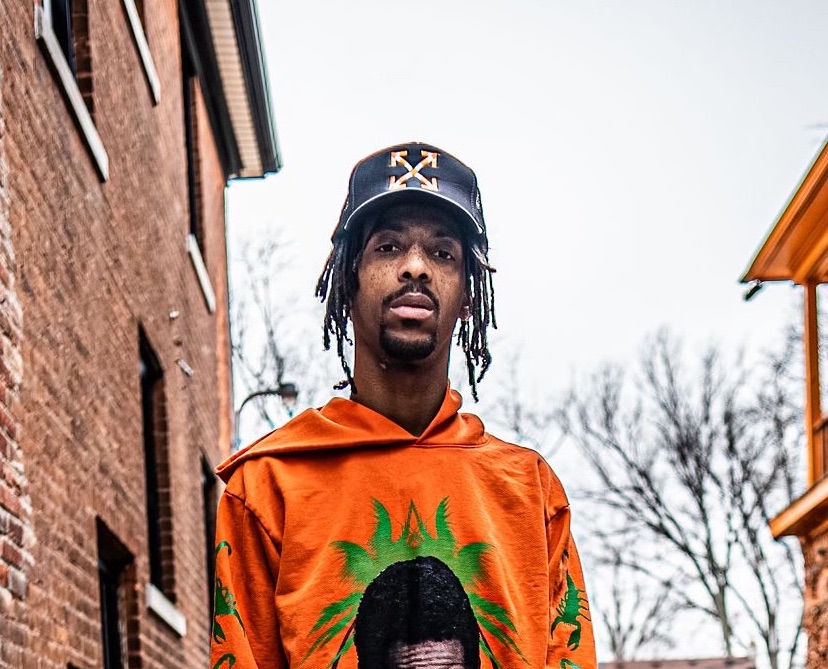 "There's two things you can't escape, n***a, that's death & taxes," Boldy James recites on his B-side single with Nicholas Craven of the same name prior to their 2022 joint album, Fair Exchange, No Robbery. Despite Craven's downtempo soul beat and a touch of Midwestern hospitality, Boldy James is fatalistic. Death and taxes – expected but never anticipated, these are the only guarantees in life. But even so, Boldy always prefers taxes.
Calling in from his living room in Michigan, Boldy seems comfortable, smoking behind his glass table. A gold cross dangles on his chest over a red-and-black flannel to match his backwards red Nationals cap. There's an immediate dampness in Boldy James' voice. Drowsy and detached, he's unusually relaxed, perhaps hardened to a fault. He discusses everything from the murder of his namesake, Boldy James, to the changing landscape of Detroit with a matter-of-factness that usually only chisels one's voice in old age.
Boldy speaks of a gray-tinged Detroit, built in a gloomy dusk: "Skies the same color as the concrete most of the time," he reminisces. He paints an industrial chess board: "Detroit looks like fun, but if you know what you're looking at, it looks like danger." Boldy speaks and paranoia lingers. He chuckles to keep the conversation light. "I am the danger, so I know what I'm looking at and what I'm looking for." Boldy gets what he wants, and now, he's moving past whispers at the bottom of 7 Mile, living in a newfound, second wave of success.
By rap standards, Boldy James is an old cat. His demeanor immediately lets you know: "I'm one of the older cool n****s," he tells me. Boldy, 40, grew up on Detroit's cassette culture, buying tapes from local emcees like the Dayton Family, MC Breed, Boss, Street Lord'z, and Esham. The memory feels so distant to him, he jokes: "My son don't even know what a cassette tape looks like."
Boldy James comes from a changing world. "I'm the bridge," he says. "I'm from the cusp of where the world went digital but it was transitioning from the analog world." Boldy remembers booking studio time decades ago in Detroit, watching artists sell tapes and CDs out of their car trunks. Boldy explains, "The Golden Age was more scripted; now we do a lot of punching in and freestyling." He's competing with two different classes of artists, the Griselda camp focused on real hip-hop tradition and the emerging Michigan scene of lean-fueled scammers and husky one-liner deliverymen. But of course, Boldy James knows he can toe-to-toe with anyone, in any style: "I gotta let the youngins know, I still got it enough and talk just as slick, if not slicker, than when I'm doing me."
***
Between 2007 and 2010, Boldy James collaborated with Sterling Toles on a project that would later be known as Manger On McNichols. The album chronicles Boldy's first three years as a rapper, where Toles gave him the space to engage in a therapeutic exercise of rhythm and rhyme. These are the original sketches of Boldy James the artist, the first time he's engaged with his emotions in this way, his first sessions of therapy. "The music is more personal," he says. "I'm not really trying to showcase a talent for the most part, I'm trying to get all this shit off… the shit that plays tricks on my mind, I display it in the music."
On "Mommy Dearest (A Eulogy)," Toles samples an interview where Boldy explains his homage to Biggie's "Suicidal Thoughts," as well as Boldy's explanation that: "[Toles] always used to tell me to be more personal, but the more personal I got, the darker my music got. People had to bring me back to the light and started telling me, 'Why don't you have more and party more with your music?' so that's where we at with it now."
"Mommy Dearest" is a hushed moment of intimacy, a repressed insecurity that rarely escapes the brain, unadulterated by any thought of exhibitionism. This is Boldy coming to terms with the fact that his mother wishes she had an abortion. This is Boldy spilling cutting into the pit of his stomach, releasing the acid that's been eating away at him. This is why Boldy raps, and he assures me that the Detroit-born producer saw that in him: "[Sterling Toles] knew I had a story to tell."
Take "The Middle Of Next Month," for example. The obscurely-sampled fanfare is instantly disorienting, with a choir, drumset, bass, trumpet, scattered shouts and more battling for the song's wobbly downbeat. In the album's introduction, "Medusa" sees Boldy's return to the streets to provide for the baby he had on the way, and within mere months, we find Boldy Boldy rapping between his teeth: "I just lost my two twins in an accident/ Would've been my firstborn kids, guess it wasn't meant."
We carefully observe the beginnings of Boldy James' paranoia: "I'm gettin' real leery of who I call my friends," as he continues on "The Middle Of Next Month." The studio had become Boldy James' personal therapist and psychiatrist, with his microphone recording and a "doctor" prescribing everything from medical-grade blunts to codeine.
Manger On McNichols didn't come out until 2020. Boldy released it in the mix of three other projects that year, including The Versace Tape, Real Bad Boldy, and The Price Of Tea In China. Each was a full-length collaboration with a single producer: Sterling Toles, Jay Versace, Real Bad Man, and the Alchemist, respectively. After another pair of album-length Alchemist collabs in 2021, he released four more full-lengths in 2022 — the aforementioned Nicholas Craven disc plus projects with Real Bad Man, Futurewave, and Cuns. When the RichGains-produced Indiana Jones dropped at the top of 2023, it was Boldy's third album in three months. He continues to release project after project because the combination of his unbreakable work ethic with his drive to provide security for his family yields a noncombustible engine.
***
On January 9, Boldy was hurt in a two-car accident. The fact sits at the back of his brain as he grips and loosens his right hand throughout the interview, still taken aback by his own recovery. He tells me just that: "It's still affecting me at this very moment. It was very traumatic. My life changed physically, I had to be mentally stronger. Everyone wasn't prepared for that blow, I wasn't either, but I got a lot of people that I count on and I've got even more people counting on me."
Unsurprisingly, Boldy's nonchalance is unscathed as he reports the injuries he sustained. "My arms were dead, my legs were dead, my neck was broken, my spine was damaged," he recalls. "I had a crazy surgery. Thank God the surgery went well because all my nerves started fusing back together, and my body was like this for a minute, with nothing but my eyes and my mouth moving."
"Everything had changed drastically. I was in rehab realizing I had crippled myself, so that was plaguing my brain. Just grown man shit. Bills, family, relationship shit, a whole lot of shit I had to look on the plus side about because when I thought about it, I'm blessed."
Boldy explains to me, "I never felt sorry for myself." If anything, he suggests, "Once I processed the reality of it, it was easier to push through because… my brain had been wrecked so many times and the streets did a number on me, so don't nothing surprise me, and it doesn't feel like there's an obstacle I can't run through."
Whether it was J Dilla piecing together Donuts while receiving treatment for lupus in the hospital or Kanye recording "Through The Wire" with his jaw wired shut, a great artist cannot help but create. Every bone in their body aches to be great. Boldy James is no different: "I couldn't write when I first came home because my arms were challenged and my hands weren't working, so I had to freestyle everything for a minute." With his prose stylizing his own salvation, Boldy James can't stop rapping.
Boldy excitedly tells me about his upcoming album Drug Dilla, on which he raps over "the last of the Dilla stash": "It's recorded. It's done. The paperwork's signed off on it – everything." Now, more than ever, he understands the significance of a project with Dilla. "I feel like [Dilla] got cheated out of what was really coming from the types of talents he had and the artists he was inspiring," he explains.
Boldy continues, "When [Dilla] passed, his legacy means more —"
Just like that, the call abruptly ends. His last words sit in the air. In that car accident, Boldy James' legacy had almost suffered the same fate as James Dewitt Yancey. It really makes you think, did Boldy James cheat death, or was he just trying to escape his taxes?