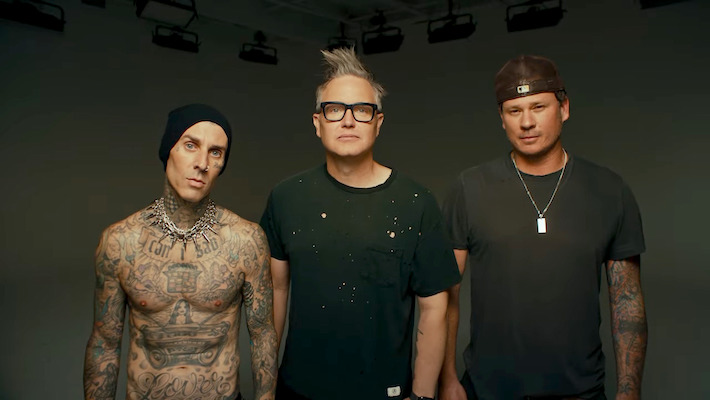 On Wednesday, September 6, Kourtney Kardashian Barker shared that her "urgent fetal surgery" was the reason behind Travis Barker, her husband since May 2022, abruptly leaving Blink-182's reunion tour last weekend. Thankfully, the Barkers' unborn child is "in [her] tummy and safe," allowing for us to comfortably turn our collective attention back to something Tom DeLonge posted on August 25.
"@blink182 music video(s) and album are only weeks (days) away," DeLonge wrote on X (formerly known as Twitter). "We are finally here."
Also on Wednesday, Blink-182 indicated an exciting development. A portion of the iconic pop-punk band's official website features the pop-up message, "SITE CLOSED FOR MAINTENANCE." Once you click "OKAY," you're met with a video showing a man wearing a hazmat suit in a bathroom stall. Blink-182 classics blare from his headphones as he cleans the urinals and scrubs graffiti from the wall. The graffiti relays several Easter egg-like messages, such as "Employees Must Connect To Spotify" and "Text 323-831-0182 For A Good Time." And it wouldn't be Blink-182 without a penis drawing, so there's that as well.
Fans accounts captured the intriguing activity, which includes posters spotted in Toronto displaying the Blink logo below "One More Time…," and both lie atop purported lyrics, "Do I have to die to hear you miss me?/ Do I have to die to hear you say goodbye?/ I don't want to act like there's tomorrow/ I don't want to wait to do this one more time."
DeLonge reunited with Barker and Mark Hoppus to jumpstart a new Blink era last October. The band's only release so far since then is "Edging." See all of their remaining reunion tour dates here.
Blink-182 is a Warner Music artist. Uproxx is an independent subsidiary of Warner Music Group.