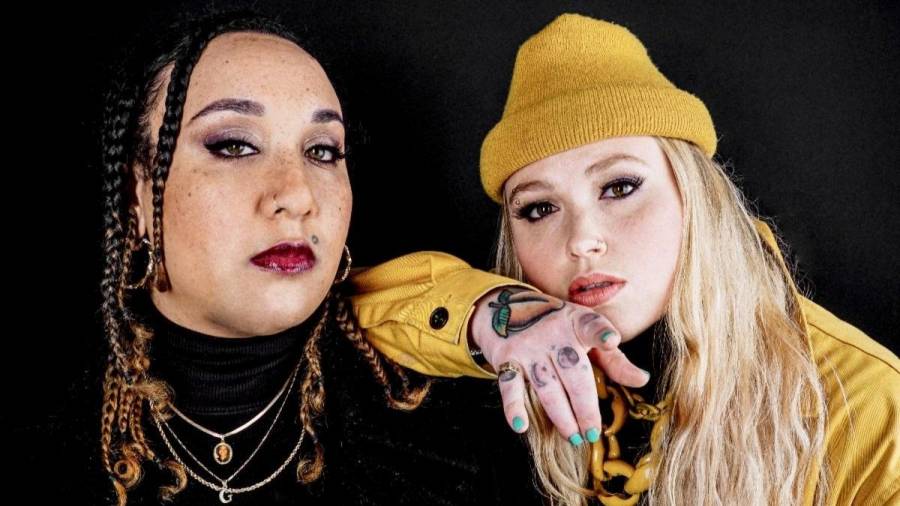 Blimes and Gifted Gab aren't a typical Hip Hop power duo — not by any means. Blimes is co-signed by Method Man and can spit with the best of them, Gab is able to belt out a hook like she's singing in the church choir and oh, they're incredibly driven women.
Since connecting in 2016, their innate chemistry has been impossible to ignore. From meeting online to dropping their new debut album Talk About It, their journey was nothing but kismet.
"Everything has always been so organic between us," Blimes tells GroovyTracks's Kyle Eustice. "We were internet friends and fans of each other's music and we happened to link up and collab while we were in the same city, hella causally."
Their 2018 breakout single, "Come Correct," was sewn up in a matter of three hours and the video has racked up nearly two million YouTube views since its release, quite the feat for two indie rappers.
"Come Correct' came out of a three-hour session, video was shot in under three hours and its success was gained 100 percent organically overnight," Gifted Gab explains. "Nothing's ever been forced and I think that authenticity is what people latch onto when they become fans of ours."
Blimes and Gifted Gab's latest visual is for "Shellys (It's Chill)," one of 16 tracks on Talk About It, which puts their individual talents on display. Smooth raps roll off Blimes' tongue while Gifted Gab's chorus soars. It's no surprise the duo was able to nab Method Man, Bahamadia, IAMSU! and Jay Park for the album.
"We soaked up a lot of game about the value of sisterhood from Bahamadia," they say. "We've both been long time fans of her work so her influence has been impactful for both of our careers."
In terms of the Wu-Tang Clan vet, Blimes and Gifted Gab call him their "favorite" and reveal the biggest lesson he taught them.
"He's such a down to earth guy, you almost forget he's Method Man!" Blimes says. "One thing that stuck is to be impeccable with your word, because this industry has a lot of flimsy statements and co-signs, and when he said 'I got you,' he's proven time and time again that he does."
With as much success as Blimes and Gifted Gab has attained, they still have to fight hard as hell to get it simply because they're women.
"The treatment is definitely different between us and our male counterparts," they explain. "There's a level of respect that men are given out the gate that women have to work 10 times harder to gain."
As the quarantine drags on, Blimes and Gifted Gab are trying to stay as busy as possible while staying positive about the future.
"We're in the age of the internet and that's where we flourish," they add. "But we do miss interacting with our fans in real life. Hopefully, earth opens back up soon!"