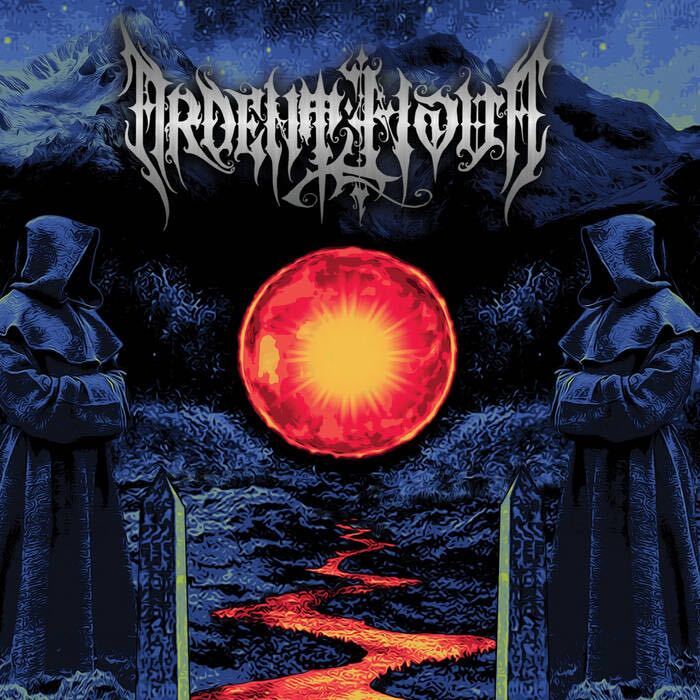 So, what's up? The theory is that death metal and black metal, the two genres that comprise the bulk of bands in Metallum, produce fewer trifectas per capita. But that can't just be it. Surely, the untrifecta'd masses must have a good reason for not doing their metal duty, right? Well, I asked one.
Atavistia are a symphonic death metal band from Vancouver, British Columbia. Starting out with a style that was like an informal solution for long-suffering Wintersun fans looking for new music released frequently, the quartet has grown into a bombastic colossus of melodeath maximalism that doesn't forgo the smaller, world-building elements like the rise and fall of complete compositions. Its newest album, Cosmic Warfare, out now via Blood Blast Distribution, is through with earthly concerns and has blasted the hell off into space.
"The vast unknown cosmos has always been a path we wanted to explore," the band wrote in an email. "There is something inherently brutal about space and we felt the concept worked well with the written songs at the time."
What hasn't worked for the quartet thus far is the trifecta. "Well, our name was derived from the archaic English word 'atavistic,' meaning ancient," the band explains. "To us, the word isn't just a name for the band but a true expression of our music. Since our name has such a twist on the word, we haven't found a place to use the band name in a track as of yet! But who knows what the future will behold!"
The numbers don't seem to behold a trifecta. Atavistia's next release will be its fourth. The band is symphonic. While its Canadian ancestry has some trifecta history (121 total, 2.33% relative count), its next release number (2.2%) and genre (34 total, 1.45% relative count) make a future triple seem unlikely. But that's the ironic thing about the trifecta: Although steeped in heavy metal numerology, the numbers don't really matter. The trifecta isn't just a set of three. Instead, it epitomizes a heavy metal feeling, like an indecipherable logo or a weathered battle vest, aligning its owner with tradition while helping them claim their own identity.
Although they are trifecta-less, Atavistia get this. "At that point, and in our opinions, we'd have to have Atavistia be an entire genre of its own, and that intensity would be fitting for a possible trifecta," the band writes, trying to let me down easy. "However, we don't see that happening anytime soon."
For Ardent Nova's Mike Pardi and Wiseblood's Sean Frasier, though, joining the heavy metal trifecta club has its benefits. "I suppose it feels pretty good, but it wasn't planned, that's for sure!" Pardi writes. Frasier adds, "As someone releasing the album, I'm a total nerd for bands that go all-in on establishing their identity and messaging. Prioritizing those elements truly separates many new artists. A trifecta isn't the only way to achieve a strong musical identity, but I think a trifecta debut album would turn my head way faster. I hope the club dramatically expands in the coming years!"
But will the club expand? That brings us back to the trifecta's future. As the relative count tumbles, why might the trifecta be falling out of favor? "I think metal has run out of band names," Pardi responds. Frasier has a similar take: "In conjunction with Mike's thought, metal band names are definitely becoming more complex so they're not another entry on Encyclopaedia Metallum with a dozen bands brawling for the same name. But I think it has more to do with metal's reverence for the past than waning creativity. I see a lot of younger bands naming songs that pay homage to genre legends. Maybe once they find their own distinct voice they will contribute a mid-career trifecta."
In that sense, Ardent Nova are almost too fitting of an analog for the trifecta. Along with bands like Nite and the Gauntlet, Ardent Nova have found its voice in a burgeoning genre with ties to the past, fusing black metal with melodeath and pouring that red-hot mixture into a trad cast. "Rise From Ahe Ashes," complete with stinging leads, Pardi's charred-black vocals, and drummer Ryan Gallagher's Into Glory Ride-esque pounding playing, is like good-era Amon Amarth reshaped into the form of some of Noise Records' finest.
What's interesting is that some of Ardent Nova's powered-up, trad belt flexing is a holdover from their previous incarnation as a more straight-up heavy metaller. Given death metal's relative disinterest in the trifecta, did Pardi's previous hall-residing, heavy metal alignment help Ardent Nova to triple play?
"Possibly!" Pardi answers. "I think it boils down to the song titles and the album cover. Death metal usually has brutal-looking album covers. It might be harder to come up with something where all three work well and make sense with an over-the-top album cover."
"I think it relates to the theatrical nature of power and trad metal," Frasier explains. "Since those genres grew from the golden era of heavy metal, [its] ego matches the style and fashion. Death metal is more of a down 'n' dirty subgenre of jeans and sneakers. It doesn't surprise me that genre has fewer trifectas, but I'd still love to see one of my favorite death metal bands do it. I'm calling you out Blood Incantation, Sentient Horror, Mother Of Graves, and Horrendous!"
The legend does state that if you say "Blood Incantation" three times into a modular synthesizer, the band will appear. Anyway, while we wait for the bands we love to trifecta, or even a band named Trifecta to take a bold step, everyone with an interest in the title triumvirate has a favorite they love to tell you about. "The longer names, such as 'Congratulations On Your Decision To Become a Pilot,' [take] a trifecta over the top," Jace Mogill writes. Sean Frasier's is a classic: "My favorite trifecta example is probably by Angel Witch, whose eponymous song is a tale of scorned love with hotter-than-hell speed riffs."
And, as you'd expect, my favorite veers into the ridiculous. In 1996, a Polish heavy/power metal band achieved the trifecta on its demo. Its name? Asshole. Asshole's "Asshole" from Asshole. It never fails to make me laugh. But there is something inspiring about it. If an Asshole can pull off the trifecta, you can, too. Dream big. –Ian Chainey
FOUL EMANATIONS FROM THE VOID
10. Olde Throne – "Killiecrankie"
Location: Christchurch, New Zealand
Subgenre: atmospheric black metal
On their debut album, Olde Throne sang of Ireland's great famine; on their new one, In The Land Of Ghosts, they're channeling Scottish ghost stories. The midtempo march of "Killiecrankie" is all doom, gloom, and regret, a mournful paean to loss and decay. More specifically, the song is about the Battle of Killiecrankie, an engagement in the Jacobite rising of 1689. Though the Jacobites won, both sides suffered extensive losses, and, according to the top Google hit and authority Spooky Scotland, the battle site is considered the most haunted in the country. The song is appropriately solemn, with riffs that shoot darts of sorrow into the heavy, lingering mist. The latter 3/5ths of the track, an extended outro, is where "Killiecrankie" reaches a higher plane, bringing in a pair of flutes that pierce through forests and fog and echo across crags and centuries. [From In The Land Of Ghosts, out now via Naturmacht Productions.] –Wyatt Marshall
9. Ypres – "Threads"
Location: Saint Petersburg, Russia
Subgenre: post-metal / doom / sludge
According to Ypres, the formula is simple. "If we're talking post-metal," guitarist Ivan Tokarev said to Breathing The Core in 2019, "I guess we just really wanted to play both post-punk and doom metal at the same time and there was no way around it." And yet, despite there being no shortage of bands in the last 15 years that have sought to do just that, the Russian quartet so easily burns through any lingering fatigue associated with the Cult of NeuroIsis sound. How?
Solypso, Ypres' second album, offers a few clues. First, these songs always seem to be in motion. In other words, they have momentum, never getting mired in overlong stretches of experimentalism or atmospherics. The rhythm section, Denis Zarutsky on bass and Kirill Tsarkov on drums, excels at this task, energizing winding instrumental passages with the same kinetic energy as a rolling sea.
Second, Ypres know where to place their points of interest. Each song is outfitted with at least one killer riff that ties the entire package together. But even if they didn't have those riffs, Ypres know how these songs need to flow. That is to say, they don't drop in a crescendo out of grim necessity because that's what post-metal bands do. Instead, they stoke tension until the time is right. And then, WHAM.
Finally, Ypres understand their strengths. Vocalist/guitarist Denis Dmitriev has a great roar. "Knowing Light"'s beginning calls for cleans. In post-metal, this is a recipe for disaster. There's nothing more immersion-breaking than heinous cleans. Ypres, though, outsource those cleans to guest Sata. And Sata crushes it. Crisis averted.
Anyway. Whatever. Here's a slightly more significant clue: "Threads" bangs. When the song gets to its spaced-out finale, with every instrument seemingly strobing with maximum intensity, it rules. It's why this January release that sat in my wishlist for months after I picked it off Rennie Resmini's Substack is appearing in the April column. It has restored my faith that post-metal can be great. There's no other way around it. [From Solypso, out now via the band.] –Ian Chainey
8. Hellish Form – "Deathless"
Location: United States
Subgenre: funeral doom
When Deathless moves to major keys, you really feel what Hellish Form are doing. Because of those moments, the second full-length by Jacob Lee (Keeper) and Willow Ryan (Body Void) is a beacon of hope. And that has become a hallmark for the funeral doom duo.
"I think each song definitely takes a path, both in lyrics and the music itself, toward catharsis. Coming to an emotional realization or finding closure or something like that," Ryan said to Captured Howls in 2021 before the release of Hellish Form's superb Remains. "It's another thing that I think comes with the territory of this kind of music, but it was satisfying to pinpoint the emotions on hope or acceptance or resolve. It's the kind of thing I hope people can find comfort, relief, and beauty in."
"Deathless," the opening track of Hellish Form's newest work, can slowly crush with the best of them, constructing a densely layered thrum in the spirit of Skepticism. But the wash of synths is slightly different than the typical funereal keyboard tickler.
"As far as inspiration, there is a lot," Ryan told Decibel in 2021. "Outside of heavy music, there are a lot of melody ideas. One of the things we did last year while we were recording Remains was to cover The Cure. That kind of put in perspective for me. This kind of music can be really relevant to what we're doing, even though it sounds really different. It is really informative. Then thinking about how do we incorporate these ideas into doom and that offers a lot of fertile ground for inspiration."
The synth swirl does have Disintegration-esque majesty to it. (It reminds me a bit of the Bauhaus spin-off Tones on Tail, particularly its classic, "Rain.") But how Hellish Form utilizes that element is its true power. At 10:25, "Deathless" bursts into a section of bright chords. Screams, guitars, synths, and drums unite to form a euphoric rumble. It's the dawn after a long night, the light returning after interminable darkness. [From Deathless, out now via the band.] –Ian Chainey
7. Mesarthim – "Type IV"
Location: Australia
Subgenre: atmospheric black metal
Mesarthim have been blasting through deep space for more than a decade at this point, sending missives both inspired and haunted by interstellar phenomena through the void all along. If their newest album, Arrival, promises reaching some destination after all this time, it sure doesn't sound like home. At 16 minutes — a length the Mesarthim duo are familiar with — "Type IV," which closes out Arrival, is an expedition of its own. It weathers the vicissitudes of space, shredding through asteroid fields into eerily quiet nothing, where slowly faint rays take form and beckon to new parts unknown while the heart yearns for what's been left behind. Orchestral elements kick things off, a grand introduction to the ensuing space opera that is accompanied by recordings of flight-deck-to-mission-control chatter. Power metal synth leads, black metal riffage, depth-delving doom, trance-y loops and bloops, and lush ambient soundscapes then shape the journey. Through it all, Mesarthim show they still hold a unique view and vision from the cockpit that continues to evoke awe. [From Arrival, out 5/26 via Avantgarde Music.] –Wyatt Marshall
6. Savage Oath – "Warlock's Trance"
Location: United States
Subgenre: epic heavy metal
Manilla Road, Visigoth, Eternal Champion, Sumerlands, Magic Circle — these are just some of the bands that the guys in Savage Oath have listed on their resumes. In the world of 2023 capital H-M American Heavy Metal, you'd be considered a force in the making to have shared stages with that list. Getting their creative engines to unite is putting together a band of heroes that could save the realm. Prepare to gallop, wail, and bellow with righteousness and fist held high on Savage Oath's debut, with the lead single "Warlock's Trance" whisking you into the halcyon glory days of hair, denim, steel, and valor. This is what it's all about. The dominant vocals from Brendan Radigan (Sumerlands, Magic Circle, Pagan Altar, et al.) are the work of a master at his peak — pure wailing power that turns on a dime to sing about grasping a sword hilt with tender nuance and then powers up again to break glass with a sustained high note a half second later. The band is ripping all along, of course, with constantly shifting and energetic riffage and on-your-toes drumming that hammer home the drama of taking it to the enemy and overcoming evil with style. Savage Oath's banners are up, and they're rocking. [From Savage Oath, out 5/26 via the band.] –Wyatt Marshall
5. Ocean Of Grief – "Imprisoned Between Worlds"
Location: Athens, Greece
Subgenre: melodic doom / death metal
It's the riffs and leads that hook you. Ocean Of Grief, a Greek melodic doom/death metal band, are outstanding at them. Those guitar parts are the sonic equivalent of trying to show the world a brave face while you're dying on the inside. And while they're wrought with woe, they provide relief. "For me, doom metal is when you listen to a heavy [emotional] album that takes your mind away, makes it travel, get lost among the melodies and the atmosphere," bassist and co-founder Giannis Koskinas said to Forgotten Scroll in 2018. "And when it ends, you can feel more lightweight. It's like a catharsis."
The logline for Pale Existence, Ocean Of Grief's second full-length, might as well be catharsis by way of killer riffs. In that same Forgotten Scroll interview, Koskinas namechecks some classic crawlers with a similar ability to convey sorrow while making you bang your head: Saturnus, October Tide, Paradise Lost, and Daylight Dies. But Koskinas' deeper cuts stick out: Slumber's Fallout and Enshine's Origin, two albums that seem to take extra care to ensure the riffs aren't just window dressing for the despair.
Similar to how the key to stoner doom is actually the rhythm section, the crucial element of melodic doom is not the atmosphere or lachrymose passages that slather on the sadness, but the riffs. It's one of those quirks of the style that you only pick up on if you've listened to a lot of it. And it seemingly runs counter to melodic doom's stated aims: the tragedy, the heart-rending misery. Even though real-life depression is characterized most by its world-stopping inertness, the melodic doom equivalent doesn't land if the riffs and leads don't rip.
"Imprisoned Between Worlds"'s opening riff rips, especially that nifty flourish that conjures the sublime Dan Swanö. And I love how active guitarists Filippos Koliopanos and Dimitra Zarkadoula stay throughout the track's running time, bouncing between death metal runs, stately arpeggios, swirling leads, and supporting chugs. The rest of the sextet is right there with them. Koskinas and drummer Thomas Motsios press ever forward. Keyboardist Aris Nikoleris tastefully accents quiet sections with starlight twinkles while increasing the weight of the band's heavier forays. And singer Charalabos Oikonomopoulos' growl skillfully avoids the "so br00tiful" over-performative anguish that tips a lot of bands into self-parody. All told, Ocean Of Grief play like a band that knows they have riffs because they do. [From Pale Existence, out now via Personal Records.] –Ian Chainey
4. TDK – "Kazvaha (Nishto Ot Tova, Koeto Pravish, Nyama Znachenie, Ti Si Neshtastnik, Umri!)"
Location: Plovdiv, Bulgaria
Subgenre: noise rock / avant-garde
You never know when Nemesta, the newest album by TDK, a band hailing from "the Separatist Republic of Dobrina," will cut to the quick. "Every morning, I wake up with the birds. They wake me up every morning," singer Nikola Nikolov drones menacingly in Bulgarian on "Kazvaha (nishto ot tova, koeto pravish, nyama znachenie, ti si neshtastnik, umri!)," "I know that every day of my life. I know that every day is my last."
TDK's music is all over the place in the best of ways, often matching the meandering, surrealist delirium of Nikolov's wordplay. Sometimes the core quintet forcefully hammers points home with tricky timing like a noise rock King Crimson. In other instances, it stretches out into extended drones like a doom jazz band melting down. I think this says it all: An accordion, played with uncharacteristic aggression by Aleksey Kalinin, factors in often. With TDK, it's always an adventure, something that unsuspecting audiences are bound to be baffled by. Indeed, winking tour dispatches on the official TDK website tell of people flummoxed by 9/8 time signatures.
Be that as it may, while some bands would prefer to steer into the antagonism, punishing listeners for the temerity of pressing play, TDK are rather giving. Not that their avant-garde inclinations are inviting in a pop sense, but the band goes the extra mile to make these songs as engaging as possible. For example, Jesse Gander's production and Stuart McKillop's mastering sound great, building a massive sound while ensuring each instrument in the mix is still identifiable. But it's hard not to be wowed by how much work TDK have put into fleshing out each section. Truly, the songs are like cities.
But what makes Nemesta truly great is what I hinted at above: TDK have figured out twists and turns that both surprise and feel earned because they hit you so profoundly. On "Kazvaha (nishto ot tova, koeto pravish, nyama znachenie, ti si neshtastnik, umri!)," it's when the music fades away and Nikolov sings a fractured lullaby, eventually gaining a duet partner in the shape of industrial scrapes and bangs.
I want to know where the birds come from, the tailors of my morning. I want to know how the winds are born and where autumn lies down to sleep. But most of all I want to understand, to feel it in my blood, to have hundreds of virgins sing to me, to see it with my eyes, just to know…
That's what hits me today. Still, Nemesta is so deep it might be a different thing tomorrow. All I can say with certainty is that this album has been in heavy rotation since I heard it at Machine Music and has already hit me a hundred ways. "Just to know…" Isn't that what we all want, really? [From Nemesta, out now via the band.] –Ian Chainey
3. Morwinyon – "Indifference"
Location: Todi, Italy
Subgenre: atmospheric black metal
The Italian duo powering Morwinyon have mastered hazy, gorgeous atmospheric black metal, smearing ethereal beauty atop pulse-quickening, pitch-perfect riffwork. Night sky auras, lush cosmic clouds, and eye-watering vistas abound in Morwinyon's world, and on "Indifference," they interplay with melancholy and post-punk staccato to delirious effect. The track is all blasts from the mark, rage interspersed with synth-washed wonder and regret, the screams fuzzed beyond recognition and blending into a singular font of pained glory that shoots skyward. It's the punkish stance that, uh, differentiates "Indifference" from some of the other songs on the excellent Wastelands, where more straightforward — but no less inspiring — structures from the greater atmospheric black metal tree hold things down. Shout out to reader Ibobren, who last month called out Morwinyon's newest album in the comments — now we're both hooked. [From Wastelands, out now via Naturmacht Productions.] –Wyatt Marshall
2. Healthyliving – "Until"
Location: Edinburgh, UK
Subgenre: doom / rock / post-metal
Healthyliving went into Songs Of Abundance, Psalms Of Grief with rules. In an interview with Echoes And Dust, Scott McLean enumerated the big two: (1) following a spark of inspiration, songs needed to be finished in the same session, and (2) extraneous layering was not allowed. As McLean clarified, "…everything had to be based around one guitar part, one bass part and the drums."
Of course, the three musicians comprising Healthyliving didn't let those rules limit them. You don't make a band with the boundless artistic potential of multi-instrumentalist McLean (Falloch, Ashenspire), singer Amaya López-Carromero (Maud The Moth), and drummer Stefan Pötzsch (Lasse Reinstroem) and rein in the creativity. But these rules explain why Songs Of Abundance, Psalms Of Grief works so well. Rule 1: These songs crackle with the energy of musicians still exploring the edges of pieces they haven't composed to death. Rule 2: There's tension hiding within those pieces' relative sparseness. Remember: voice, guitar, bass, drums, and for the most part, that's it. Because there is no safety net, cover-ups, or distracting ear candy, every element is out in the open. Thus, Healthyliving know every element needs to be good. They are.
This approach lends even heavier tracks, such as the Messa-by-way-of-Virus "To The Gallows," an intense vulnerability. If that's the pull, Healthyliving's push is how assured the players sound navigating this material. Blessed with a hundred voices, from a hair-raising keening howl to a gentle yet commanding croon, López-Carromero delivers one of the best vocal performances of the year. Likewise, Pötzsch's drumming is continually captivating without ever overwhelming the listener. And McLean's guitars and occasional synth create incredible, rolling scenery. But these are parts of a greater whole. Songs Of Abundance, Psalms Of Grief isn't just one guitar part, one bass part, etc. It's Healthyliving, one hell of a band.
The Neurosis-y "Until" will have to be the song choice because this is still ostensibly a metal column. Don't get me wrong, great track. But may I also point you towards "To The Fields," one of my favorite songs of late. The ballad unspools in a way that should be left unsullied by comparison, but when has that ever stopped me? So, I'm going to say it is like Kristin Hersh working in the same mode as Jeff Buckley. When the song bursts with a firework crackle of distortion and undulating bass, it's a release worthy of the spine-tickling shivers it elicits. That said, I'm increasingly drawn to the power of "To The Fields"'s quieter beginning. "One eye closes, one lung sings," López-Carromero sings. "One fist opens, two birds dream." [From Songs Of Abundance, Psalms Of Grief, out now via the band.] –Ian Chainey
1. Shadows – "Nightstalker"
Location: Santiago, Chile
Subgenre: heavy metal
Some metal musicians are known for their academic mastery of the very essence of heavy metal, subgenre savants that wield a dual threat of song structure in one hand and an overarching, deeply innate understanding of history, imagery, and style in the other. Think Chris Black, aka "Professor Black," and his nigh inscrutable projects that include Dawnbringer and High Spirits; Fenriz's famous heavy metal tree blackboard session and Darkthrone's unassailable command as both trailblazers and historians; or even Tobias Forge's Ghost, the work of a perfectionist who produced one of the most impactful, ear-worm heavy debuts of the 21st century thus far in Opus Eponymous and has taken extreme metal imagery further into the mainstream than virtually anyone else.
Let's also consider Chile's Shadows as star pupils. On "Nightstalker" — and everything else they've blasted into the world to date — Shadows are throwing fuel onto the perpetual fire and embodying the dark magic that makes metal so mysterious and alluring. The first minute of the track, with a windswept acoustic intro and a stiff upper lip riff, will give you an idea of exactly what we're getting into. When the sneering, wailing vocals kick in to conjure the dark, and synth accents flash star-drop glints onto the nocturnal scene, it's pure metal magic, loaded with wild man solos and riff power. From players named "John Shades" and "Michael Mist," these guys get it, and they're taking us all on a wild ride. [From Out For Blood, out 5/19 via Sentient Ruin Laboratories.] –Wyatt Marshall
Bonus. Body Stuff – "Fame"
Location: New York, NY
Subgenre: rock / heavy metal
Body Stuff are back with Body Stuff 4. Friend of the column Curran Reynolds (vocals) and Ryan Jones (instruments) have once again created a work that sounds like the coolest kid you knew circa 1988 made you a mixtape. But here's the thing: Body Stuff don't bounce around. Instead, they find the throughline that unites disparate genres. For instance, opening track "The Chains" exudes Sisters Of Mercy cool while distorted guitars alternate between heavy NYHC chugs and quicker Ministry runs; Reynolds' hearty howl sounds like Springsteen fully embracing his Suicide influence; and the synths have a delightful freestyle kitschiness to them. Yes, we're still talking about the same track. And, somehow, no matter what style Body Stuff incorporate, there's no whiplash. Instead, the duo distills its influences down to the commonalities and composes catchy songs that bullseye the middle. That it keeps getting better is the real story.
Ah, but I'm keeping you from the big reveal. My bad. "Fame" features Tiffany. Yes, that Tiffany, the mononym herself who has two #1 hits to her name. Is this the first time a chart-topper has appeared in The Black Market? Possibly! I don't know, did Animals Killing People ever make it to number one? Doesn't matter. Tiffany sounds great. Even better, she fits the song so well, giving her section some real Leather Leone power. No surprise, as Tiffany could always wail. Then again, Tiffany fronting a metal band, when? [From Body Stuff 4, out 6/2 via The Chain.] –Ian Chainey
HYMNS OF BLASPHEMOUS IRREVERENCE