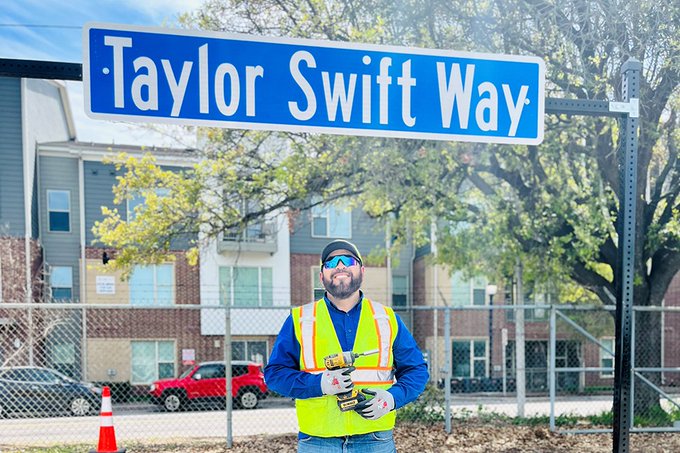 In the lead-up to the first show of Taylor Swift's Eras Tour two weeks ago, Glendale, AZ, which hosted the show at State Farm Stadium, temporarily changed its name to Swift City in addition to various Swift-related decorations and business promotions in the area. But Glendale is not the only Eras Tour host city that will be catering to Swifties through officially sanctioned government proclamations and such.
Arlington, Texas, where Swift is performing at AT&T Stadium for the next three nights, is renaming Randol Mill Road to Taylor Swift Way. Additionally, the four-story steel sculptures in front of City Hall in Downtown will be lit red from today through Sunday. Mayor Jim Ross, who bills himself as a "fellow Swiftie," has declared this Taylor Swift Weekend in Arlington. Ross will also present Swift with a Key to the City. The city's official announcement about all this is littered with Swift song titles:
Arlington is participating in a friendly competition with other U.S. cities hosting The Eras Tour to demonstrate its "Reputation" as one of Swift's biggest fans. We don't have any "Bad Blood" with Las Vegas, which recently lit its Gateway Arches in colors that correspond with Swift's various musical eras, but never in our "Wildest Dreams" would we go so far as to "Change" Arlington's name as our friends in Glendale, Ariz., did when it rebranded as Swift City.
It goes on like that. You get the idea.