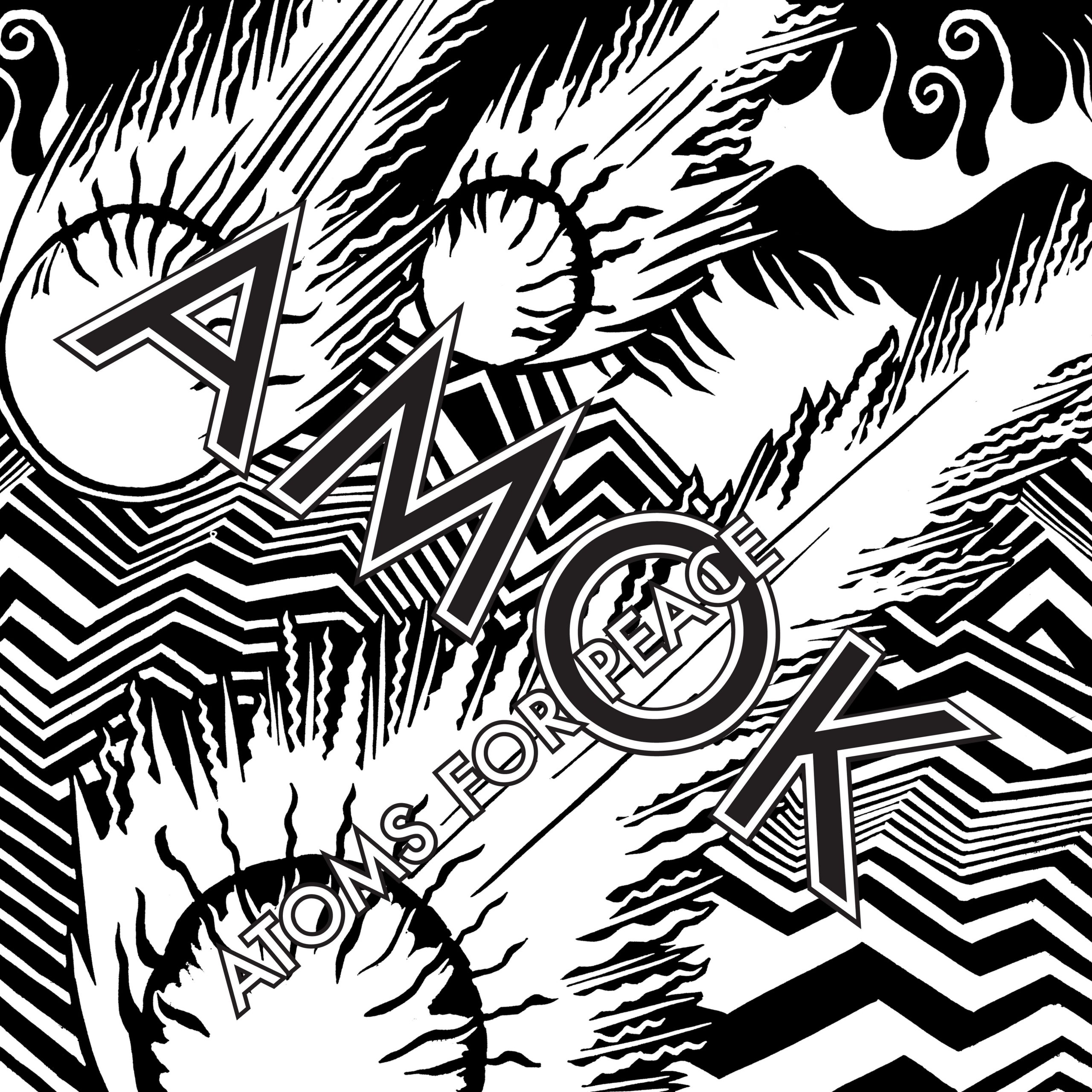 Here's a band that features Thom Yorke and Flea. There were a lot of threads that led to Atoms For Peace, but that was one of the big storylines when the band became something real. It was a supergroup of a Radiohead tangent, the seeming result of someone jumbling the code for some '90s nostalgia fever dream. Two titans from erstwhile polar ends of the alt-rock spectrum — one who made "Everything In Its Right Place," one who made "Sir Psycho Sexy" — joined together with some co-conspirators to give Yorke's pervasive end-times anxieties a bit more groove.
Atoms For Peace began as Yorke's unexpected backing band when he decided to tour his 2006 solo outing The Eraser in 2009, three years late and on the other side of In Rainbows. He hit up unofficial sixth Radiohead member Nigel Godrich, and outlined his vision — his first two picks, Flea and Joey Waronker, signed up immediately, and the group was rounded out with Brazilian percussionist Mauro Refosco. That tour was exhilarating, fleshing out the characteristically chilly/claustrophobic electronica of The Eraser in a live band format. The group clicked to such an extent that they kept the party going after the tour, getting drunk and listening to Fela Kuti at Flea's house, kicking off three days of jamming in LA. That was it — that was how the band, as it existed, made an album together. Yorke and Godrich spent two years rearranging, cutting, and adding to the music from those three days, resulting in Amok, which arrived 10 years ago this Saturday.
Amok was, officially, the debut of Atoms For Peace, a new band with Thom Yorke as its frontman. The contributions of Flea, Waronker, and Refosco were supposedly crucial — the way their original performances filtered through Yorke and Godrich's manipulations created an interplay between the organic and digital. But from their origins as the Eraser tour band, to the fact that the album was really constructed by Yorke and his longtime co-conspirator Godrich, right on down to a stark, apocalyptic black-and-white cover echoing that of The Eraser, Amok could just as easily be seen as Yorke's second solo album. (At the time, some reviews actually quibbled over this, finding that Amok didn't deliver on the promise of its personnel in terms of pushing Yorke into new territory.)
In another way, Amok was a successor to Radiohead's divisive 2011 album The King Of Limbs. There, the band had played their parts live and looped them, leading to the strange artificiality of its more rhythmic tracks. For Amok, Yorke and Godrich's process seemed to take that all a step further — "conduct" the band as they jammed, then form songs out of that material and add their own finishing touches and new passages to what had been played live a year or two earlier. The intent was to blur where sounds came from: "One of the things we were most excited about was ending up with a record where you weren't quite sure where the human starts and the machine ends," Yorke told Rolling Stone in 2013.
The whole thing sounded futuristic, exciting, experimental. But in some ways, even more so than the weirdness of a RHCP x Radiohead crossover event, the long process of creating Amok overshadowed the album itself, or set it up to be… not quite as mind-blowing as its premise suggested. The oft-cited afrobeat influence was noticeable here and there — mostly in opener "Before Your Very Eyes…" — and perhaps Yorke's desire to make a straight-up dance record was coming closer into view as well. Compared to his main gig's often bugged-out forays into electronic compositions, Amok was certainly warmer and more muscular — "Ingenue" slithered and squirmed with all manner of sinuous synths and weird raindrops-in-a-cave sounds, "Dropped" surged forward to a gorgeous climax of wordless vocals and throbbing synths, while the closing title track ended the album in a cascade that could almost play like true release or transcendence in the context of Yorke's work.