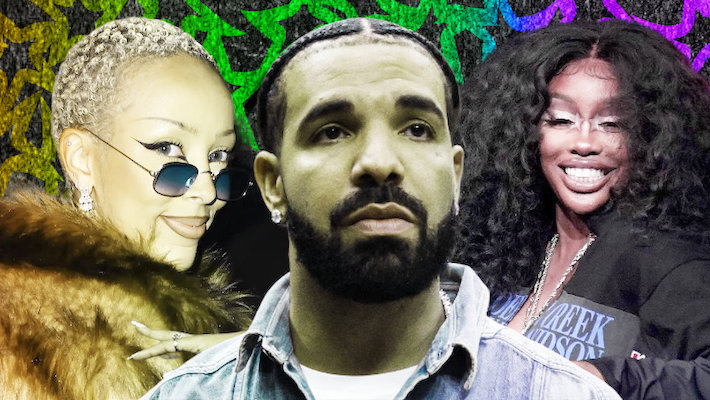 Keeping up with new music can be exhausting, even impossible. From the weekly album releases to standalone singles dropping on a daily basis, the amount of music is so vast it's easy for something to slip through the cracks. Even following along with the Uproxx recommendations on a daily basis can be a lot to ask, so every Monday we're offering up this rundown of the best new music this week.
This week saw Doja Cat continue her reign as the rap queen of 2023 and Drake come through with a collab that's been a long time coming. Yeah, it was a great week for new music. Check out the highlights below.
For more music recommendations, check out our Listen To This section, as well as our Indie Mixtape and Pop Life newsletters.
Doja Cat — "Balut"
Hip-hop was facing a major drought with no songs at No. 1 on the Billboard Hot 100 chart this year, but Doja Cat got rap back on top with "Paint The Town Red." Ahead of Scarlet, she returned with more rap last week with "Balut," a chilled-out number that shows Doja continuing to be the biggest rapper of 2023.
Drake — "Slime You Out" Feat. SZA
Bad news: Drake pushed For All The Dogs back to October. Also bad news: Drake used an image of Halle Berry for the cover of his new single and she didn't love that. Good news: That single is "Slime You Out," which features a long-awaited collaboration with SZA.
SZA — "Snooze (Acoustic)" Feat. Justin Bieber
It was a good week for SZA link-ups. Aside from the fresh Drake, she also gave her recent Justin Bieber collaboration "Snooze" another go with a fresh acoustic rendition.
Mitski — "My Love Mine All Mine"
In his review of Mitski's new album, Uproxx's Steven Hyden notes, "Hearing an artist of Mitski's talent pondering early retirement was disheartening for many reasons. But the suspicion that she was scaling back her ambition in order to play the pop music game was even worse. Therefore, the pleasures of The Land Is Inhospitable And So Are We go beyond just the songs, which rank with the very greatest of her career to date, or even the unlikely feat of following up possibly her worst record with possibly her best. What really makes this album one of the year's most exciting is the reaffirmation of Mitski's commitment to making music only she can make."
Offset — "Fan"
Offset is a huge Michael Jackson fan (even if it sometimes leads to problems in the bedroom with Cardi B). He proved it in the well-made, high-effort video for his new single "Fan," which sees the rapper doing his best MJ impersonation.
Diddy — "Another One Of Me" Feat. The Weeknd, 21 Savage, and French Montana
Diddy's new R&B project, The Love Album: Off The Grid, has arrived, and he didn't come alone: One particularly star-studded number, "Another One Of Me," is a collaboration with The Weeknd, 21 Savage, and French Montana. The track, by the way, might just be the final feature The Weeknd ever does.
J Balvin, Usher, and DJ Khaled — "Dientes"
"Yeah!" was such a massive hit in 2004 that I don't even need to specify whose song I'm talking about. Now it's gotten a facelift for 2023 courtesy of J Balvin, DJ Khaled, and even Usher himself, who rework the song with a Latin spin on "Dientes."
Becky G — "Querido Abuelo"
Our elders play important roles in a lot of our lives, and that's certainly true for Becky G. Her latest, "Querido Abuelo," is a touching tribute to her late grandfather and the latest taste of her upcoming album, Esquinas.
Sufjan Stevens — "Will Anybody Ever Love Me?"
Sufjan Stevens is now a few week away from releasing his new album Javelin, which he only just recently announced. He offered a sneak peek at the project last week with "Will Anybody Ever Love Me?." Uproxx's Megan Armstrong notes the "reflective" single features Stevens singing over "lilting acoustics and juxtaposing atmospheric orchestrals."
Big Thief — "Born For Loving You"
In his review of a recent Big Thief concert, Uproxx's Philip Cosores noted, "Big Thief's Dragon New Warm Mountain… era is over, and what's next might be even better." So far, what's next has been pretty good: They unveiled the lovely, country-inspired "Born For Loving You" next week, and that'll be given a vinyl release alongside other post-Dragon single "Vampire Empire."
Some artists covered here are Warner Music artists. Uproxx is an independent subsidiary of Warner Music Group.