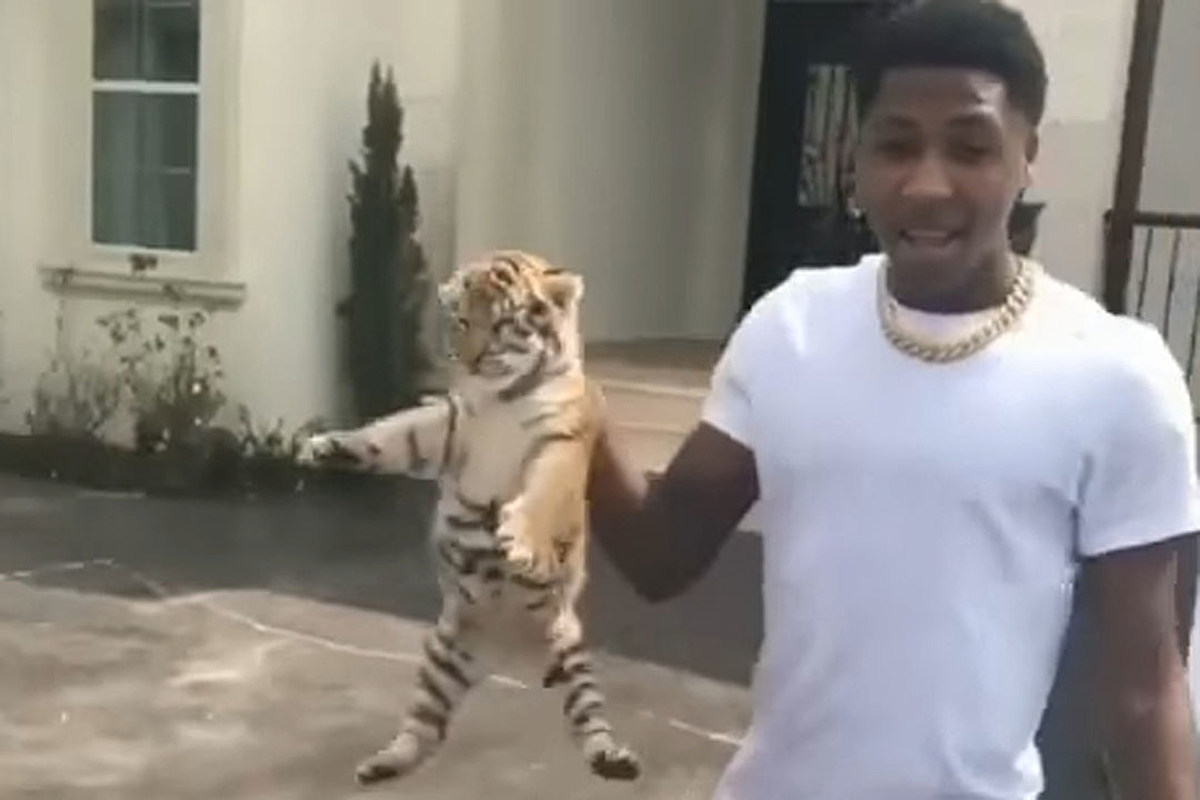 Hip-hop has a special affinity for dogs. Snoop Dogg morphs into a Doberman Pinscher in his 1993 music video for "Who Am I (What's My Name)." DMX—who has the name of his deceased pooch Boomer tattooed across his back—growls and barks like a dog on tracks every chance he gets. And Bow Wow remained on-brand with the titles of his first three albums, letting the doggone puppy puns fly (Beware of Dog, Doggy Bag, Unleashed). Rap has even co-opted best friend into a term of brotherly endearment (see: dawgs).
Cats get love in rap, too—although they're often used as innuendo. "Freaky with the sticky icky/Baby give me kitty-kitty," XXL Freshman alum Aminé raps on his 2016 song "Caroline." Perhaps there's no greater example of hip-hop's fondness for felines than Run the Jewels' 2015 remix album Meow the Jewels, which replaces the musical elements of Run the Jewels 2 with cat sounds. And how many MTV Cribs episodes have featured fish tanks? (Missy Elliott once flaunted a chair that replaces armrests with small aquariums.)
Still, outside of these common domesticated pets, rappers have taken a liking to animals on the more exotic end of the spectrum—even making companions of some of them. From Tyga to Vanilla Ice to Young Thug, hip-hop artists have kept tigers, monkeys and even a kangaroo as furry friends.
YoungBoy Never Broke Again had a tiger at one point. In 2017, he shared video outside his home walking around with a baby tiger. He picks up the feline who continues to "meow" while the rapper's dog appears to be very curious of his owner's new pet.
Then there's Big Boi, who is the proud owner of some very unique owls. At one point, he was in possession of four of the flying species.
XXL takes a look at 12 rappers who decided to bring an exotic member of the animal kingdom into their homes.
For Action Bronson fans, it shouldn't come as a surprise that the Queens rapper has an interest in owning farm animals as pets. He's long been an advocate of farm fresh eats, so it only makes sense that he has a pet rooster. (Also adds some context to his 2012 song "Eggs on the Third Floor").

While Azealia Banks doesn't often share her selfies with her pets, she has a handful that separate her from the rest. Per an interview with Billboard, she owns some common pets, including two cats and a Schnoodle, as well as has a pet guinea pig, rabbit and snake.

While CeeLo Green was warned by NBC not to bring his pet cockatoo onto The Voice set back in 2012, the Goodie Mob and Gnarls Barkley member didn't listen. His pet, Miss Lady, came into his life while he was "vacationing on Fantasy Island."

Julius Ceasor, has been a talking point for French Montana since 2014, when he added the beloved Capuchin monkey to his family. Together, they appeared on XXL's first-ever digital cover in 2016. As you can see, the love is real.

Rap veteran Mally Mall has owned several exotic animals throughout the years, such as a Capuchin monkey named Lil Bubs and a half cheetah/half bobcat named Isis.

MC Hammer invested in horses during his heyday—his horse Lite Light actually competed in the 1990 Kentucky Derby. In 1991, he purchased his own stable and invested in 19 thoroughbred horses (one reportedly cost $1.2 million). Unfortunately, he filed bankruptcy five years later in 1996.

When Rick Ross went on Instagram to show off a pet tiger cub last year, fans instantly flooding his mentions with concerns that the wild animal was not an ethical pet to keep. In true OG form, Rozay didn't publicly comment on the situation and kept on livin' his lavish style in peace. It turns out, it may have been a tiger that YoungBoy Never Broke Again gifted to Rozay.

It was only fitting that Tyga had a tiger. But the wild animal—named Maverick—landed the rapper in hot water back in April of 2014, when he was forced to take the tiger to a non-profit sanctuary after word got out that he was illegally housing the animal. The sanctuary addressed the situation, claiming that Tyga turned the tiger over to professional caretakers.

The rapper, however, hasn't abandoned his love for the gorgeous animal, incorporating elements of the creature stylistically into both his album cover for 2018's Kyoto and in his recent decisions at the barbershop.

Vanilla Ice has been vocal about his love of animals throughout his career—he's owned both a kangaroo (pictured below) and a goat. He's had his exotic animals seized by authorities in the past, learning the hard way that to responsibly own wild animals, one must follow all of the proper caregiving protocol.

YoungBoy Never Broke Again

YoungBoy Never Broke Again owned a pet tiger at one point. An Instagram photo of the rapper garnered attention as news broke that the tiger was apparently abandoned and rescued by a non-authorized organization. The five-month old white Bengal tiger cub was reportedly seized by authorities, who discovered that the animal needed immediate medical attention for issues directly corresponding with consistent neglect. The tiger has reportedly been nursed back to health, leaving multiple questions unanswered, namely if YoungBoy was responsible or if he was just stunting for the 'gram.

Young Thug hasn't shied away from sharing his love of snakes with his fan on social media—even when his pet snake has a mind of its own.

Hootie Hoo, Hoodini, Tula and Simon are the names of the four owls Big Boi has owned. The latter bird was the first one of its kind to come into the rapper's home. Big Boi apparently has an official owl license to handle the birds and has built special habitats for them. He even brings his owls to the famed Stankonia studio.