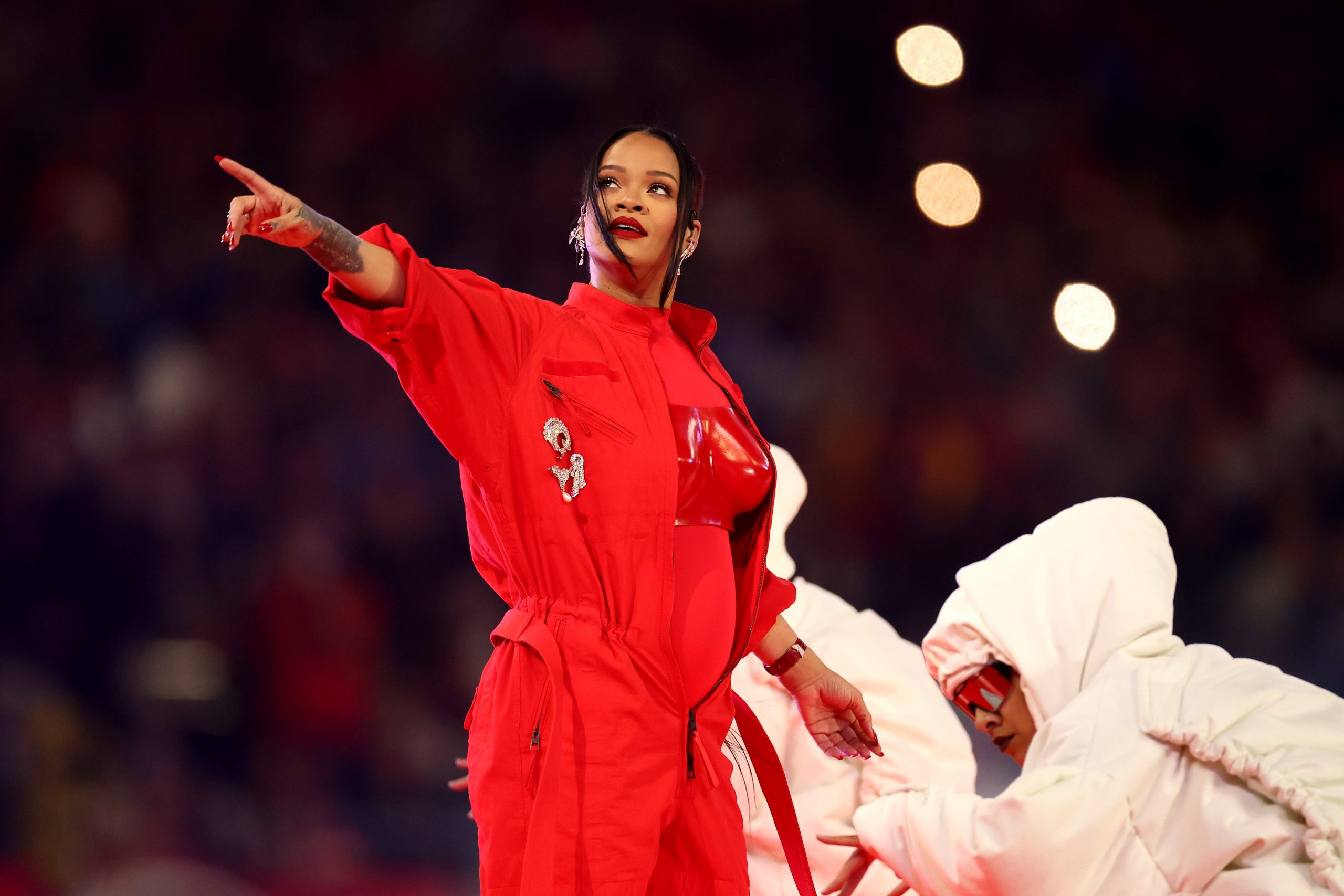 It finally happened: Rihanna returned to live music on the biggest stage imaginable. Ahead of the big game, RiRi said her Super Bowl halftime show would be a celebration of her catalog, putting a damper on hopes that she might use the performance to launch a new era of music. At her press conference Thursday, she sure didn't sound like any new music was imminent. Last fall she told reporters, "The Super Bowl is one thing, new music is another thing." And indeed, her 13-minute set was crammed with segments from hits.
Wearing all red and flanked by legions of dancers in white, she started with "Bitch Better Have My Money," suspended on a platform high above the stage, with a belly rub many interpreted as a pregnancy announcement. UPDATE: A rep for Rihanna confirmed to The Hollywood Reporter that she is indeed pregnant. Rihanna and A$AP Rocky welcomed a baby boy last May.
As the platform reached stage level, "Where Have You Been" began. It segued into "Only Girl In The World," an exultant "We Found Love," and an EDM remix of "Rude Boy." Rather than deny us all the dancehall jams, "Work" was presented in its original form. "Wild Thoughts" and "Pour It Up." She applied some makeup (undoubtedly some nice product placement for her own company, Fenty Beauty) before launching into "All Of The Lights," but its lead artist wasn't part of the performance for some reason. A live band emerged as "Run This Town" began. An extra rock-ified "Umbrella" led into "Diamonds" as RiRi ascended skyward on her platform again, now without a dancer in sight.
There were no special guests; there were plenty of fireworks. Watch the show below.
This is the first 10 minutes:
Bonus Beats: