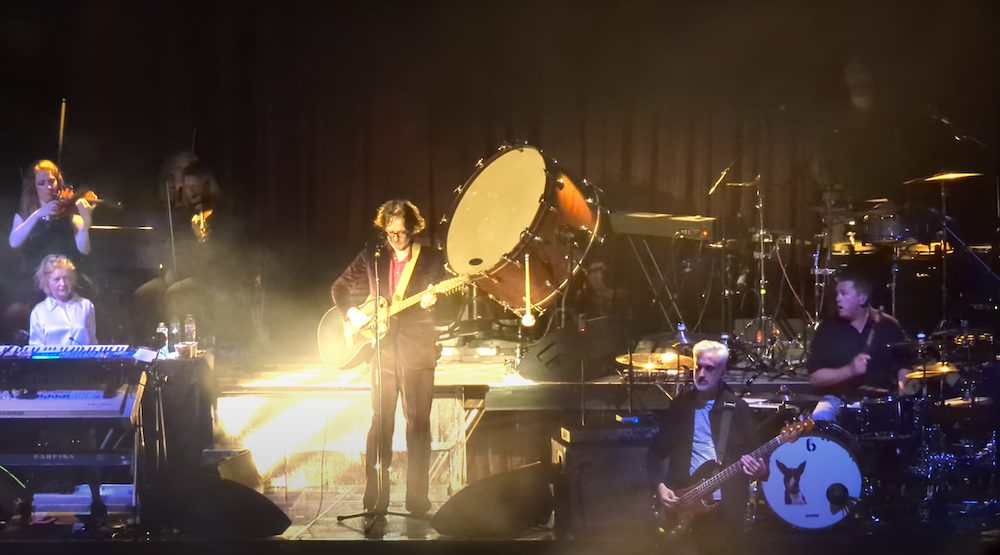 On Friday, Britpop greats Pulp played their first show in just over 10 years at Bridlington Spa, which is part of their UK reunion tour. During the show, Jarvis Cocker & Co. played a career-spanning set, including songs like "I Spy," "Disco 2000," and "Something Changed" from Different Class, and "Dishes" from This Is Hardcore and "Pink Glove" from His N' Hers).
They also brought out We Love Life opener "Weeds" for the first time since 2002, plus "This Is Hardcore," "Sorted for E's & Wizz," "F.E.E.L.I.N.G.C.A.L.L.E.D.L.O.V.E.," "Do You Remember The First Time?," and "Babies."
Cocker, drummer Nick Banks, keyboardist Candida Doyle, and guitarist Mark Webber played with Cocker's solo band JARV IS, which included bassist Andrew McKinney. Pulp bassist Steve Mackey died earlier this year, and Cocker dedicated "Something Changed" to him during the performance.
Check out a few fan-shot videos from Pulp's Bridlington Spa set.
SETLIST:
01 "I Spy"
02 "Disco 2000"
03 "Something Changed"
04 "Dishes"
05 "Pink Glove"
06 "Sorted For E's & Wizz"
07 "This Is Hardcore"
08 "Weeds"
09 "Weeds II (The Origin Of The Species)"
10 "F.E.E.L.I.N.G.C.A.L.L.E.D.L.O.V.E."
11 "Do You Remember The First Time?"
12 "Babies"
13 "Sunrise"
ENCORE:
14 "Like A Friend"
15 "Underwear"
16 "Common People"
ENCORE 2:
07 "After You"
18 "Mis-Shapes"
19 "Glory Days"