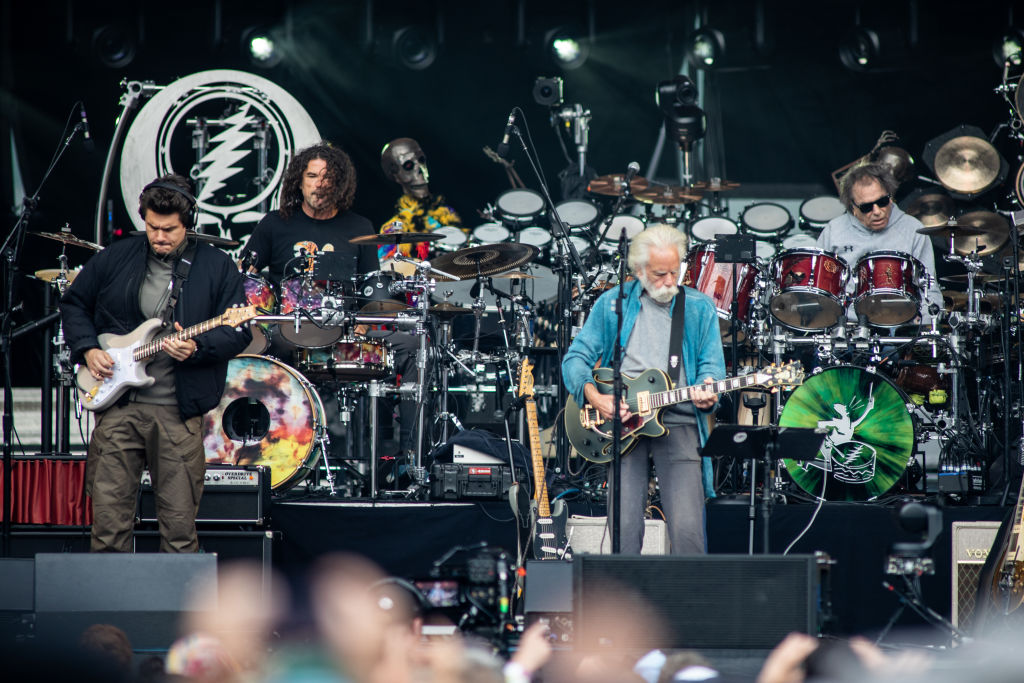 In 2015, the Grateful Dead played their final shows in Chicago, with Phish's Trey Anastasio filling in for the late Jerry Garcia. Later that year, a trio of original Grateful Dead members launched a new project that was basically an extension of what the Dead had already done. Dead And Company was Grateful Dead founding members Bob Weir, Mickey Hart, and Bill Kreutzmann, along with John Mayer, Oteil Burbridge, and Jeff Chimenti. Last year, that band announced plans for one final tour. Last night, they played what will supposedly be their final show.
Dead & Company finished their farewell tour with a three-night run of hometown shows at San Francisco's Oracle Park. Last night's set was the big finale, and it included a whole lot of Grateful Dead songs, along with a few tunes that the Dead covered multiple times: the Rascals' "Good Lovin'," Traffic's "Dear Mr. Fantasy," the coda from the Beatles' "Hey Jude." They ended the whole thing with a version of Buddy Holly & The Crickets' "Not Fade Away."
Another version of the Grateful Dead, with a reshuffled lineup, could easily pop up in the next few months. As far as we know, though, this was a big ending for a band with a very long legacy. Below, watch some fan-made videos from last night's show, and check out the show's setlist, via Setlist.fm.
SETLIST:
01 "Bertha"
02 "Good Lovin'" (The Rascals cover)
03 "Loser" (Jerry Garcia cover)
04 "High Time"
05 "Samson And Delilah"
06 "Althea"
07 "Dear Mr. Fantasy" (Traffic cover)
08 "Hey Jude" (The Beatles cover) (coda only)
09 "Bird Song" (Jerry Garcia cover)
//////
10 "Help On The Way"
11 "Slipknot!"
12 "Franklin's Tower"
13 "Estimated Prophet"
14 "Eyes Of The World"
15 "Drums"
16 "Space"
17 "Days Between"
18 "Cumberland Blues"
19 "Sugar Magnolia"
//////
20 "Truckin'"
21 "Brokedown Palace"
22 "Not Fade Away" (The Crickets cover)