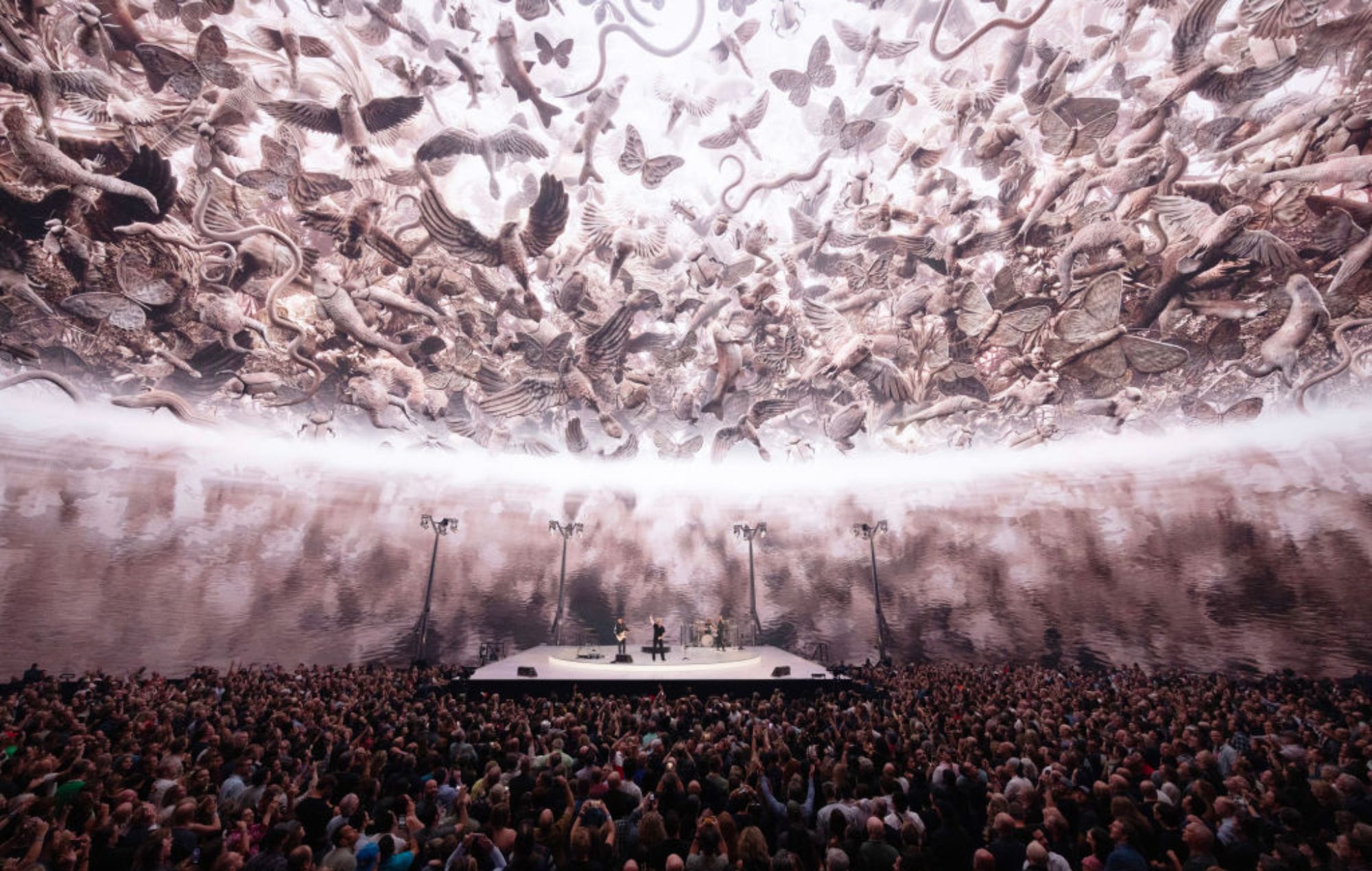 U2 kicked off their residency at the MSG Sphere in Las Vegas by dedicating one of their tracks to drummer Larry Mullen Jr, who is not taking part in the shows due to various injuries.
The Irish rock icons launched their long-awaited residency at the new MSG Sphere in Nevada last week, and used the opening show to pay tribute to the absent member.
Bono, The Edge, Adam Clayton and stand-in drummer Bram Van Den Berg all made a nod towards Mullen Jr during the set, dedicating their 1988 track 'All I Want Is You' to him. The drummer is not taking part in their 25-show residency at the £2.3billion venue due to injuries sustained to his elbows, knees and neck.
He previously confirmed that the injuries are all drumming-related, and said that he would "like to take some time… to get myself healed", rather than persevere with the Las Vegas shows. Reports have since emerged that he has surgery to address the injuries.
The performance dedicated to Mullen Jr also came shortly after the band opened up about  him playing "up a storm" in the studio when recording their new single 'Atomic City', despite being saddled with surgery recovery.
"It's really tricky for him," said Bono during an interview with Apple Music 1. "He didn't know if he could play for an hour or… he didn't know if he could play for 15 minutes. And he just played up the storm… It took its toll on Larry."
The band also opened up about his absence last month, when they discussed how they feel about performing without the long-time member.
"The whole band and I'm sure the audience are going to be very sad and miss Larry," said bassist Adam Clayton, speaking to the Daily Star newspaper's Wired column. "He wants to come back, he wants to be able to have a long career and continue his drumming so he's taking care of those injuries."
Held on Friday (September 29), the show was the first of the 25 dates U2 have scheduled at the 17,600-capacity venue. The residency will run until December, with the band expected to play to over 300,000 people.
At the event, the band played their 1991 album 'Achtung Baby' in its entirety, as well as a rendition of their aforementioned new song 'Atomic City' – their first song since 2021 when they released 'Your Song Saved My Life' for the Sing 2 soundtrack.
The members also played an acoustic set, which included songs from their 'Rattle and Hum', and ended the opening night with an encore of 'Elevation', 'Atomic City', 'Vertigo', 'Where the Streets Have No Name', 'With or Without You', and 'Beautiful Day'.
Other highlights of the show on Friday included a rendition of 'Desire' dedicated to Sir Paul McCartney, 'Love Rescue Me' dedicated to the late Jimmy Buffet and 'With Or Without You' performed for the members' family, friends and colleagues.
The members also made a nod to Billie Holiday with their performance of 'Angel Of Harlem', and embedded in snippets of Van Morrison's 'Into the Mystic' and Thin Lizzy's 'Dancing in the Moonlight'.
In a five-star review of the opening show, NME praised U2 for their use of "breathtaking visuals" throughout.
"Reaching its cinematic climax, it feels like the band, venue and audience are transported to the vast depths of the Mojave Desert itself," it read.
"Edge previously pointed out that U2 are taking the live concert experience 'to the next level' and this opening night does a fine balancing act of doing just that while also ensuring their music remains very much at the forefront."
In other U2 news, the band recently launched 'Zoo Station' – an immersive experience for fans designed ahead of their upcoming shows.