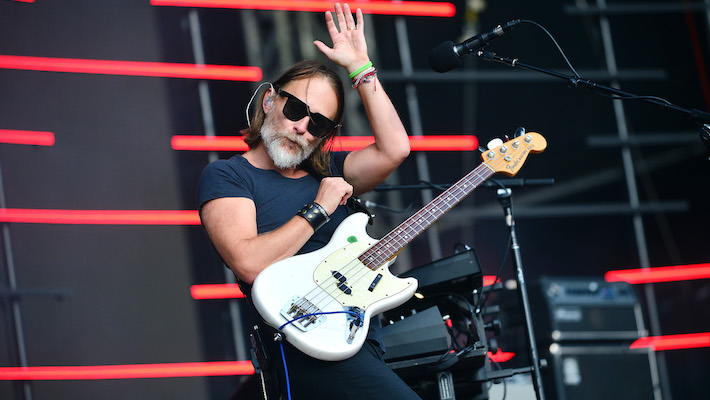 Jason Thomas Gordon is gearing up to publish The Singers Talk, which features interviews with singers including Bruce Springsteen, Roger Daltrey, Chrissie Hynde, Willie Nelson, Mavis Staples, Ozzy Osbourne, Robert Smith, Geddy Lee, Michael Stipe, Rod Stewart, Steve Perry, and Thom Yorke.
Gordon just shared an excerpt of his Yorke interview with Rolling Stone and in it, the Radiohead singer describes a time he got high during a concert, so much so that he couldn't quite deliver a performance of "Everything In Its Right Place" without incident. He said:
"[Laughs.] There was one time we played in San Francisco in this really nice outdoor place, Shoreline. It was a great show, really, really fun. The audience were brilliant. Then, before the final encore, I smoked a blunt with Jonny [Greenwood]. I went back on and started playing 'Everything In Its Right Place' and got completely lost. I think I sang the second verse first, and then I was looking at the keyboard going, 'What's this?' [Laughter.] Then, I went to sing the next verse, and I realized, I've just sung that, and I looked at the others, and they were all going [makes a face] 'Get us out of this one.' I'm just going around the riff, looking at the audience, and they're all singing the words, and I'm going, 'What?' [Tries reading their lips.] I was so high, I just got up from the piano and [puts his hands up in surrender] walked off. [Laughs hysterically.]"
Gordon responded, "That's incredible because the song only has, like, three lines in it," to which Yorke replied, "Exactly! [More laughter.] It's not f*cking rocket science!"
Check out more of the conversation here.
Some artists covered here are Warner Music artists. Uproxx is an independent subsidiary of Warner Music Group.